The Case of the Empty Frames
Bloomberg BusinessweekJuly 06 - 13, 2020
For 30 years, experts have tried and failed to solve the most expensive, and possibly strangest, art heist in history
On the night of St. Patrick's Day in 1990, Rick Abath was working the overnight shift as a security guard at the Isabella Stewart Gardner Museum in Boston. While the rest of the city drank and partied and drank some more, he and another guard, Randy Hestand, took turns patrolling the empty rooms of what had once been the ostentatious home of a Victorian-era socialite who was really into art.
Their shift started at 11:30. Abath made the first rounds while Hestand hung out at the security desk. They were young, in their mid-20s, and didn't have any formal security training. Hestand was a New England Conservatory student who liked to use the downtime to practice his trombone. Abath, who played in a rock band, later acknowledged that he occasionally showed up to work drunk or stoned. He had a scruffy beard and long brown hair that fell in a mess of Weird Al ringlets, and on this particular night he arrived wearing bright red pants and a tie-dyed T-shirt under his unbuttoned security shirt.
The Gardner Museum didn't have security cameras in its galleries, just motion detectors that recorded Abath's movement as he made his rounds. At one point, an alarm on the fourth floor went off, but when Abath checked, nothing seemed to be amiss. He finished his tour of the museum around 1 a.m., then switched places at the security desk with Hestand, who went off on his turn to patrol.
Abath was still relaxing behind the desk at 1:24 a.m. when two Boston police officers approached a side entrance and asked to be let in. "I could see that they had hats, coats, badges," he said in a 2013 interview with a Boston Globe reporter. "So I buzzed them in." (Abath didn't respond to emails, Facebook messages, or letters asking for an interview for this story.)
The officers explained that they'd received reports of a disturbance and needed to ask the guards some questions. "Randy, will you please come to the desk?" Abath radioed to Hestand, who quickly returned. That's when things got weird.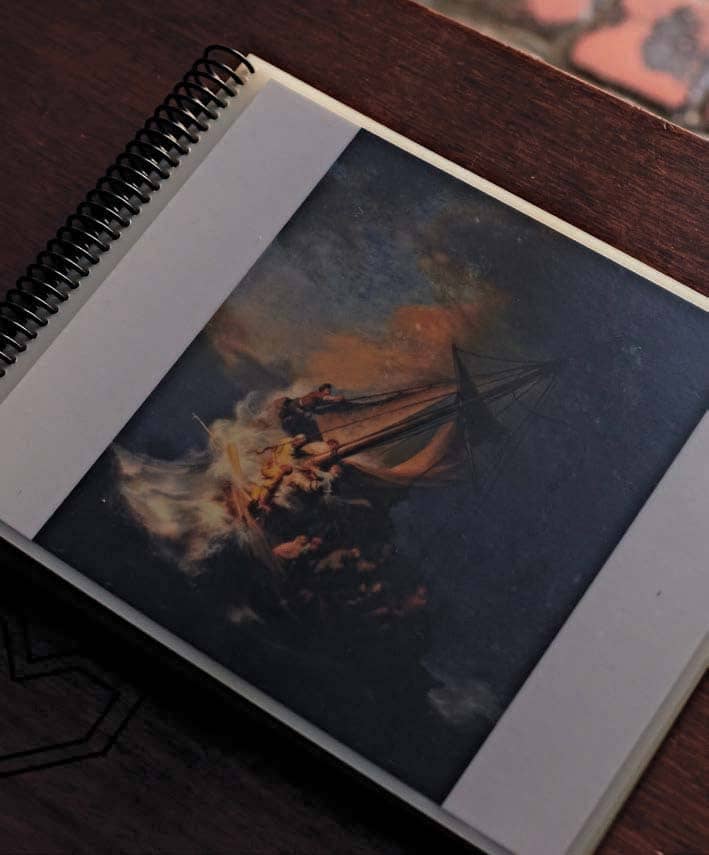 The cops asked Abath for his ID. Then they said they had a warrant for his arrest. They asked him to step out from behind the security desk—taking him away from a panic button installed near it—and to stand against a wall. Then they handcuffed him. "I'm just standing there with my jaw open going, 'Wow, what's going on? What did Rick do?' " Hestand told the radio station WBUR. They cuffed Hestand, too.
"This is a robbery," one of the men said. They wrapped the guards' heads with duct tape, leaving a space for them to breathe, and led them down to the museum's basement. They handcuffed Hestand to a limestone sink and left Abath slumped on a concrete ledge.
The motion detectors followed the thieves as they made their way upstairs to the Dutch Room, a second-floor gallery that contained some of the museum's most valuable art. They took three of the four Rembrandts that hung on the wall, including his only seascape; a landscape by Govaert Flinck; and one of the only 36 Vermeers known to still exist. If they'd felt pressed for time they would have just removed the frames from the wall and runoff. Instead they took the paintings down, separated them from their frames, and even cut two of the Rembrandt canvases from their stretchers. One of the thieves also spent what must have been several minutes prying a Shang dynasty gu (or vase) from its heavy metal anchor while the other one moved on to the next room and swiped five sketches and watercolors by Edgar Degas. At one point they tried to grab a silk flag that had once belonged to Napoleon's Imperial Guard, but it was screwed into the wall, so instead they took the 10-inch bronze eagle finial at the end of the flagpole.
According to the motion detectors, the thieves spent 34 minutes in the galleries. Then they hung around the museum for a while. They checked on the security guards—yep, still duct-taped. They went into the security director's office and took the videotape from the museum's security cameras, which had been positioned to record the front door, parking lot, and security desk. Finally, at 2:45 a.m., they left. Neither they nor the stolen artwork have been seen again.
Abath and Hestand sat in the basement for another four hours until the morning guards showed up for their shifts. The police—the real police—were called and, because hundreds of millions of dollars in artwork had been stolen, the FBI. Statements were given, damage was assessed, missing works were tallied: 12 pieces from the upstairs galleries and then, what's this? A small Manet painting had been swiped from a downstairs gallery that, according to the motion sensors, the thieves had never entered. The last person to visit that room was Abath, when he was making his rounds.
"The Manet has always confused me," Anthony Amore, the chief investigator at the Gardner Museum, told me last fall. Amore is calm and thoughtful, the kind of person who considers his words carefully. He joined the Gardner in 2005, overseeing its security efforts and working as an in-house detective who, the museum hoped, would eventually solve the crime.
The Manet in question was a small impressionist oil painting, only 10 inches by 13 inches, of a dark-suited man enjoying a drink while writing in a notebook at the famous Parisian cafe Chez Tortoni. It, too, had been cut from its frame, which was left on a chair in the security director's office.
"It's such a small painting. Why would you bother to remove it from its frame and leave it on that chair?" Amore wonders. Sure, Abath could have stolen it. He's never been officially crossed off the list of suspects. But he clearly didn't steal the other paintings, and besides, he's now a teacher's aide living a modest life in Vermont—not the profile of someone who's spent decades harboring millions of dollars in stolen art.
There were other incongruities, too. Most art thefts last less than three minutes, a quick grab-and-dash before police have a chance to arrive. The Gardner heist lasted for almost an hour and a half; how did the thieves know they had so much time? If they targeted the Rembrandts and the Vermeer because they were worth a lot of money, why did they leave the museum's most valuable painting, Titian's Rape of Europa, which art historians have called one of the most important examples of Renaissance art? Amore has been contemplating these questions for 15 years and still doesn't have any answers. The Manet, though, particularly irks him. "It's really emblematic of the whole investigation," he says. "The deeper and deeper you dig, the more questions are raised."
You can read up to 3 premium stories before you subscribe to Magzter GOLD
Log in, if you are already a subscriber
Get unlimited access to thousands of curated premium stories, newspapers and 5,000+ magazines
READ THE ENTIRE ISSUE
July 06 - 13, 2020