Surveillance In Aisle 4
Bloomberg Businessweek
|
November 30 - December 6, 2015
How Walmart watches its employees.
In the autumn of 2012, when Walmart first heard about the possibility of a strike on Black Friday, executives mobilized with the efficiency that had built a retail empire. Walmart has a system for almost everything: When there's an emergency or a big event, it creates a Delta team. The one formed that September included representatives from global security, labor relations, and media relations. For Walmart, the stakes were enormous. The billions in sales typical of a Walmart Black Friday were threatened. The company's public image, especially in big cities where its power and size were controversial, could be harmed. But more than all that: Any attempt to organize its 1 million hourly workers at its more than 4,000 stories in the U.S was an existential danger. Operating free of unions was as essential to Walmart's business as its rock- bottom prices.
OUR Walmart, a group of employees backed and funded by a union, was asking for more full-time jobs with higher wages and predictable schedules. Officially they called themselves the Organization United for Respect at Walmart. Walmart publicly dismissed OUR Walmart as the insignificant creation of the United Food and Commercial Workers International (UFCW) union. "This is just another union publicity stunt, and the numbers they are talking about are grossly exaggerated," David Tovar, a spokesman, said on CBS Evening News that November.
Internally, however, Walmart considered the group enough of a threat that it hired an intelligence-gathering service from Lockheed Martin, contacted the FBI, staffed up its labor hotline, ranked stores by labor activity, and kept eyes on employees (and activists) prominent in the group. During that time, about 100 workers were actively involved in recruiting for OUR Walmart, but employees (or associates, as they're called at Walmart) across the company were watched; the briefest conversations were reported to the "home office," as Walmart calls its headquarters in Bentonville, Ark.
The details of Walmart's efforts during the first year it confronted OUR Walmart are described in more than 1,000 pages of e-mails, reports, playbooks, charts, and graphs, as well as testimony from its head of labor relations at the time. The documents were produced in discovery ahead of a National Labor Relations Board hearing into OUR Walmart's allegations of retaliation against employees who joined protests in June 2013. The testimony was given in January 2015, during the hearing. OUR Walmart, which split from the UFCW in September, provided the documents to Bloomberg Businessweek after the judge concluded the case in mid-October. A decision may come in early 2016.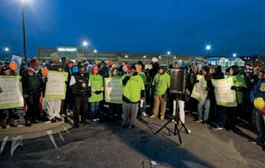 Walmart declined to comment on the specifics of the documents, citing the ongoing case. It did send a statement via e-mail: "We are firmly committed to the safety and security of our 2.2 million associates as well as the 260 million customers we serve each week. It's important to remember that Walmart is the largest company in the world with 11,500 stores in 28 countries. Unfortunately, there are occasions when outside groups attempt to deliberately disrupt our business and on behalf of our customers and associates we take action accordingly."
Karen Casey was in charge of Walmart's U.S. labor relations as OUR Walmart emerged. Casey, an attorney, held a similar position at Albertsons for a decade before, with one important difference: Some workers there were represented by the UFCW. In 2003 they joined other grocery employees in Southern California in a four-month strike to resist cutbacks brought on by competition from Walmart. The strike was estimated to have cost $2 billion.
Casey, along with other executives in Bentonville, first learned about OUR Walmart from managers' calls to the company's labor hotline in the fall of 2010. "Associates were being visited at home by people dressed in khakis and blue shirts, which is the Walmart uniform," she told the NLRB judge. They were, she said, "claiming to be current and former associates asking people to join this group." When asked about Walmart's emphasis on "mitigating labor risks," she replied: "Our real concern is about the safety of our stores and making sure our managers also respond lawfully to any labor activity that may be going on."
Our Walmart made its claims public in June 2011, when 97 employees and their supporters arrived in Bentonville with a 12-point declaration that asked for wages and benefits sufficient to ensure that no worker would have to rely on government assistance. They also called for dependable schedules, expanded health-care coverage, and the freedom to speak up without facing retaliation. In the parking lot, they presented the document to Casey and asked to speak with her inside.Walmart's "open door" policy allows, and almost always requires, employees who want to talk about workplace conditions with managers to do so individually. Casey didn't let the group in the building en masse. "We had offered to have one-on-ones with our associates to understand their questions and concerns," she said at the hearing. The associates declined. "I think the executives were just as shocked as we were" that workers had come to Bentonville on their own, Cynthia Murray, one of the founders of OUR Walmart, told this magazine in 2012.
During October 2012, OUR Walmart members and supporters began a series of walkouts and protests across the country to increase pressure on the retailer before the holiday shopping season. The group called a National Day of Action for Oct. 10 and sent a few people to Bentonville, where Walmart executives were meeting with Wall Street analysts. Two hundred calls to the labor hotline from almost as many stores were logged throughout around that time.
Some calls betrayed the paranoia of beleaguered managers. 2:30 p.m., Store 5880 in Fairfax, Va.: "A customer began talking to a cashier about the strikes at Walmart this week, and the cashier responded that maybe she should go on strike. AM [assistant manager] feels the cashier was joking when she made the comment."
4:19 p.m., Store 3893 in Zion, Ill.: "Three associates made comments surrounding the 'strikes' in other stores to Grocery ZMS [zone merchandising supervisor]. Grocery ZMS shared his opinion but didn't state our philosophy. He will do so the next time the associates are at work."
Walmart was watching Colby Harris. He was a full-time employee in the produce department in Store 471 in Lancaster, Texas. He joined protests in California, picketed stores in Dallas, and showed up in Bentonville for the analysts' meeting. In November 2012, he said he had given more than 45 interviews to journalists. "People want to hear from us," he said. On Oct. 17, Casey, the labor relations executive, sent an e-mail to one of her senior staff: "Colby Harris, what's his story?" Casey said in her testimony that she asked about Harris because he had appeared in press accounts of the walkouts, and Walmart's media relations group asked her for information about him. She also said that Walmart tracked associates "who may be engaged in the demonstrations and strikes to figure out who was working and who wasn't."
You can read up to 3 premium stories before you subscribe to Magzter GOLD
Log in, if you are already a subscriber
Get unlimited access to thousands of curated premium stories, newspapers and 5,000+ magazines
READ THE ENTIRE ISSUE
November 30 - December 6, 2015