Not Your Grandmother's Milkman
Bloomberg Businessweek|June 22, 2020
Julia Niiro's Portland startup takes its inspiration from old-fashioned dairy delivery and prioritizes paying producers
When Julia Niiro founded MilkRun in Portland, Ore., in 2018, she wanted to combat two enduring challenges to local food systems: inefficient distribution and low farmer pay. Addressing these issues was necessary for smaller producers to disrupt an industry that's "really, really good at processing cheap food and selling uniform waxed apples at the same place we go to buy our toilet paper," as she put it in an impassioned 2019 TEDx Talk. But it's much less successful at delivering the sustainably raised, flavorful food grown on nearby farms.
In America, Niiro says, efficiency and scale have superseded taste, nutrition, and the livelihood of the farmer who grows, raises, or otherwise produces our food. Producers get only 8¢ out of every dollar spent by consumers, on average. MilkRun's mission is straightforward: "I want to make it as easy to buy from our local farmers as it is to book a stay in someone's house or call a ride."
The case for buying locally produced food is stronger than ever. When the Covid-19 pandemic began to shut down Oregon and the rest of the country in mid-March, it both sped up the trend toward online grocery shopping and highlighted the shortcomings of the industrial food system. In just a few weeks, farmers, unable to sell to restaurants, school districts, and coffee shops, were dumping milk and plowing under onions. Not long after, 20 U.S. meat-processing plants were shuttered because of coronavirus outbreaks, leaving farmers to euthanize tens of thousands of pigs and chickens. By contrast, the small, non-industrial supply chains of family-run ranches, dairies, mills, and produce farms were able to keep up with increased demand.
Niiro, 34, grew up eating Jif peanut butter sandwiches on white bread in Detroit. She majored in English at Colorado State University and worked as a digital marketing director at Penton in Cleveland. "I was on your typical corporate America path," she says. In 2014 she moved to Portland for a change of scenery and fell in with a group of chefs who were passionate about local ingredients. (One of them, James Serlin, became her husband.) When she interviewed dairy producers and vegetable farmers for a short-lived social media startup she'd founded, she discovered how hard it was for them to get their products to market and make a living. She started MilkRun with a $10,000 loan from her parents.
Niiro credits the milkman—the delivery method that was a hallmark of pre-World War II America—for inspiring her business model. With MilkRun she modernizes the technology, allowing consumers to purchase not only local dairy but also produce, meat, seafood, and locally made products from a sleek website. Then she pays farmers to deliver the orders directly to consumers' doorsteps.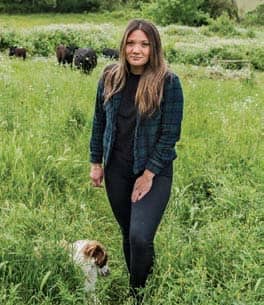 You can read up to 3 premium stories before you subscribe to Magzter GOLD
Log in, if you are already a subscriber
Get unlimited access to thousands of curated premium stories and 5,000+ magazines
READ THE ENTIRE ISSUE
June 22, 2020