North Korea's biggest fan
Bloomberg Businessweek|May 04, 2020
If you want to explore mining opportunities or get word on Kim Jong Un's health, you start with Alejandro Cao de Benós. He's only 6,000 miles from Pyongyang
The message from Dubai in late 2018 wasn't unusual. It's just part of the day for Alejandro Cao de Benós to open his email and find some intrepid capitalist who wants to do a little business in North Korea.
Recently, there was the one from a guy in Hawaii who wanted to open a McDonald's in Pyongyang. That's an easy no. Privately owned businesses are forbidden in the Democratic People's Republic of Korea. "No McDonald's, no Kentucky Fried Chicken, no Burger King," Cao de Benós says. Every so often it's the head of the Church of Jesus Christ of Latter-day Saints in Spain, asking if it's finally all right to send over a wave of white shirts carrying the Book of Mormon, even though he knows that's a nonstarter. Only those religions that existed in Korea before the DPRK's formation in 1948 are allowed to operate in the country. Sometimes a lead seems real enough that Cao de Benós can pass it up the ladder from his desk in Tarragona, on Spain's sunny east coast, to the North Korean Embassy in Madrid—or even to his contacts in Pyongyang.
At first glance, the Dubai email was one of those. An Elena Sanchez was writing from an investment firm called Baron Stone Capital. Her boss, Adrian Hong, hoped to meet at the embassy to discuss investment opportunities, ideally in mining.
It might seem strange that a banker in Dubai would email a Spaniard to talk about investments in Pyongyang, but such is the idiosyncrasy of doing business with North Korea.
"I receive this kind of request every day," Cao de Benós tells me one afternoon in November. (Requests of late have been more to address rumors that Supreme Leader Kim Jong Un was in grave condition after heart surgery.) We're walking around Tarragona during one of its infrequent rainy days. "I'm the only reachable person," he says. He means that literally. Cao de Benós began as a teenage fanboy of North Korea's socialist state and, over time, developed ties to the regime. In 2002, after he'd spent more than a decade as a volunteer cheerleader and propagandist, the nation's late supreme leader, Kim Jong Il, made him a "special delegate" to the Committee for Cultural Relations with Foreign Countries.
Official diplomacy is conducted through the Ministry of Foreign Affairs. And there are envoys at the United Nations. But business, science, culture, sports—basically anything outward-facing—goes through the committee. As the only non-Korean affiliated with the government, Cao de Benós says, he's the primary contact for anyone in the West who wants to cold-call North Korea.
The woman in Dubai said her boss was looking for investments in "frontier markets." Cao de Benós can help with a request like this. "We have many investment possibilities," he says, naming mines, hotels, and IT. Or perhaps you don't have a specific play. In this case, Cao de Benós might arrange a meeting with the Ministry of Foreign Trade. Even an American like me can invest if I'm willing to violate international sanctions. "We are happy to make business with you," he says.
When Cao de Benós dug into Baron Stone, he couldn't find any information on it. Sanchez was pushy, too. She responded to his chilly replies with what felt like a bribe: an offer to hire him as a consultant if he could facilitate introductions at the embassy. She then announced that Hong would soon be in Madrid and hoped to arrange a dinner with Cao de Benós and North Korea's ambassador. Cao de Benós says he notified the embassy of the inquiries and registered his skepticism. He didn't recommend a meeting.
A few weeks later, on Feb. 22, 2019, Hong showed up anyway. When an embassy worker came to the door, Hong and eight accomplices forced their way in.
For several hours, according to news reports, Hong and his team—who claimed to represent Free Joseon, a North Korean dissident group—menaced the staff. They isolated the only accredited North Korean diplomat in the basement, where they put a hood over his head and attempted to bully him into defecting. This effort failed, and at around 9:30 p.m. the gang took laptops and flash drives and fled in stolen diplomatic cars.
Media accounts speculated that the break-in was an attempt to disrupt the then-upcoming nuclear talks between President Trump and Kim Jong Un in Vietnam. The group had supposedly targeted Madrid because North Korea's top negotiator, Kim Hyok Chol, was previously ambassador to Spain.
North Korea had no official comment. Cao de Benós theorizes "it was the CIA" and tells me this was "confirmed" by friends in the "Spanish intelligence service." The CIA has denied involvement. Hong, sought by Spanish authorities on unspecified charges, is still at large.
Cao de Benós assumes that interest in Hong will fade, because no one cares about the treatment of North Korean diplomats. He's also sure that the sloppy assault was a Plan B. The real plan, he says, was that dinner Sanchez had tried to set up. It's easier and cleaner to kidnap a diplomat leaving a restaurant.
Which means: He might have been snatched, too?
Cao de Benós laughs and pats his belly. He's a little plump; there's something vaguely Ted Cruz-ish about him. "I'm too big," he says. "They have to feed me too much." More important, he's a Spanish citizen and quasi-famous. Taking him would be bad PR. "I'm too much of a public person."
Alejandro Cao de Benós seems like a lot of name, but it's actually shortened. The whole banana—Alejandro Cao de Benós de Les y Pérez—is unwieldy for daily use and off-brand, signifying the aristocratic lineage of Spain's most famous socialist.
He didn't grow up rich, but his family was once powerful, he says. An ancestor conquered land on the French border and claimed it for the Spanish king, who rewarded him with the title of Barón de Les. Cao de Benós, as the eldest male heir, has claim to this title, as well as Marqués de Rosalmonte, Conde de Argelejo, and Marqués de Diezma y la Hinojosa.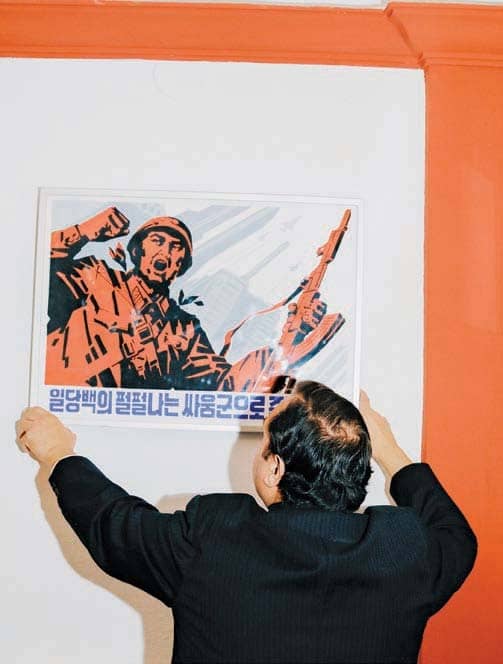 Today, the titles carry no privileges. All the wealth is gone, too, because his paternal grandfather blew the fortune on poor investments and gambling. Cao de Benós could claim the honorifics, but he'd have to ask the king's permission and pay a fee.
His father was a chemist who married and raised his son in a happy, middle-class home. After high school, Cao de Benós served three years as an MP in Spain's air force, but the whole time his heart was in North Korea.
He has only honorary citizenship in the country, he says. To become a North Korean citizen, Cao de Benós would have to renounce Spain, which would mean giving up a free life on the Spanish coast and moving to the world's most closed-off country. This isn't a dealbreaker for him. "It's what I wanted since I'm 13," he says, over a plate of vegetable paella (Cao de Benós is vegetarian) in Tarragona's old quarter, during one of three days' worth of conversations in which he rhapsodizes about the famously brutal and authoritarian regime. That's when he read about North Korea's particular—in his view, pure—form of socialism and fell in love. At 16, he flew to Pyongyang, having saved up for the flight by working at a gas station. "I found a very clean society with very nice people," he recalls. "And then, I made up my mind: I want to help Korea."
You can read up to 3 premium stories before you subscribe to Magzter GOLD
Log in, if you are already a subscriber
Get unlimited access to thousands of curated premium stories and 5,000+ magazines
READ THE ENTIRE ISSUE
May 04, 2020