No Fare - The Wrath Of The Taxi King
Bloomberg Businessweek
|
August 31 - September 06 2015
Gene Freidman owns more cabs than anyone else in New York City.
Gene Freidman's got a new hairdo. For as long as the New York tabloids have been taking photos of him, which is to say a while, Freidman has worn his hair in a ponytail. It is, along with the Euro scarves and Bono sunglasses, something of a trademark. Today, though, sitting in a courtroom in Lower Manhattan, he's opted for a close crop. "Just, you know, this new beginning of getting f---ing divorced, you know?" he explains.
"So I was like, f--- it, let me get a haircut." A new beginning would be nice. On this late June afternoon,
Freidman, 44, is in New York City criminal court to defend himself against charges that he harassed and attempted to assault his soon-to-be-ex-wife, Sandra. There are also related allegations concerning some forged signatures and a smashed watch. Oh, and his taxicab empire is faltering.
Freidman doesn't seem overly stressed. He's wearing a blue pinstripe suit and monogrammed cuffs. He gives off a whiff of cigarette. He denies the forgery claim, the assault claim, and every other claim lobbed at him today. "Listen, listen, listen," he says during a break in the proceedings. "I'm not worried about it. If you read the papers, right, and you see what's going on, I might as well already be dead."
According to the city, the Taxi King controls 860 cabs (Freidman says he actually operates more than 1,100). That's more than anyone else in town. Factor in the hundreds of vehicles he has in Chicago, New Orleans, and Philadelphia, and he's almost certainly the most powerful taxi mogul in the country. Freidman makes money by leasing the cabs to drivers on a daily or weekly basis.
To own a cab in New York, you need a medallion—a metal shield displayed on the vehicle's hood—and there are a fixed number issued by the New York City Taxi & Limousine Commission (TLC). Until very recently, medallions were a good thing to have a lot of. In 1947, you could buy one for $2,500. In 2013, after a half-century of steady appreciation, including a near- exponential period in the 2000s, they were going for $1.32 million.
Then came Uber. Since the arrival of the car-by-app service, valued at about $50 billion, taxi ridership is down, daily receipts have declined, and drivers are idling—or going to work for Uber. Add it up, and desperate medallion sellers are trying to fob off their little tin ornaments for as little as $650,000.
This has had a profound effect on Freidman, whose net worth appears to be in free fall. In March, Citibank moved to foreclose on 90 of his medallions, claiming it was owed $31.5 million in unpaid loans. Later, he settled with Citibank on half of the medallions, but 22 of Freidman's companies owning the other half filed for bankruptcy. (Freidman, like many taxi owners, stashes his medallions in two- or three-taxi "mini-fleet" corporations. He likes to give them colorful names: Vodka Taxi, Butterfly Taxi, Pinot Noir Taxi, and many others.) By early July, a judge was ordering him to fork over $8 million in delinquent payments to Capital One. Then four of his companies landed on New York state's tax deadbeat list, not far behind convicted cigarette smuggler and No. 1 delinquent Salah Morshed. Finally, in August, Freidman reversed course and admitted to pushing his estranged 25-year-old wife into a wall. He avoided jail time but was ordered to have no contact with Sandra for two years.
He's a man under siege, he says. "What was that movie with Jim Carrey where he was trapped in that world?" he asks, referring to The Truman Show. "There's a point where you say, you know what, they ripped a hole through the window, my little dog caught a bullet, like f--- you. I'm gonna pick up guns, and I'm gonna defend myself."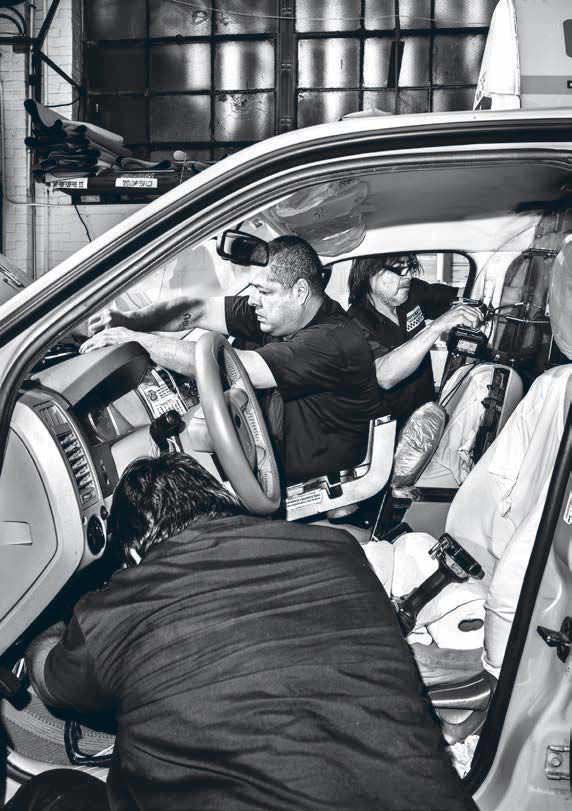 There are 13,587 yellow cabs in New York City. That's not many more than there were when the modern taxi industry was born almost 80 years ago. During the Depression, thousands of jobless men became taxi drivers. As a result, the number of cabs ballooned, and suddenly there weren't enough passengers to scoop up. The industry became as hopelessly unprofitable as any other. So in 1937 the city created the medallion system that remains in place today. Until 1996, the number of medallions in circulation remained exactly 11,787.
Because the system artificially depressed supply, taxi drivers stayed busy and medallions became more valuable. Which explains why cab ownership often equaled middle-class stability for men like Naum Freidman. In the mid-1970s, Freidman moved his wife and 5-year-old son from the Soviet Union to Jackson Heights, Queens, eventually becoming a cab driver and presiding over a 55-car garage. "For $25, you could get a hack license without going to school," says Gene, relating his father's story. "Before that, there was a movie theater; that was the first job he got, cleaning toilets. I mean, you know, it's almost from a book."
At 8 a.m. on the Fourth of July, we meet at Harry Cipriani in the Sherry- Netherland, a stately Central Park hotel where rooms go for $450 a night. The spot is Freidman's choice. He eats a monochromatic breakfast of cottage cheese and oatmeal. We're the only customers here. The contrast between his lifestyle and his father's is not lost on him.
"Every day that I wake up, you know, I'm like, this is great," Freidman marvels. "You know, I live on Park Avenue, got a bunch of, like, Ferraris that I drive. I have a house in the south of France. I can have breakfast, like, at Cipriani. And it's like, you know, pinch me. Is this real? I'm fresh off the boat!"
Freidman attended the Bronx High School of Science and Skidmore College, where he says he partied a lot and "got kicked out for a semester for over-excessive parking tickets." He then went to the Cardozo School of Law at Yeshiva University. Post-law degree, Freidman worked for Sam Zell as a financier in Yeltsinera Russia, eventually returning home in 1996, taking control of his father's fleet and applying his newfound investment savvy to the "retarded"—his word—taxi industry.
You can read up to 3 premium stories before you subscribe to Magzter GOLD
Log in, if you are already a subscriber
Get unlimited access to thousands of curated premium stories, newspapers and 5,000+ magazines
READ THE ENTIRE ISSUE
August 31 - September 06 2015