How To Save Amtrak. Or Ruin It
Bloomberg BusinessweekNovember 25, 2019
The head of America's passenger rail system isn't particularly attached to trains. Maybe that's a good thing
My journey from New York to New Orleans on the Amtrak Crescent began forebodingly. I was stowing my bags in the sleeping car. As the train left the station, the Amtrak attendant who'd be taking care of me on the trip stopped by. "Settle in," he advised. "We're going to be here for a while."
"Yeah," I said. "Thirty hours."
"All that," he replied knowingly, "and maybe more."
The Crescent is one of Amtrak's tardiest trains. Southbound, it leaves New York's Pennsylvania Station every day at 2:15 p.m. Around 9 the next morning it pulls into Atlanta, where many passengers either depart or step offfor a long-awaited cigarette. It ambles through some hypnotically beautiful Alabama countryside and somnolent Mississippi towns before arriving in New Orleans, according to the schedule, at 7:32 p.m. Almost three-quarters of the time, however, the Crescent is late, often by two hours or more. Last year, Amtrak lost $39 million on the line, which comes as no surprise. How many people want to take such an unreliable train?
The people I spoke with in the dining car all had stories about the Crescent's delays and why they endured them. A semiretired cotton company executive from Montgomery, Ala., was a train lover and just happy to be aboard. "I enjoy it," he said, "even when it's late." We ate dinner with an Atlanta dentist returning from a wedding in New York. Normally he would have flown, but he'd had knee surgery and couldn't sit still for several hours on a plane.
I had breakfast the next morning with David and Sarah, Long Islanders in their mid-20s. David was terrified of flying. "It's a completely irrational fear, but I stand by it," he said. Sarah once waited eight hours for the Crescent to leave New York, but she'd grown up taking long trips on Amtrak and enjoyed their quirky moments. Before the meal was over, a congenial dining room attendant named Claude Mitchell led us all in a rendition of "Happy Train Ride to You," dedicated to a 4-year-old taking her maiden rail excursion with her grandparents. We wouldn't have done that on a plane.
If you wanted to create a railroad from scratch, you'd never design one like Amtrak. It had 32 million riders last year and revenue of $3.2 billion. But it had an adjusted operating loss of $171 million and has needed federal subsidies to stay afloat every year since Congress created it in 1971. The most functional piece of Amtrak is the 457-mile Northeast Corridor between Boston and Washington. The trains on this line may not be as fleet as the bullets of Europe and Japan, but they run frequently and pretty much on time. Amtrak can make sure of that because it owns almost all the Northeast Corridor track and controls much of the dispatching on it, which helps explain why the corridor had 12 million riders last year and an operating profit of $524 million.
Then there's the rest of Amtrak's 21,400-mile network.Do you want to catch Amtrak in Cleveland? There's no train leaving there before 1:54 a.m. or after 5:50 a.m. Bring something to read, because outside the Northeast Corridor, Amtrak's long- distance trains operated according to schedule only 43% of the time last year.
The biggest reason is that Amtrak owns hardly any of these tracks. For the most part, they belong to freight railroads, whose predecessors persuaded Congress to form Amtrak in 1971 to take over their failing passenger operations. In return for what was essentially a bailout, the freights agreed to give Amtrak preference on their tracks. The meaning of preference is technical and somewhat disputed, but in essence freight trains are supposed to pull onto a siding so trains like the Crescent can get by. In practice, the freights, which control the dispatching on their rails, often keep Amtrak trains idling while their own slowermoving trains pass.
The Federal Railroad Administration and Amtrak want to sort this out by establishing performance standards designed to ensure that the trains are on time more frequently. The freights have resisted. Ian Jefferies, president of the Association of American Railroads, the freight industry's chief trade organization, recently told Congress that the private railroads carry far more cargo then they did in 1971, and that it's unreasonable to expect them to pull over every time an Amtrak train comes along. (Paradoxically, Amtrak is also an association member.) For Amtrak, that intransigence— or what it calls flouting of the law—has been devastating. Ridership on its 15 long-distance routes declined last year by 4%, to 4.5 million trips. The $543 million operating loss eclipsed the Northeast Corridor's profits.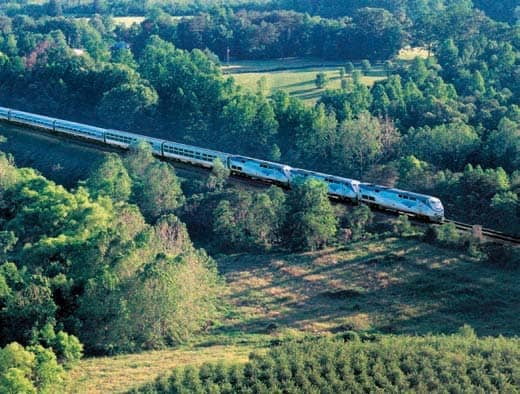 For decades, Congress largely sidestepped the question of how to improve Amtrak, preferring to squabble about whether Amtrak should even exist. But these days, Amtrak enjoys strong bipartisan support. The Trump administration has proposed significantly defunding Amtrak, but Congress has defied the White House. This year it lavished Amtrak with almost $2 billion in annual subsidies.
Amtrak's board of directors also broke with tradition. In 2017, rather than recruiting from the public-transit sphere, it hired a chief executive officer from the private sector: Richard Anderson, who'd become CEO of Delta Air Lines Inc. after it emerged from bankruptcy and restored it to profitability.
Working without a salary or an annual bonus—he probably doesn't need the money, having left Delta with $72 million in company stock—Anderson is determined to move Amtrak toward self-sustainability. He's vigorously cutting costs and vows it will break even on an operating basis next year. That, he says, will enable Amtrak to spend its annual congressional subsidies to buy new trains and fix up its tracks and stations. Anderson will need all the money he can get. The Northeast Corridor has been underfunded for decades and needs an estimated $41 billion to keep its bridges and tunnels, some of which were built more than a century ago, from collapsing.
You can read up to 3 premium stories before you subscribe to Magzter GOLD
Log in, if you are already a subscriber
Get unlimited access to thousands of curated premium stories, newspapers and 5,000+ magazines
READ THE ENTIRE ISSUE
November 25, 2019