From Micro- Credit To Major Debt
Tala and other startups are flooding Kenya with apps offering high-interest loans. Are they empowering the poor or profiting from desperation?
Patricia Lele waits for nightfall to go to work. As the sun sets in Kitale, in western Kenya, she hikes her 2-year-old daughter up on her hip, gathers some of her other eight children, and sets off down a dirt road. When she reaches the center of town, she spreads a blanket on the sidewalk outside a grocery store and carefully lays out her wares.
Lele makes beads out of brightly colored paper she scavenges from the town dump, stringing them into bracelets she sells for a few dollars apiece. But tourists are rare in this maize-growing hub, especially after dark, when teenagers stumble down the street, holding Sprite bottles to their nose to sniff glue. Lele considers herself lucky if she makes $5 in a night, enough for bus fare home and porridge for her family the next day.
Like almost everyone in Kenya, rich or poor, Lele has a mobile phone. Hers is a small black Android model with a cracked screen. A few times a day it buzzes with a text message sent on behalf of Tala, a tech company in Santa Monica, Calif., that says it's empowering female entrepreneurs around the world. Each message is a reminder of how that's gone for Lele. "You haven't PAID A SINGLE cent of TALA LOAN," a recent message reads. "TAKE NOTE your DETAILS are with TOUGH SKIP-TRACE & RECOVERY, PAY NOW."
Tala has made $1 billion in microloans to people in developing countries, all using its app. It says it can reach those who've been ignored by banks because its software generates instant credit ratings from data scraped off prospective borrowers' phones. The company is part of the financial inclusion movement, a loose coalition of tech companies, banks, and non-governmental organizations trying to lift people out of poverty by offering them new ways to gain access to loans and other financial services.
In Kenya, the first country where digital credit has gone mainstream, borrowers are learning that with financial inclusion comes financial risk. With dozens of apps offering short-term advances similar to payday loans, word of debt's dangers is spreading from the office towers of Nairobi to the grasslands of Maasai Mara. People who once borrowed mainly from family and friends are now being bombarded with ads for quick money and calls from debt collectors. The market is largely unregulated, and there are no caps on interest rates. Tala's are typically 180% annualized; on some apps, they're even higher. About 2.5 million Kenyans—roughly 1 in 10 adults— have defaulted on a digital loan. Others are trapped in a debt cycle, borrowing from one app to pay off another. Last summer newspapers reported that a 25-year-old man from a tea-farming village north of Nairobi had hanged himself after defaulting on a $30 loan from an unspecified app.
Pretty much everyone I meet on a visit to Kenya has a story. A print shop owner can't pay back a loan taken out to buy a goat to cook for a Christmas party. A policeman I ask for directions pulls out his phone and admits to defaulting on a loan himself. A cab driver says that, four months after he borrowed to buy a new battery, he's no closer to repaying the debt. Several people get text messages from debt collectors as we speak.
Most borrowers felt the terms of their loans were unfair but took them out anyway. "It's as if they know an African has no options," says Stephen Omondi Juma, an electrician with a small office in Nairobi's Kibera slum, where he also sells hats.
Lele heard about Tala from a friend in the fall of 2018. At first, she felt fortunate to be approved for a 1,000-shilling (about $10) loan to buy varnish, string, and other jewelry- making supplies. A widow at 33—she says her husband was burned to death in election violence in 2008—she lives in a one-room shack in Kitale's Kipsongo slum, next to the landfill. There's no running water, and residents use trash bags instead of toilets. "It is so dangerous, life in our place," she says one afternoon. She mentions fearing that her toddlers might be fed alcohol, or that someone will offer to pay her older kids for sex and infect one with HIV. She's dressed in a baseball jersey and a denim skirt. Outside, three of her neighbors' toddlers tussle in the dirt over a motorcycle brake rotor, while an older child angles a CD to flash sunlight in their eyes.
Lele says she repaid that first loan when it came due. Then Tala boosted her limit, and she took out another to buy more supplies and some food. By spring she was borrowing about $70 a month, almost her entire income. The trouble may have started one morning when seeking to save money on charcoal, she skipped boiling her drinking water. She started to feel sick, wrapping herself in a blanket by day and sweating through the night, but she put off seeing a doctor, knowing she needed the money. "I say, 'This money is for Tala,' " she recalls. When the pain finally prompted her to go to the hospital, she learned she had malaria and typhoid fever. For days she drifted in and out of consciousness. In moments of lucidity, she worried about who would provide for her children if she died.
Then her phone rang. It was a debt collector. Her Tala loan was past due. When Lele said she was in the hospital, the caller told her she didn't care. Lele said she had no money, and the collector told her to borrow from someone else. She threatened to report Lele to a credit bureau, potentially blacklisting her from the banking system, and said she'd track Lele down if she didn't pay. Lele begged the woman to leave her alone.
"I don't want to be taken to jail," she said.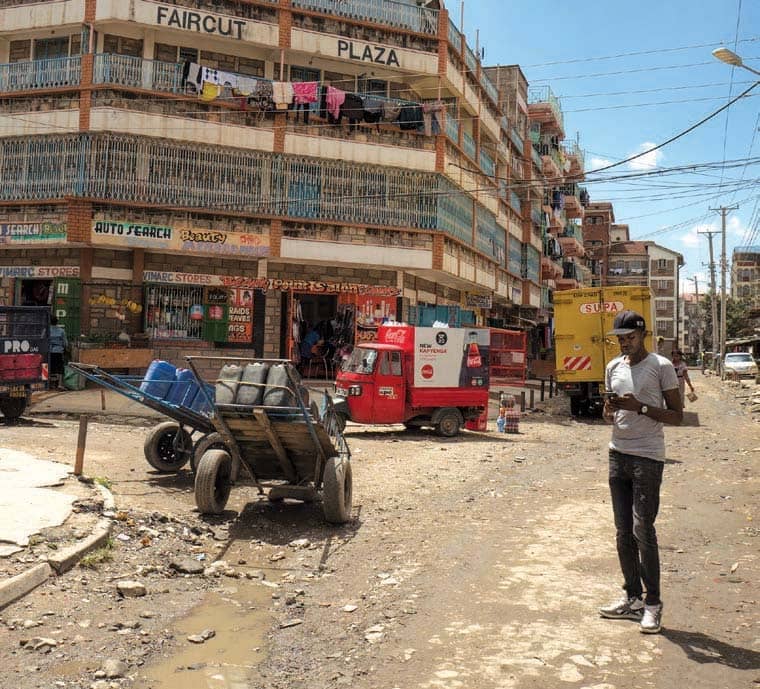 Lele's story runs counter to the narrative that has made Shivani Siroya a star in Silicon Valley and financial- inclusion circles. Diminutive and soft-spoken, the 37-year-old founder of Tala is a regular on the conference circuit. At Women Deliver, TechCrunch Disrupt, and other events, she describes her mission as using the power of big data to help the 2.5 billion people around the world who lack credit scores. Someone not listening closely to her pitch might think she's running a charity. "With something as simple as a credit score, we're giving people the power to build their own futures," she said in a 2016 TED Talk that's been viewed online 1.7 million times.
Continue Reading with Magzter GOLD
Log-in, if you are already a subscriber
Get unlimited access to thousands of curated premium stories and 5,000+ magazines
READ THE ENTIRE ISSUE
February 17 - 24, 2020