Elizabeth Warren Is Done Playing It Safe
Bloomberg Businessweek
|
July 29, 2019
After a slow start, the presidential candidate is gaining momentum by pushing her party to embrace bold, left-wing ideas that could beat Trump at his own game— or cost Democrats everything.
Last fall, Elizabeth Warren got an email from Klaus Schwab, founder of the World Economic Forum, inviting her to speak at the group's annual meeting in Davos in late January. He was taken with Warren's sweeping moral critique of winnertake-all capitalism and looking to jolt the heads of state and global financial titans at his glittering conference in the Swiss Alps. Would she come to Davos and address them?
The Massachusetts senator, who was then preparing to run for president, understood immediately the attention such a showdown would bring and thought she needed an idea big enough for the moment. A few weeks later, she settled on one: an annual "wealth tax" of 2% on fortunes over $50 million, slightly higher on billionaires. Working with Emmanuel Saez and Gabriel Zucman, the eminent University of California at Berkeley economists, Warren's staff calculated that her tax would hit the richest 75,000 people in the U.S. while raising $2.75 trillion in a 10-year period.
It was a characteristically big, bold idea that would revolutionize how government taxes the rich, shifting the basis from income to the much broader category of wealth. These "ultra millionaires," as she calls them, would no longer pay only on what they earn, which clever accountants can minimize, but on the entirety of what they have. This massive infusion of revenue would fund even the most zealous package of liberal programs with billions to spare.
But the proposal's principal attraction, in the moment, would be the sheer spectacle of Warren's unveiling it at a gathering of Davos plutocrats—one imagines horrified gasps and a Champagne flute shattering on the floor. At a time when U.S. politics and electoral fundraising are increasingly driven by viral media moments, here was one guaranteed to make everyone sit up and notice. Schwab thought so, too.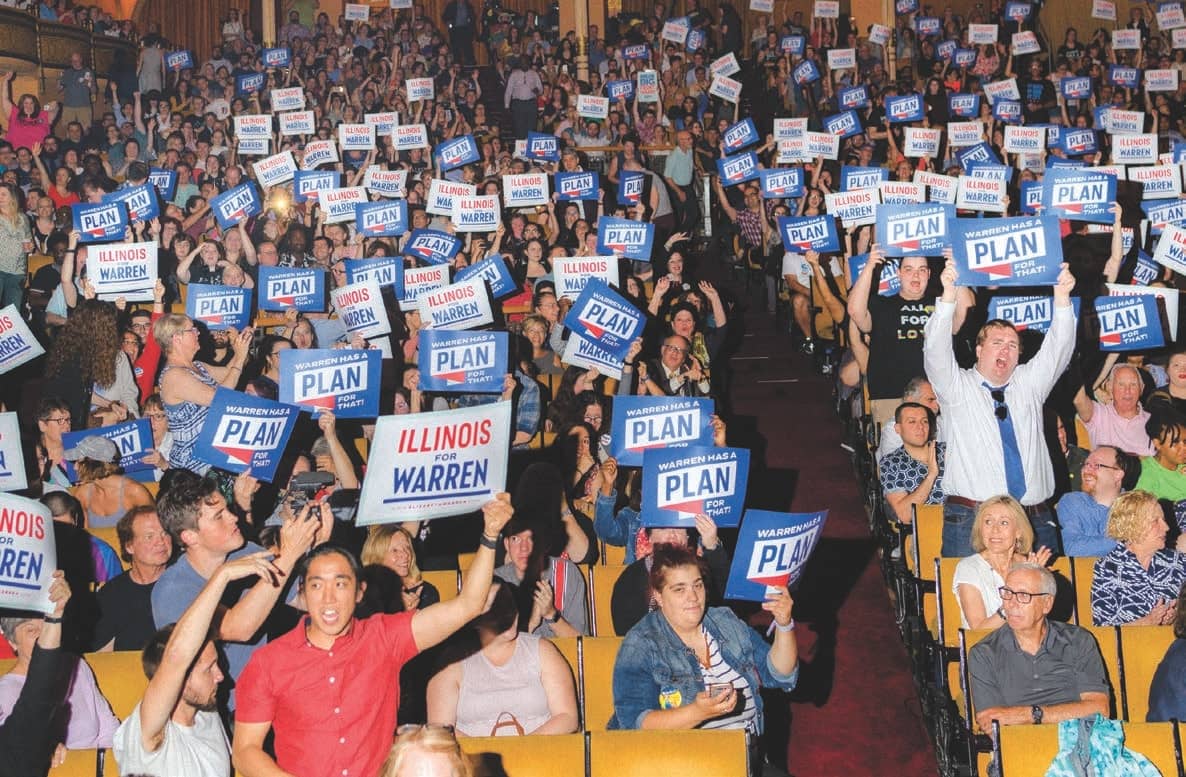 "He was going to give us all of the CEOs in a room," Warren told me recently, with a twinkle, over homemade mango lemonade at her Washington condominium. Schwab even dropped by her Senate office to lobby her personally.
But after a long period of consideration, she decided not to go. Her presidential campaign was set to launch on New Year's Eve with a swing through rural Iowa, and her staff fretted about the optics of leaving the trail to go join a gathering of bankers, even to challenge them. As it turned out, though, Schwab's conference still focused on capitalist inequity and still featured a dramatic confrontation over taxing the wealthy that instantly went viral. It just didn't involve Warren. Instead, Rutger Bregman, a young Dutch historian, scolded the Davos crowd for studiously ignoring the one measure guaranteed to mitigate wealth inequality—the very thing Warren had identified. "Taxes, taxes, taxes," Bregman declared. "All the rest is bullshit." Within hours, he was hailed as "the folk hero of Davos," and a clip of his remarks drew millions of views.
The missed opportunity seemed to symbolize a candidacy that looked destined to fail. In her first weeks on the campaign trail, Warren didn't generate nearly the excitement or fundraising other candidates did. The activist progressives who once hung on her every word appeared to be shopping for someone else. And she was dogged by her decision to take a DNA test to determine her American Indian ancestry, which offended potential supporters and drew a fresh wave of "Pocahontas" taunts from President Trump. Joe Biden and Bernie Sanders led the polls and the news coverage, while Warren languished in single digits. "I hit her too hard, too early," Trump crowed to Fox News in March. "Now it looks like she's finished."
He spoke too soon. Since then, Warren has not only put herself into the top tier of Democratic hopefuls but forced the others to follow her lead. Although she missed her star turn at Davos, Warren made the wealth tax the centerpiece of her campaign. It's part of a fusillade of proposals that are more aggressive, far-reaching—and expensive—than any previous Democratic front-runner would have dared venture: break up big tech companies like Google and Facebook; abolish private health insurance and give everyone Medicare; start a $2 trillion industrial policy built on "economic patriotism" to boost exports; crack down on private equity's "Wall Street looting"; overhaul corporate governance by putting workers on boards; eliminate the filibuster; cancel student loan debt; and establish free public college and universal child care. Together, Warren's platform amounts to a giant leap in Democratic ambition— some would say radicalism—that dwarfs the steady but safe achievements of the Clinton and Obama eras.
If Warren is a revolutionary, she sure doesn't look the part. When I arrived at her sleek, sunny Washington condo on a scorching July afternoon, she was wearing a striped Vineyard Vines button-down and tinkering with her lemonade recipe. "How ya doin'?" she greeted me. Her husband, Bruce Mann, a Harvard Law School professor, was tapping on a laptop and excused himself so we could get down to business.
When the conversation turned to politics and her campaign, Warren snapped into a whole different gear: evangelist for a Democratic revolution. Her wealth tax and all that's followed is her attempt to apply shock paddles to a party that she believes has lost its way. "You could wake somebody up in the middle of the night and ask them what a Republican stands for, and you'd get pretty consistent answers," Warren said. "Ask what Democrats stand for, and it's always a more difficult explanation. That makes it harder to pull people into the fight, because they're less sure it's their fight."
One way to understand her urgency is as the result of a radicalizing moment: Trump's victory. Four years ago there was talk of a Warren presidential campaign, but she decided not to run, wagering that the best shot to enact her agenda was by working through a powerful Democrat she believed could win—Hillary Clinton. People close to her say Trump's surprise election left her shocked and filled with regret. "If you went back to 2014 and told Elizabeth that Donald Trump would be elected president as a right-wing populist," a close adviser told me, "there's no question she would have run for president."
It's one of very few topics that leaves Warren short of words. Sitting on her sofa, she rebuffed any attempt to get her to revisit her thinking and what she'd have done differently. "I can't," she said. "I just can't."
Friends say what's driving her now is a desire to correct that mistake and a conviction that Trump's election showed voters want change on a scale most Democrats don't comprehend. She believes Democrats lost in 2016 because they were timid. Trump ditched Republican orthodoxies and brought along union members, blue-collar workers, and other traditionally Democratic voters in the bargain. Warren is making a big bet that taking Trump down requires beating him at his own game: go big and bold or risk losing again on warmed-over incrementalism. That's why the sweep of her agenda aims for the New Deal or the Great Society. "We need to fight harder for what we believe in," she told me.
If Trumpism is a hypertrophied version of conservatism, then Warrenism is, by design, liberalism jacked up on steroids. "It's all a response to Trump," says former Massachusetts Representative Barney Frank, a Warren ally who's neutral in the race. "It's meant to be earthshaking."
Until now, few Democrats would have embraced such an agenda for fear of being branded radical, tax-and-spend liberals. For many party regulars, that remains a live concern. House Speaker Nancy Pelosi spends much of her energy trying to contain the progressive exuberance Warren and other Democrats to her left have eagerly unleashed. Right now, the central strategic divide in Democratic circles is between Pelosi's desire not to spook voters and jeopardize her party's chance to beat Trump and Warren's conviction that they won't show up unless Democrats aggressively reclaim their historic mantle. Wake someone up in the dark of night during a Warren administration, she seems to promise, and they'll know damn well what the Democrats stand for.
Her push for enormous changes to the structure of the U.S. political economy is taking not only her party out of its comfort zone, but also Warren herself. For all her provocations, she has long been a believer in institutions who spent her career as an academic, government regulator, and senator carefully working within those systems. Her considerable success came because she taught herself to master the establishment, not blow it up.
That's changed. Her decision to abandon the constraints and conventions of how a Democrat traditionally runs for president has revivified a campaign many observers, not just the president, had written off. Suddenly, she's one of the hottest candidates in the field.
"What I've seen in the last six weeks for Warren in terms of grassroots energy is like a rocket ship taking off," says an independent digital strategist closely tracking the Democratic campaigns. More than anyone else, Warren has set the terms of the race and forced other candidates to respond as a matter of strategic necessity. As the first primary debates in Miami showed, Democrats' plans for a post-Trump future are far more sweeping than just about anybody expected them to be even a few months ago. Kamala Harris, a supposed moderate, has endorsed "Medicare for All," and even Biden was compelled to produce a far more robust health-care plan than the one he helped pass as Obama's vice president.
You can read up to 3 premium stories before you subscribe to Magzter GOLD
Log in, if you are already a subscriber
Get unlimited access to thousands of curated premium stories, newspapers and 5,000+ magazines
READ THE ENTIRE ISSUE
July 29, 2019