Can Shell Shed Its Dirty Past?
Bloomberg Businessweek
|
October 1, 2018
The oil giant wants to be a player in cleaner energy. But it has a Nigeria legacy to scrub
Perched in a helicopter sweeping over the mangrove forests of the Niger Delta, a photographer named Casey is looking for trouble. And she finds it, down among a cluster of tree trunks stained with crude. A faint disturbance in a jungle clearing turns out to be a group of men pawing at a pipeline, a tiny slice of a 1,200- mile web that feeds Royal Dutch Shell Plc's bustling export hub on Bonny Island. Some of the men flee as the chopper closes in, but most redouble their efforts as Casey aims her camera. "I've seen things get better," she said before takeoff. "Then they go back to getting worse."
Casey's paid by Shell to catch fellow locals in the act of tapping or sabotaging the patchwork of pumps and pipes that have turned Nigeria into both a major oil supplier and a leading polluter. But though she's under Shell's umbrella, the photographer isn't comfortable providing her last name. That's understandable. The Anglo-Dutch giant's operations have been the source of conflict since the 1950s, when it drilled the former British colony's first commercial well. That ushered in an era of spills that have ravaged fishing and farming communities— exacerbating corruption and anger among tribes in the delta, a region the size of Ireland that's home to some 30 million people.
A Small and Shrinking Contribution
Shell's daily oil and gas production, in barrels of oil equivalent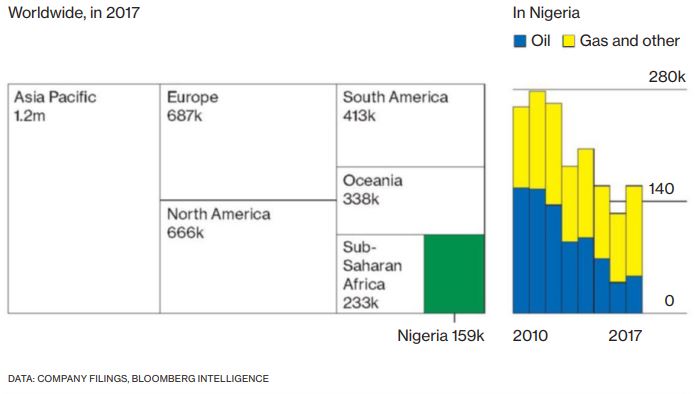 Now Shell is working to shrink its onshore operations in Nigeria and shed any links to environmental degradation and violence. That will be a major act of extrication. Oil sales made up more than half of federal revenue that flowed to the Nigerian government last year, with Shell accounting for about 7 percent. Ordinary people see the Hague-based corporation as almost as powerful as the government and think it can solve more problems than it can—and that it owes everyone a handout. One Shell employee, who didn't want to be seen disparaging the country, confided he rejected eight requests for additional, illegal payments in a single trip through the airport on one recent trip. Even antigraft campaigner NGO Global Witness and other Shell critics acknowledge that feuding factions within the government and predatory bureaucrats make it practically impossible to meet every demand.
You can read up to 3 premium stories before you subscribe to Magzter GOLD
Log in, if you are already a subscriber
Get unlimited access to thousands of curated premium stories, newspapers and 5,000+ magazines
READ THE ENTIRE ISSUE
October 1, 2018