An Audience Of One
Bloomberg Businessweek
|
October 26, 2020
OAN has positioned itself as the Trumpiest channel on air—and an eventual home for the president, win or lose
By Felix Gillette and Gerry Smith
Dan Ball, a host for One America News Network, looked disgusted. It was Tuesday, Sept. 29, and the first debate between President Trump and Joe Biden had just ended. Across social media, people were criticizing the moderator, veteran Fox News anchor Chris Wallace, who'd struggled to control the proceedings. Now Ball wanted to take a whack for OAN, a slavishly pro-Trump cable channel that's been positioning itself as more loyal to the MAGA cause than Fox News.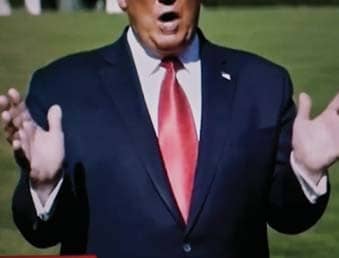 Ball pulled out a box of tissues. "I brought something with me for Chris Wallace," he said. "Chris should use that to get the brown stuff off of his nose." For the next half-hour, OAN's panel of analysts piled on. Wallace, they agreed, had been incredibly favorable to Biden, failing to fact-check his falsehoods, parroting Democratic talking points, and letting him interrupt and insult Trump. Still, the commentators said, Trump had performed admirably. He had better points to make and more specific facts. He was more natural onstage and stronger on the economy, voting fraud, taxes, crime, and the coronavirus.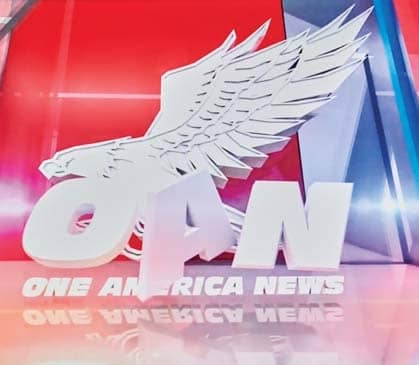 By proxy, Fox News was the night's big loser. Ball noted that "a lot of people" think Fox leans right. "Not so much anymore," he said. "You have an anchor right there who was obviously favoring the Democratic candidate."
Since taking office, President Trump has ushered into Washington a baroque procession of louche political operatives and oddball supplicants unlike anything seen in prior administrations. In the news business, OAN has been the single most jarring arriviste. The network, which started broadcasting in 2013, has managed to claw its way out of the cable news hinterland of San Diego and into the White House briefing room. Trump regularly calls on its reporters and touts it on Twitter, holding it up as a worthy alternative to Fox.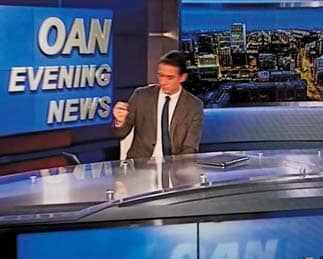 OAN doesn't subscribe to Nielsen, so data about its audience size is something of a mystery. Kagan, the media research unit of S&P Global Market Intelligence, says the network reaches 23.1 million pay-TV subscribers. That's far fewer than Newsmax TV (58.2 million) or Fox News (78.6 million), but OAN has nevertheless more than doubled its advertising revenue over the past two years, to an estimated $13.3 million. The channel is brimming with ads from companies hoping to sell things to Trump fans. On a recent afternoon, it featured commercials for Henry Repeating Arms, a shotgun and rifle maker; Trump Card, a documentary by conservative polemicist Dinesh D'Souza; and MyCleanPC. com, a hard-drive-scrubbing service.
Trump's affinity for the network is proving to be its own kind of currency—albeit one that might seem at risk of serious devaluation. As the election looms, OAN faces a crucial test: Can it capitalize on the next act of its beloved protagonist, whether it's a second term or a post-presidency?
Some industry observers have speculated that, if Trump loses, he could acquire Herring Networks Inc., the little-known company that owns OAN, and turn the channel into his own TV network, siphoning off die-hard MAGAheads and QAnon fanatics as Fox embraces whatever comes next from the establishment GOP. While it might be impossible to outflank prime-time hosts Sean Hannity and Tucker Carlson on the right, Fox's daytime hours are filled with less partisan voices, potentially leaving an opening. "Fox News, even under Roger Ailes, had a track record of being very pro-establishment," says Sam Nunberg, a former Trump campaign adviser. "A major syndicated network for conservative news media would certainly have a tangible market to compete against Fox during the daytime."
The person who could determine whether OAN capitalizes on a Trump free agency is Robert Herring Sr., a largely unknown 79-year-old former computer hardware entrepreneur. Herring didn't respond to interview requests, but conversations with more than 20 past employees paint him as an industrious, adaptive, paternalistic businessman who got into TV largely to chronicle the inspirational opulence of the unabashedly rich—and who, after a series of misfires, stumbled into Trump. Herring is a person, they say, who likes to trumpet expensive- looking things, as cheaply and loudly as possible—a Trump yacht parade come to life.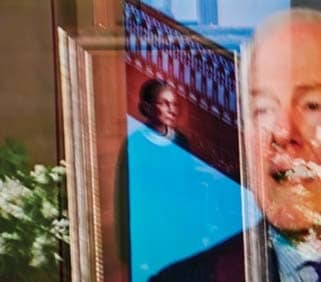 In courting the president, Herring may hold one advantage over his bigger rivals: He's built a private family business that operates with little of the tiresome interference and quality controls typical of modern corporate and newsroom governance. At Herring Networks there are no meddling board members, no second-guessing investors, no hotshot executives, and definitely no fealty to pious journalistic ideals. The company is a fiefdom designed to accommodate one man. Others might be able to offer Trump more dollars or a bigger audience, but Herring could give him something even more enticing: a company that feels like home.
You can read up to 3 premium stories before you subscribe to Magzter GOLD
Log in, if you are already a subscriber
Get unlimited access to thousands of curated premium stories, newspapers and 5,000+ magazines
READ THE ENTIRE ISSUE
October 26, 2020