Abridge, Pennsylvania: The Color Of the Rust Belt
Bloomberg Businessweek
|
September 07 - 14, 2020
This struggling steel town was a blue dot in a red county in 2016. What hue will it turn this year?
One afternoon in June, Mike Mikulich led a masked visitor into the empty chambers of the Ambridge Borough Council and dropped his mobile phone and thick forearms worthy of a former steelworker onto a table. As council president he'd been wrestling with one crisis after another for months. He confessed that after spending 32 of his 74 years helping run this former Pennsylvania factory town of 6,600, he was thinking of calling it quits.
Covid-19 had claimed Ambridge's police chief in April and the owner of its leading funeral home just a few days later. Two of its biggest employers had closed up shop, laying off some 300 workers between them. Within weeks, a third business would suffer a devastating fire.
A few days before our meeting, Mikulich had presided over an acrimonious virtual council session: Town leaders had been trying to figure out how latenight rumors of an Ambridge-bound bus filled with Black Lives Matter protesters had ended in members of a far-right militia with sniper rifles taking to the roof of a downtown gym.
All this was unfolding against the backdrop of a national election in which Mikulich feared his own Democratic Party seemed to be playing to lose in this purple corner of western Pennsylvania. Progressive Democrats' and protesters' calls to "defund the police" seemed like a gift to a president running a reelection campaign fanning fears of a collapse in American law and order should he lose. "Why would you say stupid stuff like that?" Mikulich said, grimacing. "The people who are just sitting on that fence leaning in your direction now are leaning back in the other direction because they don't want to defund the police department. They're going to say, 'Where in the hell is my police?' "
Pennsylvania is a prized battleground in this year's election, and if Donald Trump carries the state again it will be because he either held on to, or built up, support in places such as Beaver County, in which Ambridge sits. Trump carried the county by 15,636 votes in 2016—or more than a third of the narrow 44,292- vote margin he had over Hillary Clinton in Pennsylvania overall.
If Trump does win again in Beaver County, it will be in part because of how alienated from national politics a Rust Belt town can still feel in 2020 and how a summer of turmoil has managed to amplify that alienation. If he loses, though, it could well be because even after four years of what he's trying to sell as a working-class boom, it's hard to answer a fundamental question: What's the future for a place like Ambridge?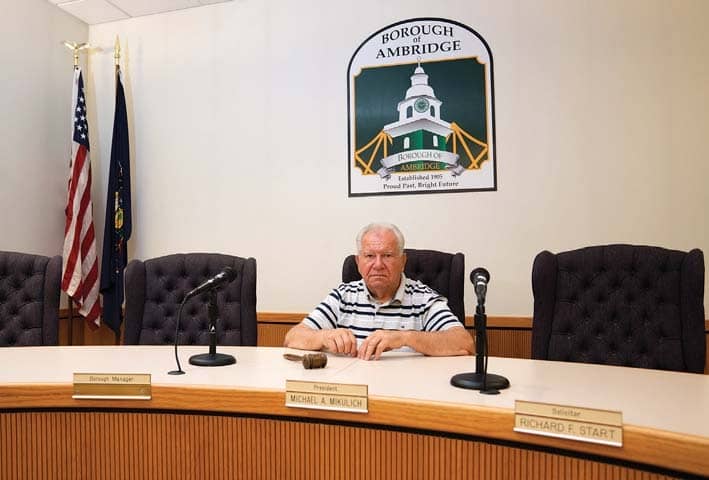 Trump's pledge to bring the good times back to a blue-collar America—or at least an angry White corner of it—that had been "left behind" by globalization and the tech revolution hung on firing back up slumbering steel furnaces and repatriating assembly lines by administering a tonic of trade protectionism, deregulation, and tax cuts. "I'm going to take care of you," he told a campaign rally at Ambridge's high school less than a month before the 2016 election.
Trump claims he's gone a long way toward delivering on that promise, and he's taken the same message to the stump in 2020. He's levied tariffs on steel and aluminum imports and renegotiated the North American Free Trade Agreement with Canada and Mexico. In the first three years of his presidency, the U.S. added 510,000 manufacturing jobs.
That doesn't tell the whole story, though. Trump inherited a robust economy that Republicans goosed with tax cuts in 2017. And by the summer of 2019, his trade wars were damping investment and hiring, contributing to a U.S. manufacturing recession. Pennsylvania lost manufacturing jobs last year.
The coronavirus recession has only made things worse and exposed how tenuous Trump's economic promise was in the first place. As of July there were 24,000 fewer Pennsylvanians working in manufacturing than in January 2017, when he took office. Beaver County's unemployment rate sat at 14.5% in June, more than twice the 6.6% when Trump took office.
A onetime steel town built into the hills along the Ohio River, a 25-minute drive west of Pittsburgh, Ambridge was still struggling to find its post-deindustrialization raison d'être when the pandemic hit. The layoffs came quickly in March as the town started to record Covid-19 cases.
A factory owned by North Carolina's Cornerstone Building Brands Inc. that made siding for industrial buildings announced it was shutting down, leaving 100 workers unemployed. That same month, a steel-tube plant owned by Luxembourg's Tenaris SA laid off 200 people and shut down for the foreseeable future.
Democrats blame the severity of the economic cataclysm on Trump's handling of the coronavirus response. That message seems to be hitting its mark in Pennsylvania, where Joe Biden, a native son, led polls by an average of almost 6 percentage points at the end of August, according to RealClearPolitics. Still, there's not much in the Democratic candidate's economic platform, which promises more dollars for infrastructure and scientific research, plus programs to wean the U.S. off its addiction to hydrocarbons, that might deliver an immediate payoff for towns like Ambridge.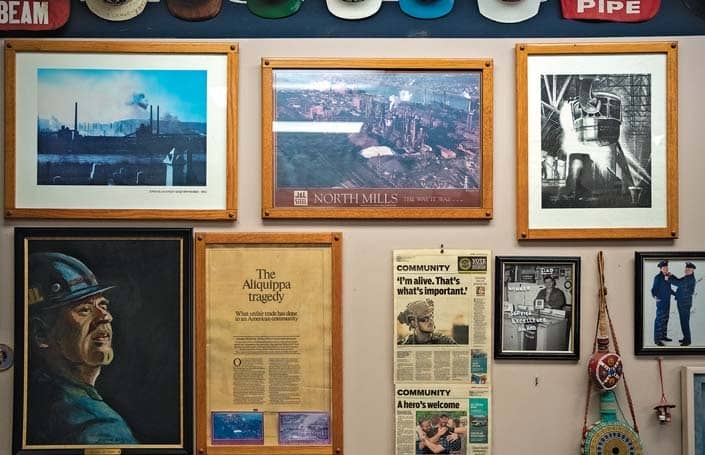 Biden has worked hard to take on a more centrist tone, and in the days since the Republican National Convention, he's been more aggressive in countering Trump's efforts to portray Democratic leadership as a route to anarchy, accusing him of fomenting violence in America. "Fires are burning, and we have a president who fans the flames rather than fighting the flames," Biden said at an Aug. 31 rally in Pittsburgh.
But local Democrats including Mikulich remain concerned that Biden has let a potentially consequential summer slip by and not fought back hard enough against the Trump campaign's efforts to frame the Democratic Party as slipping ever leftward and away from voters in places like western Pennsylvania. Of all the attack ads the Trump campaign and its proxies have run in the state, the one that seemed to get the most traction accused Biden of wanting to ban hydraulic fracturing, the controversial technique for extracting oil and gas from shale rock that's sparked energy booms in places such as southwestern Pennsylvania in the past decade.
"I'm a proud union man, I'm a Democrat, and I do not support Joe Biden," a man named Shawn says sternly in the spot. "I'm sick and tired of being taken for granted. Joe Biden's ban on fracking would put me and everybody I know out of work."
You can read up to 3 premium stories before you subscribe to Magzter GOLD
Log in, if you are already a subscriber
Get unlimited access to thousands of curated premium stories, newspapers and 5,000+ magazines
READ THE ENTIRE ISSUE
September 07 - 14, 2020