A Losing Equation For Baseball
Bloomberg Businessweek
|
March 18, 2019
New analytics are throwing America's national pastime into economic upheaval.
Eben Novy-Williams, Ira Boudway, and David Ingold
Imagine a business in which the worst performers are among the highest-paid employees. And imagine that top performers' talents start to fade soon after their salaries soar.
This is what it's like for Major League Baseball owners who are trying to profit, or at least not bleed money, in a labor market that makes little sense in any other context. In the past 15 years, no group of players has seen a bigger increase in salary share than the league's worst, while no group has seen its share decline faster than the best.
Before shedding tears for team owners, consider the situation players face. The league's labor agreement is built around a rigid seniority system: In their first six years, players can negotiate only with the team they're on. After that, they can test free agency. The upshot is that players are generally underpaid while they're young but, if they're good enough, can make up the losses later in their career. It's an arrangement that's kept the $10 billion enterprise stable for decades.
But this winter the system shows serious signs of strain. Owners are increasingly reluctant to pay for past performance, and players aren't happy about that.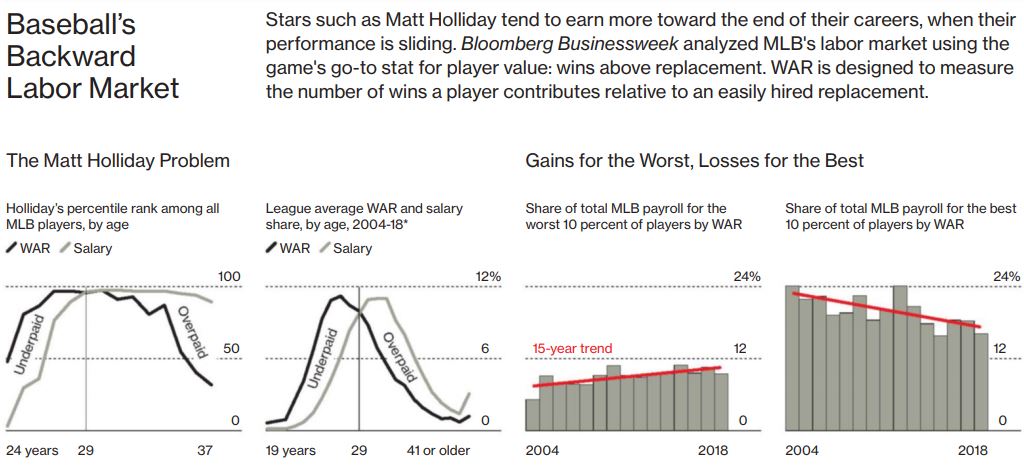 The two most talented free agents, Manny Machado and Bryce Harper, sat unsigned for months before striking a deal with the San Diego Padres and the Philadelphia Phillies, respectively. Their contracts were record-breaking—but many others, some coming offcareer years, settled for significantly less than projected, leading high-profile players to speak out. The "system is broken," tweeted seven-time All-Star Justin Verlander, a Houston Astros pitcher who could be a free agent a year from now. "It's obviously not good for baseball," Mike Trout, the game's best player, told reporters in February. The acrimony will likely fade with the arrival of Opening Day on March 28 as the focus turns to winning games, but it will eventually grow louder as the two sides approach the end of their current five-year labor deal in 2021.
When players gained free agency in the 1970s—a landmark moment in sports history—the MLB Players Association became one of the nation's strongest unions. Forty years later, "the balance is shifting back toward owners," says Joel Maxcy, a sports economist at Drexel University in Philadelphia.
You can read up to 3 premium stories before you subscribe to Magzter GOLD
Log in, if you are already a subscriber
Get unlimited access to thousands of curated premium stories, newspapers and 5,000+ magazines
READ THE ENTIRE ISSUE
March 18, 2019