A Guide to the World In 2050
Bloomberg Businessweek
|
November 16, 2020
As the balance of power shifts from West to East, market to state, democracy to authoritarianism and populism—history isn't over. It's just getting started
By Tom Orlik and Bjorn van Roye
Who really won the Cold War between the U.S. and the Soviet Union? Maybe China.
In 1972, Cold War logic pushed President Richard Nixon into an unlikely alliance with Mao Zedong—paving the way for China to reenter the global community. In 1991 the collapse of the Soviet Union amplified the West's "end of history" hubris, blinding Washington, London, and Paris to the significance of China's rise.
Fast-forward to 2020, and China has emerged as a major global power, its single-party state and state-dominated economy the subject of consternation in foreign capitals and pride in Beijing. By 2035, based on Bloomberg Economics' forecasts, China will have overtaken the U.S., emerging as the world's biggest economy and most potent geopolitical force.
China's rise is emblematic of a larger shift that will accelerate in the decades ahead. Using a growth accounting framework— adding up contributions of labor, capital, and technology—Bloomberg Economics has forecast gross domestic product out to 2050 for 39 economies, from the advanced U.S. to frontier Ghana. Using that data, we've charted the future path of global GDP based on geographic, political, and economic configurations.
The results show that a remarkable period of stability, stretching from the end of World War II to the early years of the 21st century, is coming to an end. The center of economic gravity is shifting from West to East, from advanced economies to emerging markets, from free markets to state-controlled ones, and from established democracies to authoritarian and populist rulers. That transition is upending global politics, economics, and markets. This is only the beginning.
A lot could happen to throw our projections offtrack. Wars, natural disasters, financial crises, and—as the Covid-19 crisis demonstrates— pandemics could all reconfigure the global economic map. Still, absent a crystal ball, forecasts of potential growth provide the most reliable basis for thinking about the long term.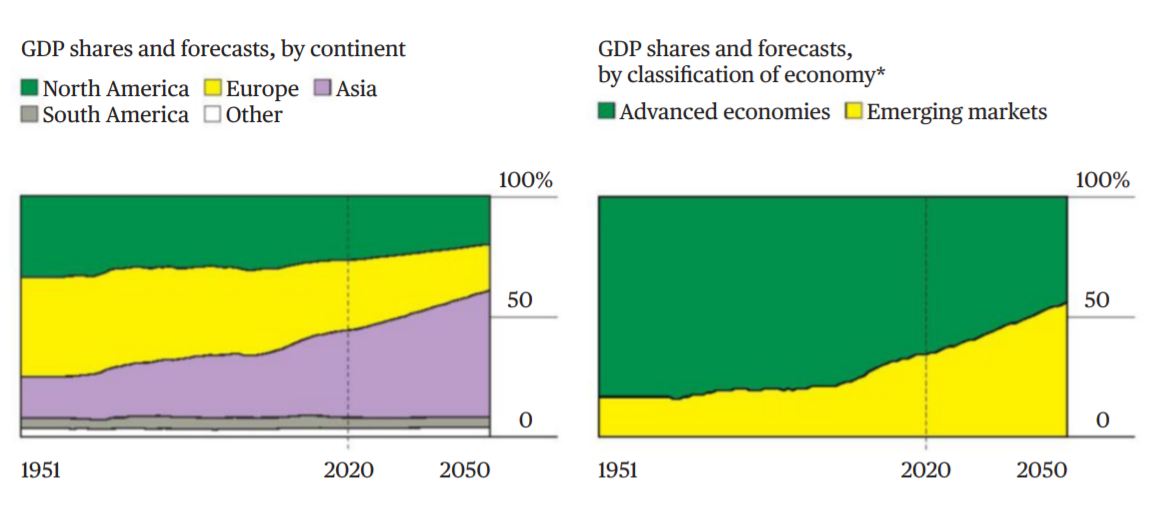 ASIA'S CENTURY
Asia is returning to its position as the center of the global economy. At the turn of the century, with China yet to join the World Trade Organization and India's potential still buried beneath the bureaucracy of the Licence Raj, Asia accounted for 25% of global output, substantially less than North America and Europe. By 2050 the continent, which already accounts for more than 50% of global population, will also command more than half of global output. North America and Europe will be in retreat.
Substantially driven by the rise of China and India, the emerging-market share of global GDP is also set to accelerate. In 2000 emerging markets produced 21% of global output, with advanced economies generating the bulk of the rest. In 2042 emerging markets will overtake advanced economies as the biggest contributors to global GDP. By 2050 they will account for close to 60% of the total.
You can read up to 3 premium stories before you subscribe to Magzter GOLD
Log in, if you are already a subscriber
Get unlimited access to thousands of curated premium stories, newspapers and 5,000+ magazines
READ THE ENTIRE ISSUE
November 16, 2020