A Drug To Stop Suicide
Bloomberg Businessweek|February 11, 2019
Amid a national epidemic, there may be hope: A fast-acting new drug based on ketamine.
Cynthia Koons and Robert Langreth
Joe Wright has no doubt that Ketamine saved his life. A 34-year-old high school teacher who writes poetry every day on a typewriter, Wright was plagued by suicidal impulses for years. The thoughts started coming on when he was a high schooler himself, on Staten Island, N.Y., and intensified during his first year of college. "It was an internal monologue, emphatic on how pointless it is to exist," he says. "It's like being ambushed by your own brain."
He first tried to kill himself by swallowing a bottle of sleeping pills the summer after his sophomore year. Years of treatment with Prozac, Zoloft, Wellbutrin, and other antidepressants followed, but the desire for an end was never fully resolved. He started cutting himself on his arms and legs with a pencil-sharpener blade. Sometimes he'd burn himself with cigarettes. He remembers few details about his second and third suicide attempts. They were halfhearted; he drank himself into a stupor and once added Xanax into the mix.
Wright decided to try again in 2016, this time using a cocktail of drugs he'd ground into a powder. As he tells the story now, he was preparing to mix the powder into water and drink it when his dog jumped onto his lap. Suddenly he had a moment of clarity that shocked him into action. He started doing research and came upon a Columbia University study of a pharmaceutical treatment for severe depression and suicidality. It involved an infusion of ketamine, a decades-old anesthetic that's also an infamous party drug. He immediately volunteered.
His first—and only—ketamine infusion made him feel dreamlike, goofy, and euphoric. He almost immediately started feeling more hopeful about life. He was more receptive to therapy. Less than a year later, he married. Today he says his dark moods are remote and manageable. Suicidal thoughts are largely gone. "If they had told me how much it would affect me, I wouldn't have believed it," Wright says. "It is unconscionable that it is not already approved for suicidal patients."
The reasons it isn't aren't strictly medical. Over the past three decades, pharmaceutical companies have conducted hundreds of trials for at least 10 antidepressants to treat severe PMS, social anxiety disorder, and any number of conditions. What they've almost never done is test their drugs on the sickest people, those on the verge of suicide. There are ethical considerations: Doctors don't want to give a placebo to a person who's about to kill himself. And reputational concerns: A suicide in a drug trial could hurt a medication's sales prospects.
The risk-benefit calculation has changed amid the suicide epidemic in the U.S. From 1999 to 2016, the rate of suicides increased by 30 percent. It's now the second-leading cause of death for 10- to 34-year-olds, behind accidents. (Globally the opposite is true: Suicide is decreasing.) Growing economic disparity, returning veterans traumatized by war, the opioid crisis, easy access to guns—these have all been cited as reasons for the rise in America. There's been no breakthrough in easing any of these circumstances.
But there is, finally, a serious quest for a suicide cure. Ketamine is at the center, and crucially the pharmaceutical industry now sees a path. The first ketamine-based drug, from Johnson & Johnson, could be approved for treatment-resistant depression by March and suicidal thinking within two years. Allergan Plc is not far behind in developing its own fast-acting antidepressant that could help suicidal patients. How this happened is one of the most hopeful tales of scientific research in recent memory.
DENNIS CHARNEY, DEAN OF THE ICAHN SCHOOL OF Medicine at Mount Sinai in New York, works from an office filled with family pictures, diplomas, and awards from a long career in research. One thing on the wall is different from the rest: a patent for the use of a nasal-spray form of ketamine as a treatment for suicidal patients. The story of the drug is in some ways the story of Charney's career.
In the 1990s he was a psychiatry professor, mentoring then associate professor John Krystal at Yale and trying to figure out how a deficit of serotonin played into depression. Back then, depression research was all about serotonin. The 1987 approval of Prozac, the first selective serotonin reuptake inhibitor, or SSRI, ushered in an era of what people in the industry call me-too drug development, research that seeks to improve on existing medicines rather than exploring new approaches. Within this narrow range, pharmaceutical companies churned out blockbuster after blockbuster. One in eight Americans age 12 and older reported using antidepressants within the past month, according to a survey conducted from 2011 to 2014 by the U.S. Centers for Disease Control and Prevention.
Charney was a depression guy; Krystal was interested in schizophrenia. Their curiosity led them to the same place: the glutamate system, what Krystal calls the "main information highway of the higher brain." (Glutamate is an excitatory neurotransmitter, which helps brain cells communicate. It's considered crucial in learning and memory formation.) They had already used ketamine to temporarily produce schizophrenia-like symptoms, to better understand glutamate's role in that condition. In the mid-1990s they decided to conduct a single-dose study of ketamine on nine patients (two ultimately dropped out) at the Yale-affiliated VA Connecticut Healthcare System in West Haven to see how depressed people would react to the drug.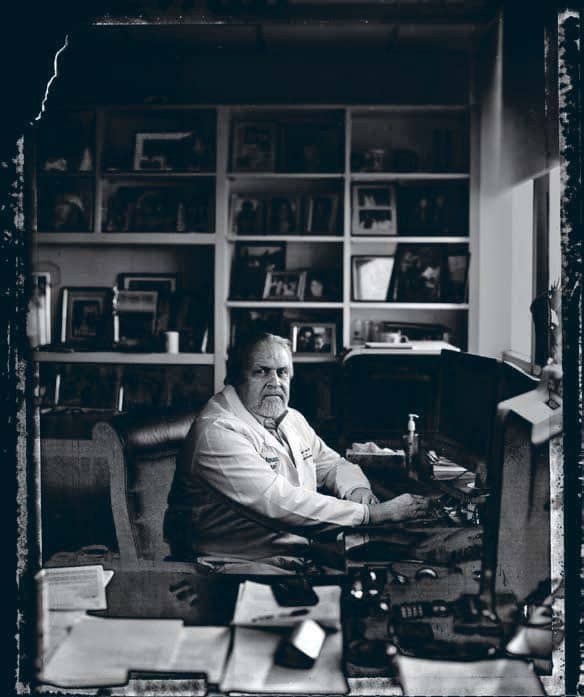 Outside the field of anesthesiology, ketamine is known, if it's known at all, for its abuse potential. Street users sometimes take doses large enough to enter what's known as a "K hole," a state in which they're unable to interact with the world around them. Over the course of a day, those recreational doses can be as much as 100 times greater than the tiny amount Charney and Krystal were planning to give to patients. Nonetheless, they decided to monitor patients for 72 hours—well beyond the two hours that ketamine produces obvious behavioral effects— just to be careful not to miss any negative effects that might crop up. "If we had done the typical thing that we do with these drug tests," Krystal says, "we would have completely missed the antidepressant effect of ketamine."
Checking on patients four hours after the drug had been administered, the researchers saw something unexpected. "To our surprise," Charney says, "the patients started saying they were better, they were better in a few hours." This was unheard of. Antidepressants are known for taking weeks or months to work, and about a third of patients aren't sufficiently helped by the drugs. "We were shocked," says Krystal, who now chairs the Yale psychiatry department. "We didn't submit the results for publication for several years."
You can read up to 3 premium stories before you subscribe to Magzter GOLD
Log in, if you are already a subscriber
Get unlimited access to thousands of curated premium stories and 5,000+ magazines
READ THE ENTIRE ISSUE
February 11, 2019