'We Carved Our Own Path'
Billboard|April 15, 2017
Alt-rock standouts Incubus reflect on prescient sound, 20-year legacy and coming out of it 'alive'
THE FIVE MEMBERS OF INCUBUS are gathered in their practice space, an appropriately dingy, windowless room in an industrial park in Los Angeles' San Fernando Valley. "You can make as much noise as you want and no one cares," says guitarist Mike Einziger, 40. They're rehearsing the new songs off their forthcoming album 8, prepping for the April 21 release and the ensuing tour in July. "It always starts off like a great mess," he adds, "and then slowly comes together."
Things are coming together — and then some — for the Calabasas, Calif., band these days. The new LP, its first full-length since 2011's If Not Now, When?, draws on all manners of rock, with added world music and jazz touches. The characteristically eclectic set even earned a late-stage remix from chart-topping DJ-producer Skrillex, 29, providing a decisively modern punch for the veteran act, which this year celebrates the 20th anniversary of its major-label debut album, S.C.I.E.N.C.E.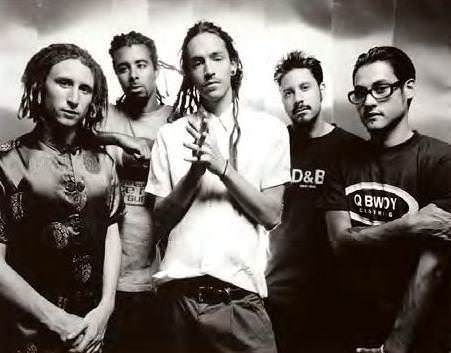 Throughout their lengthy career the altrockers have notched six top 10 albums on the Billboard 200 and 14 top 10 tracks on the Alternativechart, four of which went to No. 1. "Drive" was one of them, and as 8 rolls out, Einziger and frontman Brandon Boyd, 41, pronounce themselves and their bandmates rejuvenated and ready for the next 20-year ride.
It has been 20 years since S .C .I.E .N.C .E . Does it feel like it has been that long?
BOYD My true-felt experience is there are moments when it feels like we blinked and it has been 20-something years — a band for 26 years and 20 years since our first major-label release — but then there are moments where it feels like it was 200 years ago, where I listen to the music and I can feel where we were when we wrote that song.
EINZIGER It feels like a thousand years, to be honest. It's crazy. It's fun. From a certain perspective it feels like it has been lifetimes, and then from other vantage points it's like no time has passed. It's a very strange dichotomy, but it gives me a massive sense of appreciation for what we've been through, what we've accomplished, what we've done. It makes me feel very happy.
Does S .C .I.E .N.C .E . feel like the work of entirely different people to you?
You can read up to 3 premium stories before you subscribe to Magzter GOLD
Log in, if you are already a subscriber
Get unlimited access to thousands of curated premium stories and 5,000+ magazines
READ THE ENTIRE ISSUE
April 15, 2017