Life's Been Good To Niall (So Far)
Billboard|June 3-9, 2017
A year-and-a-half ago, Niall Horan was basking in the shrieks of One Direction superfans. Now, with the group in limbo and his mates making moves in everything from R&B to acting, "the cute one" is painstakingly crafting an album as a California rocker — and hanging with astronauts, Selena Gomez and (yes) the Eagles. All while staying truly hashtag-humble: "I'm a simple old soul, me"
When Niall Horan decided to move from London to Los Angeles in early 2016, it's no surprise that he chose a house in Laurel Canyon, the epicenter of '60s folk-rock culture. Horan was the one toting a guitar in One Direction, the British boy-band juggernaut that was just then going on a hiatus, and he's got the soul of a singer-songwriter: He's charismatic, witty and sensitive, but also easygoing and no-nonsense. Viewed alongside his bandmates — born rock star Harry Styles, "sensible one" Liam Payne, "funny one" Louis Tomlinson, moody R&B prince Zayn Malik — Horan, 23, is sort of like the middle brother: the most approach ably handsome, the second-most popular across social media (29 million Twitter followers; 19 million on Instagram) and the most likely to lust after a gig at the historic Los Angeles rock club The Troubadour. "Playing for, like, 500 people. What more do you want?" says Horan. "I've had some good moments with screaming teenagers, but I like when the room is completely quiet. It's a different kind of respect. People are actually listening."
It's exactly that reverent anticipation that greeted Horan when he played the opening notes of his first single, "This Town," at the Los Angeles Jingle Ball near the end of 2016 — although when he strode into the spotlight, alone but for his guitar and this one little solo song, he was playing to an entire stadium (the Staples Center, to be exact). "This Town," an acoustic coming of-age tale that persuasively showed that the tweeny-bopper had grown up, would go on to hit No. 20 on the Billboard Hot 100 in January. "Slow Hands," the next single off his planned 2017 solo album, is a throbbing, R&B-inflected rock tune that persuasively shows that he's a grown-ass man, and it's climbing the Mainstream Top 40 airplay chart at this very moment.
But one Wednesday morning at the Laurel Canyon house, Horan seems positively boyish. He's on the phone with his mom, for one. And he practically slides into the kitchen, wearing workout pants and a Nike shirt — a break from his typical uniform of topsiders, patterned socks, cuffed jeans and buttoned-up shirts. A nice lady named Ofelia brings us veggie omelets. "No pepper for you," she chides Horan. "Acid reflux," he explains.
Horan's fandom is thoroughly on display here. A framed black-and-white portrait of Frank Sinatra hangs in the den. The Rolling Stones lounge in full-color bacchanalian glory above the living room couch. Across from the fridge, Paul McCartney gazes up at a picture within that picture — Sinatra, again. Most of all, it's the Eagles who occupy a place in Horan's home. They get an entire wall: five photos lovingly hung outside his office.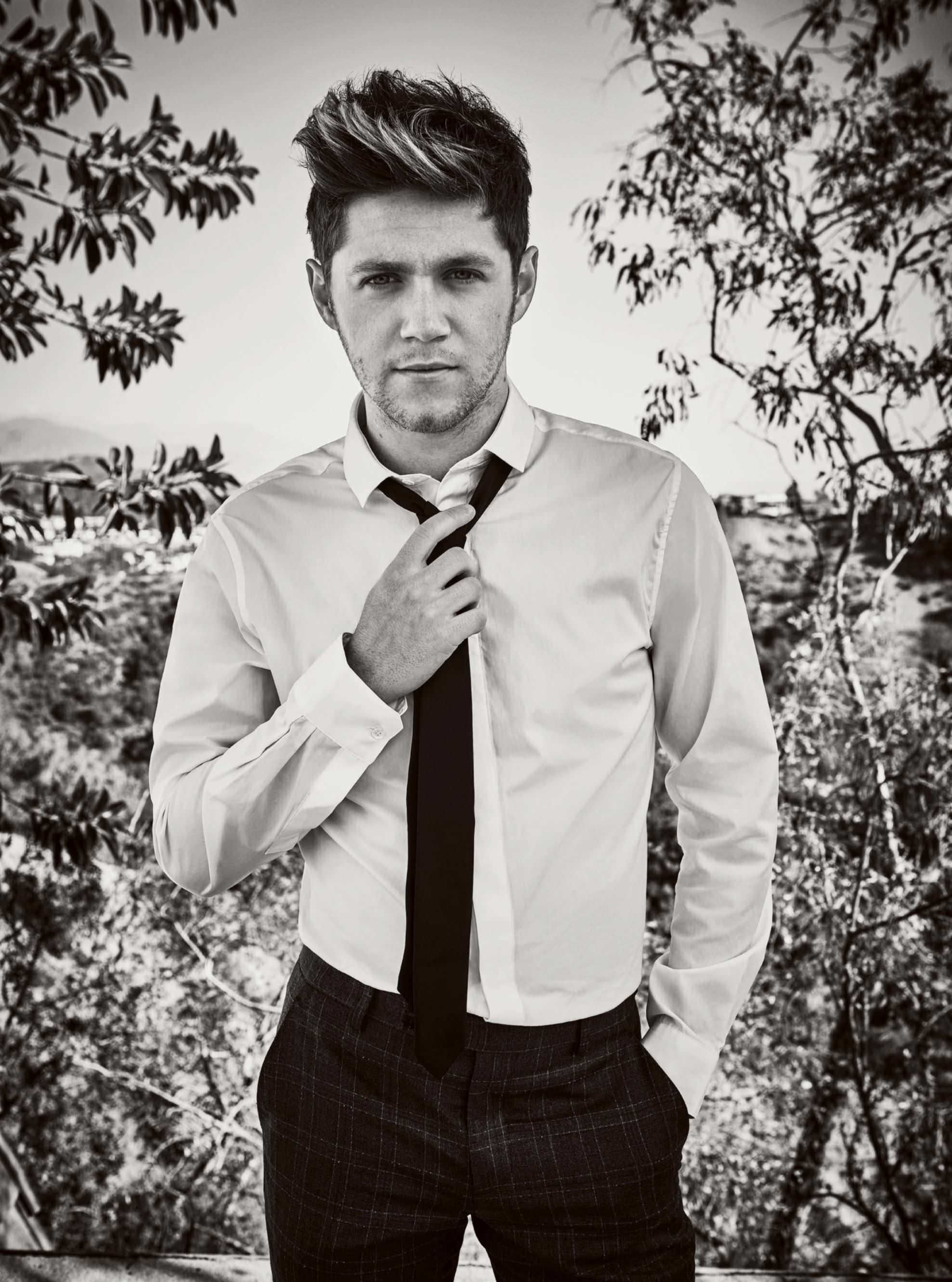 Ask Horan for a celeb story, and he'll tell you about the time he met those very Eagles at a gig of theirs in Toronto. He'll break out his Joe Walsh drawl to share a bit of wisdom from his favorite guitarist: "You better enjoy the ride, because one day you're going to be sitting on your own balls." Then he might add, far too casually, "Don Henley and I talk every couple weeks or so. It's mad. I call him 'Dad.' He calls me 'Son.' "
In fact, says Horan, "Slow Hands," co-written by Adele collaborator Tobias Jesso Jr., was inspired by Henley solo hits like "Boys of Summer" and "Dirty Laundry." It's almost as if he has retraced the evolution of two decades of California rock in his nearly 18 months outside of One Direction. Henley himself gives Horan a hearty endorsement: "Niall is a solid guy whose focus is right where it ought to be: on songwriting. He's got the Irish charm and a healthy, self-effacing sense of humor, which is an essential survival tool in this business. I think that Niall will evolve into a resonant, thoughtful voice for his generation."
As a member of 1D — even the guy pegged as "the cute one" — Horan has a major leg-up on voice-of-a-generation status. Or at least, pop-star-of-a- generation status. After five years of working in lockstep with four (three, after Malik's exit) other dudes — churning out an album a year, then touring to promote it while writing and recording the next one on the road — it's now the mundane moments, away from the stage, where Horan feels a bit naked. "Every now and then you're like, 'Fookin' hell, where is everyone?' " he says. "You're sitting in an airport lounge, they call you for a plane, and you don't stand up initially because you're waiting on everyone else, you know? 'Oh, Louis'll be back from the toilet in a minute.' "
You can read up to 3 premium stories before you subscribe to Magzter GOLD
Log in, if you are already a subscriber
Get unlimited access to thousands of curated premium stories and 5,000+ magazines
READ THE ENTIRE ISSUE
June 3-9, 2017