THINK SIMPLE THINK DIFFERENT
Banking Frontiers
|
July 2020
A product revolution could be brewing in the insurance sector:
Insurance has always been a tough product to manufacture (underwrite) and a tough product to sell. But there is a glimmer of change on the horizon, in the form of parametric insurance. How is it different? Fundamentally, it is a contract that ensures a policyholder against a specific event, and if the event happens a set amount is paid based on the magnitude of the event. This is unlike traditional insurance which pays against the magnitude of actual loss. The amount payable, the parameter, and a third party responsible for verifying that the parameter was triggered – all these are in the parametric policy. The third-party will usually be a government agency. For the insured, payments are quicker - usually made in a matter of days or weeks after the specified event occurs, as against months or years in the case of traditional insurance policy.
Parametric insurance solutions have been available since the late 1990s, but have become popular in corporate insurance recently. Newer products are being developed around the world and are often described as 'elegant solution for risk-transfer concerns'. Parametric insurance is being introduced in Africa and south-east Asia, where extreme weather is a common problem. Sri Lanka has a unique parametric product - offered jointly by charity Oxfam and insurance company Sanasa Insurance - for possible losses due to natural disasters in cultivations of rice, pepper, and cinnamon, which are the country's major items of agricultural exports. The product has inherent processes based on distributed ledger technology to cover risks and uses weather stations to automatically trigger claims.
"Parametric insurance in India is a fairly new concept and will slowly gain momentum in our country," says Tapan Singhel, MD & CEO at Bajaj Allianz General Insurance. He points out that as of now, it is majorly being used by the government under the weatherbased crop insurance scheme (WBCIS) with index, to assess the damage to crops.
POTENTIAL IN INDIA
"I believe that parametric insurance has a huge potential in our country," avers Singhel, adding: "We see risks becoming increasingly diverse and unpredictable. With renewable energy generation gaining momentum, we will see parametric insurance for renewable energy considering its unpredictable power sources and the corresponding financial risks." Natural calamities undoubtedly set back an individual by years in his/her life, with the kind of damage they can do to assets - and parametric insurance for such events is the need of the hour to ensure that there is stability in the society, and consequently in the economy.
He is of the view that parametric insurance with triggers like magnitude of the earthquake, wind speed of a tropical cyclone or water levels for flood/rainfall intensity will go a long way in bridging the painful gap between economic losses and insured losses.
Additionally, parametric products for banks to cover NPAs due to nat-cat events and also for risks which are hard to insure like transmission and distribution lines, land value, etc, can be explored in the future.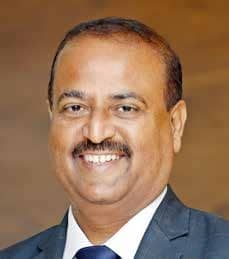 Tapan Singhel points out that parametric insurance is the hedge of uninsurable risks, which may not be possible to cover under traditional products
CROP INSURANCE
M. S. Sreedhar, Managing Director at Royal Sundaram General Insurance, says weather-based crop insurance is the most popular insurance product in India currently under parametric insurance. "There have been various agriculture-related parametric covers in India since 2003, but there has not been much uptake for these covers due to high risk and cost involved. There is tremendous scope for such products, particularly, in disaster risk financing for the state governments," he adds.
DISASTER RISK
He points out that recently the Nagaland State Disaster Management Authority had signed an MOU with Tata AIG (backed up by Swiss Re for reinsurance support) to provide insurance protection for this year's monsoon season – that is parametric insurance for excess rainfall events leading to severe flooding. "While the above cover is only for monsoon, a similar concept can be applied to other natural catastrophes with an agreed trigger that does not indemnify the pure loss but ex-ante agrees to make a payment upon the occurrence of a triggering event. With the increase in the frequency of catastrophic events in India and the disparity between economic and insured losses, these covers will provide the necessary relief to central and state governments. These covers are common globally but are generally not cheap which would explain the low uptake in India," says Sreedhar.
Sanjay Datta, Chief - Underwritings, Claims and Reinsurance at ICICI Lombard General Insurance, explains that parametric products are of various types and in India weather-based insurance WBCIS, is popular and it works on various parameters like temperature, rainfall, humidity, etc. It helps in better understanding of the products and it becomes easier to name the risk like earthquake insurance," says he.
Parametric insurance looks like the apt response to risks arising from frequent weather disturbances.
M S Sreedhar highlights that parametric insurance covers are common globally but are generally not cheap, which explains the low uptake in India
NEW OPPORTUNITIES
Ravichandran N, CTO at Kotak General Insurance, too maintains that the most popular form of parametric insurance product in India is weather insurance for farmers, which caters to trigger-based cover for farm activities. "In the near future, I foresee growth prospects in parametric insurance in the form of 'Solar Shortfall Insurance' and livelihood protection to protect economically weaker sections against natural disasters. One can also expect peril specific parametric cover for commercial as well as retail households to complement conventional insurance protection," he adds, indicating the huge scope.
Another use of parametric insurance is the travel industry - to cover flight delays and cancelation, avers Dr. Shreeraj Deshpande, Chief Operating Officer at Future Generali India Insurance. He explains how information regarding delays and cancellations is received by the insurance companies directly from the airport authorities as well as apps that provide information. "So, if a flight gets delayed for more than 3 hours, then that information directly goes to insurance companies' internal system and claims get paid to the insured passengers. This is the most common thing that insurance companies have adopted, these days," says he. Such products are easy to sell as well.
Deshpande also says crop and weather index-based insurance are the 2 types of agriculture insurance. "For example, in weather index-based insurance, if 60% of the rainfall has not happened, then damages are paid to the people staying in that area and covered by insurance. The percentages can be defined in the policy. Insurance companies are dependent on the weather bureau for the information," he explains.
He suggests that India must have similar parametric products for earthquakes. For example, if an earthquake crosses the Richter scale 6, even irrespective of whether there are damages or not, insurance amount gets paid to the insurer based on the indicators.
BROAD SPECTRUM
Adarsh Agarwal, the Appointed Actuary at Digit Insurance, too points to weather-based crop insurance as a parametric insurance product in India. "Other than this, there are no significant parametric insurance products, but some insurance companies are offering insurance against loss of revenue for windmills and solar power plants resulting from low wind/sun," he adds.
You can read up to 3 premium stories before you subscribe to Magzter GOLD
Log in, if you are already a subscriber
Get unlimited access to thousands of curated premium stories, newspapers and 5,000+ magazines
READ THE ENTIRE ISSUE
July 2020