SME Banking: From Problem To Opportunity
Banking Frontiers|June 2020
We're offering this story for free to read so that you can stay updated on the COVID-19 outbreak
SMEs have been badly affected by COVID-19 and the impact has cascaded down to banks and NBFCs. Banking Frontiers interviewed 9 BFSI organizations to understand their latest response. The findings are narrated in 6 different parts: (i) Impact on SMEs & Response by Lenders (ii) Analyzing the Impact - Sectors & Geographies (ii) Champion Channels during Lockdown (iv) Innovative Responses by Lenders (v) Getting Serious about Data (vi) Technology-assisted interactions imminent.
IMPACT ON SMES & RESPONSE BY LENDERS
The MSME segment took the hardest hit among all businesses due to the COVID-19 lockdown. While sales and revenue came to a standstill for many businesses, they are finding it hard to curb expenses, leading to a cash crunch. This has resulted in a stretched utilization of credit limits. Growth from fresh business has also been impacted. Challenges in the regularization of limits and recovery of repayment of dues have been temporarily offset by the moratorium measures taken by RBI.
SMEs employ around 40% of India's workforce, which is an estimated 80 million people, who are given an opportunity for livelihood and employment via low-skilled jobs. In a way, they form the backbone of the Indian economy. The national lockdown clamped by the government from 25 March has brought down the shutters of about 48 million SME units in the country affecting the livelihood of over millions of workers. This has a double impact – on the repayment capacity of the SME units as well as on the workers' income.
IMPACT ON BUSINESS & MORATORIUM
The moratorium for loan repayment introduced by RBI for 3 months initially which was extended for another 3 months has been to some extent a solace to the sector. But the continuous lockdown of the sectors for over 2 months now has posed more challenges to the sector like working capital requirements and labor non-availability since many of the workers had already left for their homes.
Alexander George Muthoot, deputy managing director, The Muthoot Group, says: "We have a broad clientele base that is spread across various sectors. The Covid19 pandemic has certainly impacted some sectors more than others by affecting their liquidity and weakening their repayment capacity. However, since our core business is extending credit on a secured asset i.e. Gold jewelry, the price of which historically has always appreciated and hence, we see less of a challenge from an NPA perspective. We feel it is a great opportunity for us to support more SME's unlock this dead asset. Going forward, the potential for providing liquidity to the MSME sector is immense and we are confident that as we progress, phased easing measures will create a positive impact."
Fino Payments Bank has 200,000 merchant points providing banking services to the MSMEs. As much as 95% of its MSME customers have their own business. Himanshu Mishra, SVP & senior divisional head (West & Central) at the bank, shared the details about the merchant channels: "Our merchants are mobile shop owners, Kirana (grocery) shop owners, pan shop and chai shop owners and they are also providing our banking services. We do not provide loans to the MSMEs, but we provide our transaction services to them through our merchants."
He shared details about the business during a lockdown: "In the initial period of the lockdown, 60% of our business got impacted, as our merchants' shops were closed. After the notification from the government about the opening of the merchant outlets, we had recovered 80% of our business in May. Our business increased to 104% in May end as we added new merchants."
The last mile fintech NBFC, Kinara Capital, is focused on the MSME sector, and its customers got impacted with the nationwide lockdown and all their operations were paused. Founder & CEO Hardika Shah said: "The economic impact of the pandemic is far greater than anything we will see because it came with a velocity that was unexpected. Our priority was to safeguard our customers and our employees. We immediately stopped in-person visits and put our 1000+ employees in the work-from-home system even before the first lockdown was announced. Certainly, our customers were impacted with the lockdown as this is affecting not only their lives but also the livelihoods of their workers."
When RBI announced the moratorium, Kinara Capital extended the same to its customers even though it was not mandatory for the NBFC to do so and there was no requirement for banks to extend the same provision to NBFCs, which made it tough for them. "Many of our customers did opt for the moratorium but mostly, everyone is more eager to begin resuming their operations," adds Hardika.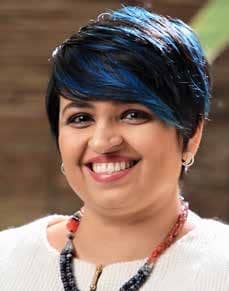 ADAPTION TO THE NEW NORMAL
Financial companies will continue to be working under the COVID cloud. Social distancing and strict containment measures are the norms for firms. BFSI companies are looking to work with the latest digital tools and make them a part of their customer acquisition journey, which allows them to not only prospect and select SME customers digitally, but also underwrite and onboard them with minimum paperwork and physical contact.
The lockdown and subsequent extension of moratorium to MSMEs across the country have also made companies cautious in selecting its customers and segments with much more intense scrutiny. Navin Saini, business head - Retail, Micro & SME, Arka Fincap, says: "We are looking to reduce our planned open for the current fiscal and work with much more frugal and efficient workforce that can multitask and be more productive. We would also be embracing new ways of working including work-from-home, rostering of staff, and using the latest digital collaborative tools such as Google Hangouts to meet and engage with our teams and channel partners."
Health and safety of the employees have been the topmost priority for the companies. U GRO Capital initiated migration to a remote working system before the lockdown was formally announced. The lockdown had impacted loan disbursals of the company. U GRO conducted a customer sentiment survey covering all its customers, to obtain the first-hand customer feedback and work out possible scenarios from a portfolio standpoint.
The biggest challenge for SMEs is the cash flow, and each entity needs a fresh infusion of working capital to restart the operations. Many lenders are planning to prioritize meeting the needs of existing customers for their additional requirements before tapping the demand from new customers.
Subrata Das, Head Analytics at U GRO Capital says: "We are utilizing this tough time to make large strategic strides forward on analytics, technology, marketing, and distribution strategy. For lending in post COVID times, we have created an evolved underwriting framework considering the past as well as the present, and we are ready to launch a cash flow projection based loan program called Sanjeevani. The Sanjeevani project is backed by the GRO score and machine learning model on bank statements and will be implemented on our home-grown advanced ML rule engine."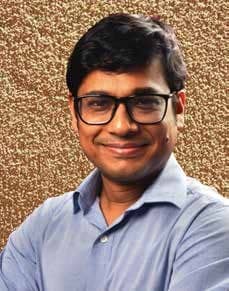 SUPPORTING CUSTOMERS DURING LOCKDOWN
Lockdown came as a sudden jolt to the SME sector, which has been reeling under pressure even before COVID with most having to close shops, offices, factories, and godowns. The impact has been severe in locations where COVID spread is high like Delhi, Maharashtra, Punjab, Karnataka, Tamil Nadu, and MP. Some of the MSMEs who could open under essential services or exemptions have been impacted due to the overall supply chain affecting the supplies and delivery of goods. This has resulted in low, delayed, and for some, almost nil collections.
InCred has been catering to MSMEs in various sectors and the repayments and collections are impacted for most of these segments. Saurabh Jhalaria, CEO - SME Business at Incred, shares the customer support strategies: "During this crisis time, InCred has been supporting its customers and has granted moratorium to those requesting it. Approximately 50% of customers have opted for a moratorium on repayments. While things are moving in a very dynamic manner, we expect that the overall business shall take at least 6-12 months to return to normal levels."
According to a customer survey conducted by Magma, around 60% of its SME clients have resumed businesses, but at the same time, they are currently operating at 30% capacity level. Manish Jaiswal, MD & CEO, Magma SME Business, says: "The return of the migrants who had left in the wake of the lockdown will be a challenge once the lockdown is completely withdrawn. Demand too will take some time to pick up. Most of the SMEs have informed us that their revenues are likely to be impacted by around 40-75%. Nonetheless, we are hopeful that given the push by the government of India under the Atmanirbhar Bharat project and the extension of the moratorium will help SMEs."
Manish Kothari, president & business head, Corporate Banking (Large Corporates, MNC, SME & New Age Companies) at Kotak Mahindra Bank, believes in supporting its existing customers during the lockdown: "For the first time ever, customers are facing nil revenues with fixed costs remaining intact, leading to losses. Cash flow cycles have also got broken, considering that the entire chain is impacted. In such a scenario, customers with high leverage or high fixed costs will find it difficult to run their business. Hence, as a bank, the focus now is to support our existing customers in the best possible manner while managing the risks arising from the lockdown. The obvious impact of that is lack of growth for this business."
ANALYZING THE IMPACT – SECTORS & GEOGRAPHIES
Auto, cement, steel, textiles, aviation, contractors, gems & jewelry, hospitality, transport, consumer durables, manufacturing, and EOUs are some of the worst impacted sectors during the lockdown. Rathish R, vice president & country head – Business Banking at Federal Bank, identifies travel, tourism, hospitality, discretionary retail, real estate, and EOUs among these as the most impacted by the unprecedented shutdown.
According to Kotak Mahindra Bank's Manish Kothari, sectors that involve high ticket purchases, discretionary in nature, or need people to move out have been impacted the most.
Sectors that are struggling are the ones impacted by decreased disposable income and lack of movements such as travel and auto-components. In these times, the businesses willing to adapt to the changing circumstances will have the best chance of recovery. Saurabh Jhalaria of InCred comments: "Export-oriented businesses like textile, gems & jewelry, fish & meat as well as process industries like refineries, petrochemicals, aluminum, iron & steel, where production cannot be stopped are expected to remain under stress in the near term. However, a big hurdle in the revival of the MSME businesses, which employ a large number of laborers, would be the availability of labor."
For Fino Payment Bank, lockdown had affected its domestic remittance business, as migrant labor from the industrial belt of the cities like Mumbai, Pune, Delhi, Gurugram, Hyderabad, Chennai, and Bangalore have gone back to their native village. Himanshu Mishra says this migration of the labor had affected 75% of our business, although we have recovered 50% of our domestic remittance business in May.
Apart from the obvious impact on sectoral demand, there is an impact on macro-economic factors. Subrata Das believes that there will be a micro impact on each entity depending on the nature of their financials and the stage of their evolution. For example, a relatively young company that is yet to reach the desired profitability or a relatively older company that sells a low margin product – in both these cases 3-5 months of inactivity or subdued activity can wipe out profits of the past 1-2 years, he says.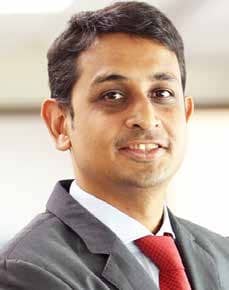 Saurabh Jhalaria is working on identifying new loan eligibility, especially when the business has been virtually zero in the last 2 months
You can read up to 3 premium stories before you subscribe to Magzter GOLD
Log in, if you are already a subscriber
Get unlimited access to thousands of curated premium stories and 5,000+ magazines
READ THE ENTIRE ISSUE
June 2020