Phygital is the strategy for Mahindra Finance
Mahindra & Mahindra Financial Services has been an early adopter of technology. Today, it uses blockchain, AI and ML and at the same time physical branches to serve its predominantly rural customers in a more efficient manner resulting in total customer delight:
Mahindra & Mahindra Financial Services, the rural-focused NBFC arm of the automobile major Mahindra & Mahindra, is today the top financier of tractors in the country. The company has several other financial products to make the lives of the rural and agricultural community a better experience. The company believes that given the nature of the geographies it operates in and the different segments of customers it serves in the deepest pockets of rural India, it needs to have a viable mix of the digital and the physical business models in the foreseeable future. It is just being practical, feels the company.
Mahindra Finance's vice chairman and MD Ramesh Iyer, says while on the one hand, the company will offer fully digital, online products for specific target customer segments, on the other, it will continue to serve other customer segments through its branch model. "We will therefore have a 'phygital' strategy where the physical and digital models will co-exist and complement each other," says he.
Iyer says the company has been serving the un-banked and new-to credit population in semi-urban and rural India, is present in every Indian state, and its 1300 + branch network covers 85% of districts nationwide. It has served 6.6 million customers spread over 370,000 villages – that's more than one in 2 villages in the country.
4-PILLAR-STRATEGY
"Our customer-centric financial inclusion model focuses on 4 pillars – easy access to credit for livelihood, insurance, housing and investment solutions. We believe that the latent demand for financial services in the country is huge and we are uniquely placed to cater to the same," says he.
Iyer is conscious about the unprecedented change that is happening in the Indian heartland, both socially and economically and maintains that improved communications - especially, mobile and internet - reduced transportation costs, changing trade patterns for commodities and the emergence of important non-farm activities in rural regions have combined to present rural India with a new set of challenges as well as opportunities. Traditional farming communities, he says, are increasingly complementing their activities with off-farm employment and exposure to the global environment with improved communications is further fueling rural aspirations and changing the business landscape. "Organized operations," he points out, "are gaining momentum and are being increasingly accepted and adopted, especially by younger rural Indians. In line with these fundamental shifts, we at Mahindra Finance, have been working at defining new financial service and delivery mechanisms supported by integration with mobile, the use of big data and artificial intelligence to deliver tailored, personalized experiences and complementary partnerships to the rural and semi-urban communities."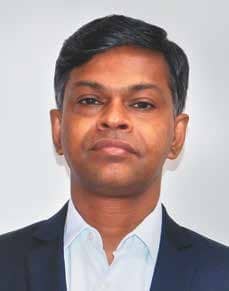 TECH - KEY ENABLER
"Hence, we look at technology as a key enabler, playing a crucial role in improving productivity, reaching a broader audience and delivering better customer experience. We have over the years accumulated first-hand knowledge and insights about customers in rural India, based on key data points ranging from income, payment behaviors, to socio-economic trends and aspirations. Such data backed by powerful analytics has enabled us to further scale and digitize the business model to drive customer engagement and design solutions customized to the needs of this unique set," says he.
The company, he points out, as it continues to expand our geographic reach and scale of operations, continue to develop its technology architecture with new age technologies such as blockchain, artificial intelligence and machine learning to support this growth.
You can read upto 3 premium stories before you subscribe to Magzter GOLD
Log-in, if you are already a subscriber
Get unlimited access to thousands of curated premium stories and 5,000+ magazines
READ THE ENTIRE ISSUE
February 2020