High on Chai
Bakery Review|December - January 2020
Tea is one of the most popular drinks globally, which is consumed in various forms in different parts of the world. The global market for tea reached a volume of 6.2 million tons in 2018 and is expected to touch 7.58 million tons by 2024. In India, however, its consumption is pretty low as compared to several other countries. There is thus ample opportunity for entrepreneurs to increase the per capita consumption of this beverage by popularising this drink among the youth. This can be done by opening up more tea shops/lounges serving a variety of tea. They could also start marketing of packaged tea under their own brand. Ashok Malkani discusses about the low consumption of tea and how it can be popularised in the country.
British writer and lay theologian, Clive Staples Lewis said, "you can never get a cup of tea large enough or a book long enough to suit me." That is a perfect sentiment that one can think of for a nice cup of tea. This beverage, which comes in a wide variety of different flavours is one of the most popular drinks in India.
The British love the tea so much that they have specifically marked afternoon time as 'tea time'. Legend has it that afternoon tea was created by Anna Maria, the seventh Duchess of Bedford. She is believed to experience a 'sinking' feeling around 4pm every afternoon; so she asked her maid to bring her tea and a slice of bread and butter to tide over the period between lunch and dinner. She found that tea was the perfect refreshment and asked her friends to join her. This quickly became a popular social event and the English afternoon tea was born.
In India, 'Chai' is more than just a cup of tea to start the day. It is an integral part of the rhythm of life. Tea is India's most popular drink. It is not just a drink for the Indians but a ritual, a celebration or, one may say, a diversion from the regular mundane affairs. Tea is, today, among the most popular drinks in the country. No wonder India has a consumption of 837,000 tonnes per year.
India is the second-largest producer of tea (only behind China) but there is so much demand that 70% of the production is consumed within the country. No wonder December 15 is celebrated as International Tea Day in India. It has been celebrated, since 2005, in tea producing countries like Bangladesh, Sri Lanka, Nepal, Vietnam, Indonesia, Kenya, Malawi, Malaysia, Uganda and Tanzania.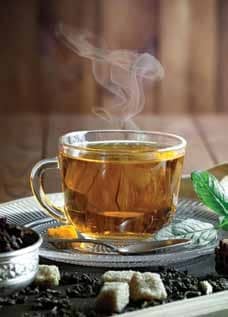 Medicinal Beverage
With an estimated liquid beverage equivalent of around 85 liters per person a year, tea is the most consumed hot drink worldwide and indeed the most consumed non-alcoholic beverage overall. With the benefits that come with drinking tea, its high status is a positive thing. Tea is said to be a medicinal beverage. Tea leaves are full of antioxidants and contain substances that reduce the risk of cancer, diabetes and heart disease. It can also help reduce joint inflammation due to presence of polyphenols. Tea helps reduce cholesterol, encourages weight loss and sharpens mental alertness. Health experts advice drinking less processed teas and being careful with sugar and other additive sweeteners.
Though India is the second-largest tea producing country in the world and consumes about 70% of its product, it is still far behind several other countries as far as consumption of tea is concerned
Low consumption in India
Tea Board of India has appointed a consultancy firm to study consumption patterns of this beverage. According to preliminary reports, the overall consumption was low. PK Bezboruah, chairman of Tea Board, is reported to have stated: "Although per capita consumption has increased to 800 grams now from [the] 700 earlier, Indians still drink lesser tea per person as compared with even some of their neighbours like Pakistan and Sri Lanka."
It may be mentioned here that though 850 million kg, of the 1,200 million kg produced in India, is consumed internally it is mainly due to the fact of the large population. It does not reflect the low per capita consumption.
Contrary to the popular imagery of India being a tea-drinking nation, it's per capita tea consumption is low at 786 gm. A burgeoning population has ensured that 80% of the crop Is consumed domestically, but per capita consumption remains a pain-point for the industry and the regulator.
As a tea-drinking nation India stood at No. 27.
You can read up to 3 premium stories before you subscribe to Magzter GOLD
Log in, if you are already a subscriber
Get unlimited access to thousands of curated premium stories and 5,000+ magazines
READ THE ENTIRE ISSUE
December - January 2020