Economic Slow Down Will It Pick Up, How And When
India's economy grew slower than expected to a 20-quarter low in the January-March period, dragging overall growth to a five-year low in FY19, following on from this, the central bank is widely expected to cut interest rates further to bolster the flagging economy.
Let us have a look into the reasons of slow growth and measures to arrest further slide.
What has happened
India's economy slipped by 5.8 percent in the fourth quarter ending March 2019. GDP growth in the previous quarter was recorded at 6.6 percent. In the fourth quarter of the last fiscal year (2017-18) GDP growth was reported at 8.1 percent. The numbers presented by the CSO underlines a cooling economy.
What is concerning? For the full fiscal 2018-19, the country recorded GDP growth of 6.8 percent - a low in five fiscal years. Last fiscal year, India's GDP growth rate was reported at 7.2 percent. To arrest this slowdown will be first challenge to new government.
As per the data, the economic activities which registered growth of over 7 percent on a YoY basis in 2018-19 were 'public administration, defence and other services', 'construction', 'financial, real estate and professional services', 'electricity, gas, water supply and other utility services'.
"The growth in the 'agriculture, forestry and fishing', 'mining and quarrying', 'manufacturing' and 'trade, hotels, transport, communication and services related to broadcasting' is estimated to be 2.9 per cent, 1.3 per cent, 6.9 per cent and 6.9 per cent, respectively," the CSO said. The growth in Manufacturing, Construction and financial real estate sector has been more compared to previous year. Whereas in other sectors growth is declined.
The scenario of agriculture sector too does not look very bright. Elaborating further on the CSO data, chief economist ICICI securities Prasanna says , Weak rural activity indicators have also been impeding growth recovery as captured in low rural wages, slowdown in credit to medium scale industries and nascent recovery in two-wheeler and commercial vehicle sales.
Acreage for the rabi crop was lower than last year, which has impinged on the agricultural performance." He expects consumption impulses to remain muted in the upcoming print and recovery in the same will "depend on the monsoons and the efficacy of the income schemes for the rural population." Monsoons have remained more or less erratic in the past five years and water scarcity has been amply reported from states of Maharashtra, Tamil Nadu and other parts of the country. The factor of a developing El-Nino could potentially leave farmers with a hole in their incomes.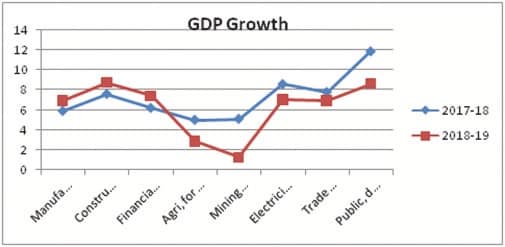 Private final consumption expenditure in the year rose 8.1% and capital investment as measured by gross fixed capital formation expanded 10% from 9.3% in the previous fiscal.
Investment in terms of GDP has declined from 32.2% to 29.8%.
Export in terms of GDP has also declined from 11% to 9% for the year 2018-19. India's per-capita income increased 10% to Rs 10,534 per month in 2018-19 from Rs 9,580 in FY19. The per-capita income is an indicator of the prosperity of a country.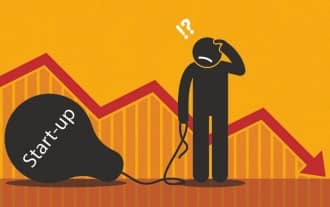 India's industrial production fell 0.1 percent from a year earlier in March 2019, the first month of contraction since June 2013. Manufacturing production shrank 0.4 percent, the same pace as in the previous month, while mining output rose at a softer pace (0.8 percent vs 2.2 percent). On the other hand, electricity output growth accelerated to 2.2 percent from 1.3 percent. Industrial production for 2018/19 grew at 3.6 percent, slower than 4.4 percent in the previous fiscal year.
A Mint analysis showed that slower sales have dragged profits of companies that reported earnings for the quarter ended March 31 to the slowest in at least 13 quarters.
Continue Reading with Magzter GOLD
Log-in, if you are already a subscriber
Get unlimited access to thousands of curated premium stories and 5,000+ magazines
READ THE ENTIRE ISSUE
November 2019