Vanilla, Vanilla, How Pricey Art Thou?
Agriculture|March 2020
If there is one plant I would recommend planting among hobbyists or even to serious gardeners, it would be vanilla orchid, which is the source of the very pricey vanilla. Would you believe that a grower here in the Philippines sells a kilo of these vanilla pods at R45,000 and R0.65 to a gram? Yes, you read that right!
Primarily, Milea Bee Farm in San Jose, Batangas is a small farm dedicated to the propagation and care of various species of honey producing bees. However, in 2014, its owner, Edilee Rosales, came to visit a friend in Tanauan who happens to be growing vanilla orchids. Her friend offered her some vanilla cuttings to try planting in her bee farm.
Luckily, after two years, Rosales was able to harvest the first vanilla pods, which gave her additional substantial profit from then on.
A PRODUCT OF RESEARCH, TRAINING, AND SELFSTUDY
Since Rosales did not have prior knowledge about growing vanilla plants, she did self study, online research, and attended seminars and training. And as if fate was on her side, the bees, which thrive in the multitudes on her farm, did their jobs in pollinating the vanilla flowers, which produced the priced pods. Normally, in those areas scarce of pollinating bees, it would usually take three years when using the hand pollination technique. Here, women would go around from flower to flower, fertilizing the vanilla orchids by pressing the stamen and pistil together.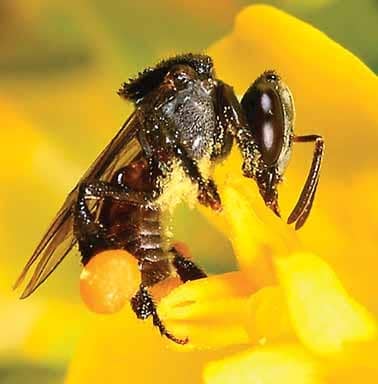 These vanilla pods command a high price in the market due to high dem and less supply. A Milea farm worker shows harvested vanilla pods that ready for sun drying.
In Milea Bee Farm's case, one pollinator can pollinate 800 to 1,000 flowers a day. This elicited excitement for Rosales, thus, she propagated more and more vanilla plants and pursued the process from harvesting of pods (often incorrectly called beans) until marketing.
SPECIES PREFERRED
Rosales grows Vanilla planifolia, which is a species of vanilla orchid and is easy to grow. It is native to Mexico and Central America and is one of the primary sources for vanilla flavoring due to its high vanillin content. Vanillin is found mostly in the seeds and oily liquid surrounding the seeds in the pods.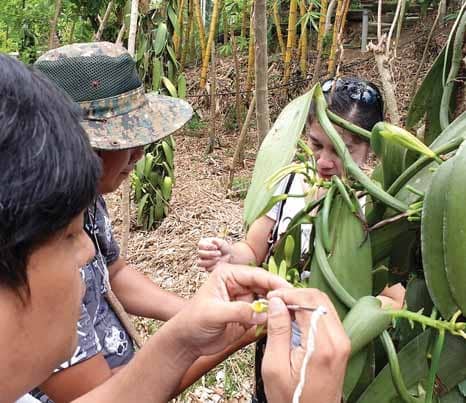 Like all members of the genus Vanilla, V. planifolia is a vine. It is a climbing plant which uses its fleshy roots to support itself as it grows. It grows best in environments with regular warm temperatures, bright indirect sunlight, and high humidity. The vine should be hung or elevated to avoid direct contact with the soil to prevent its deterioration, especially during the rainy season. The plant requires a maximum four hours of sunlight exposure a day to avoid sunburn or sunscald of the leaves that may cause yellowing and stress the plant, which could eventually cause the plants to wilt and die.
In terms of irrigation, vanilla plants are low-maintenance – lightly misting the entire plant daily or every other day will do; overwatering could make the plant vulnerable to diseases. Natural liquid fertilizer similarly used in orchids is recommended every two weeks during summer months.
You can read up to 3 premium stories before you subscribe to Magzter GOLD
Log in, if you are already a subscriber
Get unlimited access to thousands of curated premium stories and 5,000+ magazines
READ THE ENTIRE ISSUE
March 2020