UPSCALING WILD GRASS INTO QUALITY HANDWOVEN ACCESSORIES
Agriculture|January 2020
WHEN IT COMES TO ACCESSORIES like bags, we tend to opt for those made from quality material so the item can survive the inevitable wear and tear. However, a social enterprise based in Leyte uses natural materials such as a special reed grass to create products that are both eye-catching and durable.
PATRICIA BIANCA S. TACULAO
"We co-create, design, and commission bags, mats, souvenirs and functional or decorative items made with lovingly hand-woven ticog grass, romblon, seagrass, and other organic materials," said Anna Veloso Tuazon, director of Abre Linea Incorporated.
Tikog, or ticog, is a special reed grass that grows in swampy areas along the rice fields that acts like a sponge because it can hold higher volumes of water during the rainy season or release moisture to the soil during the dry season.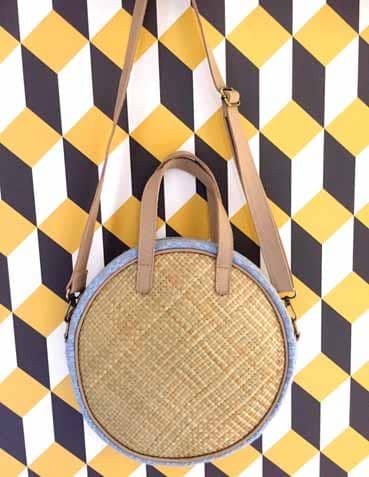 "We tend to find comfort in the intuitive tautness and organic feel of handwoven ticog. This is especially true on days you miss the feel of grass on your skin and want to bring the outdoors in," Veloso said.
After Typhoon Yolanda, weavers of Basey, Samar relied greatly on ticog grass since it was the material they had access to in San Miguel, Leyte.
The grass grows wild which is why the farmers need not to go out of their way to nurture it. Their task lies in the preservation of the peatland or marshland where the ticog grows by limiting ecosystem interference.
"Natural calamities such as the Typhoon Yolanda inundation, or man-made interference such as the creation of dams or landfills alter the water content of the peatland and can cause the ticog grass to rot," Veloso said.
Materials such as buri palm leaves, romblon as well as pandan leaves, seagrass or bariis, and leather are also used in creating Abre Linea Inc.'s quality bags.
Veloso added that the social enterprise fuses contemporary designs with locally available materials and artisanal craftsmanship, for the benefit of weaving communities in Leyte and Samar.
You can read upto 3 premium stories before you subscribe to Magzter GOLD
Log-in, if you are already a subscriber
Get unlimited access to thousands of curated premium stories and 5,000+ magazines
READ THE ENTIRE ISSUE
January 2020