SUCCESSFUL LAWYER IS ALSO A PROLIFIC URBAN GARDENER AND BLOGGER
Agriculture|May - June 2020
URBAN GARDENING is a challenging hobby. It requires patience, perseverance, and passion. The availability of space, unpredictable weather patterns, and even environmental pollution in the city are just some of its paramount considerations. Despite these challenges, urban gardening is feasible.
Glo de Castro is an attorney who is an urban gardener on the side who overcame these challenges and writes about them in order to help others, too.
A GARDENER'S JOURNEY
At a young age, Atty. de Castro was already exposed to home gardening because she grew up in a provincial setting where gardening is one of the common things to do due to the conducive environment. Her father is an overseas worker while her mother is a full-time housewife, who according to her is a "wise spender."
De Castro shared that, "Mom was a wise spender so she took to home gardening as a way to supplement our food requirements at home. We always had fresh vegetables served on the table, most of them picked straight from our garden." As a kid, together with her two siblings, they would help sustain their garden by watering the plants every afternoon. Years after, when their family moved to Manila, even at the advanced age of her mom "(she) still grew a lot of vegetables in her small backyard garden," she explained.
As De Castro grew older and eventually started her own family, she longed to try the kind of home gardening inspired by her childhood experience. Although she is knowledgeable enough to do it on her own, there were challenges to overcome due to the difference between urban and rural environments.
"I had some knowledge of growing plants, but I just couldn't find the time to start a vegetable garden at home. Space was also a problem. Here in the city, garden space is a luxury," she said. Fortunately, De Castro was still able to plant through container gardening as an alternative solution. "So I experimented on container gardening. I started with a few vegetables, and I had been successful with some of them. Over the years, it became my passion – trying a new crop each time," she explained.
The journey, of course, was not easy, De Castro admitted that she also made a lot of mistakes while taking care of her plants and backyard garden, but then, "these mistakes challenged me further to try again. Until the garden grew, with more new crops like herbs, vegetables, and flowering plants," she shared.
EMBODYING THE VIRTUES OF HER CORPORATE ROLE
Before Glo de Castro started her own urban garden, she was already employed in the corporate world. Currently, she is an executive at Ayala Group, where "(they) put great emphasis on sustainable development—or the positive impact of our business to the community and our environment" that said, she also imbibed these principles in her own gardening activities. "For instance, I only advocate products and gardening techniques that do not do harm to our environment," she said.
De Castro chose urban gardening as her advocacy as it benefits not only the hobbyist but also the environment. She explained that if every household will be able to grow their own food, then we can collectively lessen our carbon footprint. She added that rather than planting trees, which is difficult to do, especially in the city due to the availability of space and years of cultivation, backyard gardening is much easier and more feasible.
Moreover, the activity does not take too long to produce actual outcomes and harvests, which gives an additional benefit of enjoying personally-grown vegetables that we can all enjoy with our families.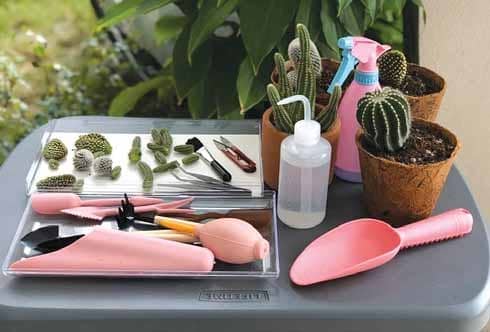 HELPING FILIPINO GARDEN ENTHUSIASTS THROUGH BLOGGING
As Atty. Glo continues her backyard garden adventure, she was able to do other activities which are in line with her interest in planting. The longingness she felt that made her try urban gardening resulted in her very own website dedicated to blogging and other gardening business-related activities.
Through her website Urban Gardening Mom, she shares personal experiences in planting and tips on making plants thrive, and she also benefits from it as an e-commerce business where she endorses products that she's tried in her own garden to justify their quality.
The website started when De Castro was surfing the web for some urban gardening techniques. She noticed that most published materials were based on the writers' personal experiences which were applicable only in western countries that obviously, she cannot use in a country like the Philippines due to different "climate or seasons, seed varieties and even the vast resources for gardening supplies."
You can read up to 3 premium stories before you subscribe to Magzter GOLD
Log in, if you are already a subscriber
Get unlimited access to thousands of curated premium stories and 5,000+ magazines
READ THE ENTIRE ISSUE
May - June 2020