FORMER SCHOOL TEACHER FOUNDED ONE OF THE BIGGEST SEA WEED EXPORTING FIRMS IN THE COUNTRY
Agriculture|January 2020
FILIPINOS have always prided themselves on being an agricultural country, with numerous land and marine resources. And yet, only a select few know about the bounty that can be harvested from our waters.
W Hydrocolloids, Inc. is one of the biggest exporters of seaweed products in the country. Its Rico Carrageenan brand is an essential ingredient in food and beverage processing, pharmaceuticals, cosmetics, and other non-food applications like pet food and air freshener. It is part of the W Group Inc., a holding company that includes W Landmark, Inc., which handles real estate.
AN UNDERRATED RESOURCE
"We have 7,000+ islands and the best thing to do is to go to the sea," says W Group co-founder and vice chair Dr. Rosalind Wee. She adds that the Philippines is lucky because not every country can grow Eucheuma, the kind of seaweed needed, and even then, only certain parts of the Philippines can grow it successfully.
Eucheuma is one of the fastest growing species of seaweeds. It is cultivated in areas with rocky to sandy seafloor and slow to moderate water movement. "Not all places in the Philippines can culture carrageenan," Wee explains. "You cannot grow it in places with big waves. It should be with lesser waves and shallow, but not so shallow so that when it goes low tide, the seaweeds are still covered. And it needs sunlight for it to grow."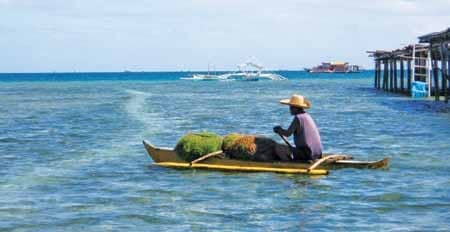 There are three types of eucheuma, but the particular species grown is Eucheuma cottonii, also called guso. "Places where they can culture is the Sulu sea and lately in Bohol and also in Palawan," Wee says.
Cultivating seaweed used to take three months, but now they can be harvested in 45 days. "But we tell the farmers, 'don't harvest it yet. Let it grow more. Let it be more mature so we can get more gel out of it.'"
The seaweed is used to make carrageenan, a food binder, stabilizer, and gelling agent. Carrageenan is an important ingredient in food items such as hotdogs, sausages, ice creams, cheese, beer, and jellies, as well as in pharmaceuticals, pet food, and other applications. There are three commercial classifications: kappa (strong gels), iota (soft gels), and lambda (does not gel and is used as a thickener). The company produces kappa and iota.
How did Wee, a former schoolteacher, find herself in agriculture? "Because there was a big demand," she says.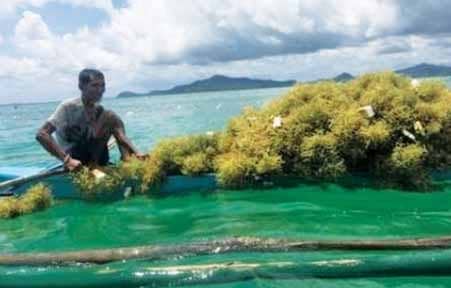 THE SCHOOLTEACHER FROM JOLO
Wee grew up in Jolo, Sulu. She was a schoolteacher who taught math, chemistry, physics, geometry, trigonometry, and music. When the peace and order situation in Jolo became unstable, she was sent to Manila, where she continued to teach.
At that time, her husband, Lee Hiong Wee, was a physics professor in Mapua. He also sold bangus in Divisoria. The couple also had a movie booking business in Cotabato City and Lebac, both in Cotabato, as well as Angeles City, Pampanga and Olongapo City, Zambales.
You can read upto 3 premium stories before you subscribe to Magzter GOLD
Log-in, if you are already a subscriber
Get unlimited access to thousands of curated premium stories and 5,000+ magazines
READ THE ENTIRE ISSUE
January 2020