Weaving Wedding Magic
FWD Vivah
|
October 2017 - January 2018
The newest bridal designer in town, Parvathy Chankramath, talks about her boutique and what makes her designs click.
The magic begins to weave around your mind even before you enter the store, and as you walk up the stairs that lead to the glass-panelled white door. The walls framing the stairs are adorned with various faceless women, some trying on beautiful, ethereal dresses, others immersed in the various processes of dressmaking. That little girl in you who loved to play dress-up will invariably squeal in delight. You pause at the door, anticipation building, for even through the distorting glass, you can see hints of how you imagine the inside of a doll's house. You are not disappointed.
As the door opens, you wonder if you imagined the subtle tinkling of a bell that complements the décor. White panelled pillars with dark gold highlights and cornicing, delicately papered walls, sparkling miniature chandeliers, plush, dusky ice-blue furniture, and a profusion of flowers make you stop to wonder for a moment if the door opened into Regency England. And everywhere, in glittering racks of pastels and sheers and jewel tones, hang dazzling creations you instantly love.
Is it any wonder that the newest purveyor of bridal fashion in Kochi, label Parvathy Chankramath, opened its boutique store to widespread applause?
Parvathy brought her brand to Kochi's shores, having proven her mettle at that erstwhile hub of commerce, Calicut. A qualified designer and business graduate, she was determined from a very young age to make her mark in the world of fashion. And now that her creations are being modelled by budding actresses like Veena Nandakumar (Kadam Katha) and Drishya Raghunath (Happy Wedding, Match Box), it seems that she's slowly, but surely getting there.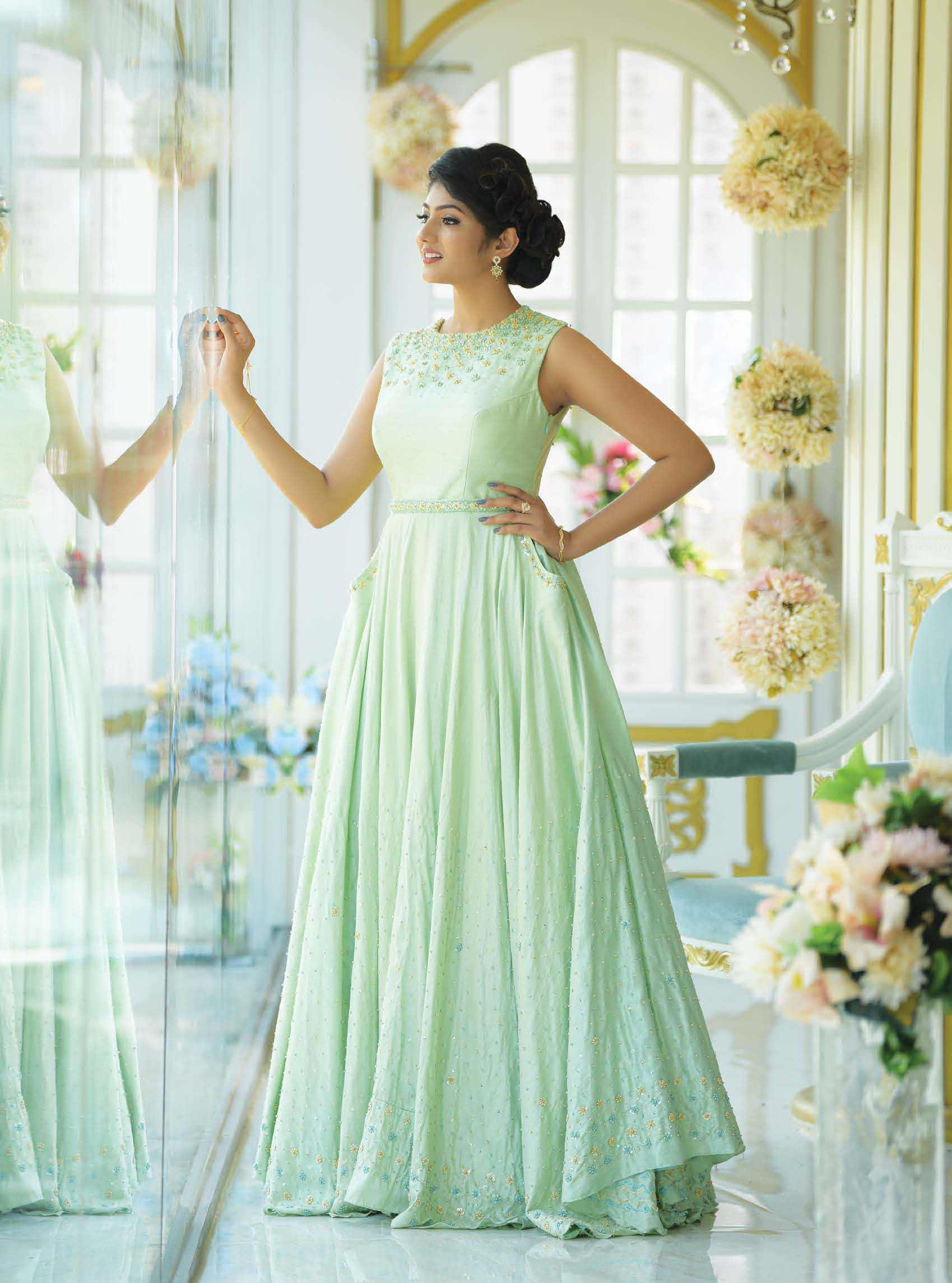 How has your journey been so far?
You can read up to 3 premium stories before you subscribe to Magzter GOLD
Log in, if you are already a subscriber
Get unlimited access to thousands of curated premium stories, newspapers and 5,000+ magazines
READ THE ENTIRE ISSUE
October 2017 - January 2018