The Vagabond Executive Club Lounge, fitted with golden statues of wildlife animals, deep red furnishings and dim lights, exudes a sense of grandeur, melodrama and exclusivity that lures you in. Yet, for five solid hours, it was the liveliness of superstar sisters Hayley Woo and Jayley Woo that brightened up the atmosphere and enticed everyone around them.
Though the identical twins are separated by a mere five minutes (we almost couldn't tell who was who if it wasn't for their hairstyles), they each have distinct personalities that can easily set them apart. That said, both of them radiate the same warmth and joie de vivre that can make anyone feel like they have been friends with the pair for a long time.
Being thrust into the limelight since their teenage years has allowed the duo to mature and form rather profound views on life despite only being 26 years young. Over a light-hearted chat, they shared their thoughts on love, careers, as well as the up-and-downs of growing up as twins.
What inspired you to enter the media industry and take up acting?
Jayley: It was pretty much luck for me. Hayley wanted to join The New Paper New Face competition, but during one of the stages, the judges asked if we were willing to cut our hair. My sister asked how short will it be, but I was fine with them doing anything to my hair. So, I think that was the deciding factor for them. Mediacorp scouted me during the finals, and that was how it started for me.
Have you ever wished you were both under the same label?
Hayley: Not really. I mean, if we were, our main selling point would be that we are twins, and for sure we will be stronger together. Yet, there's a Chinese saying which we can relate to, and its literal translation is, "There can't be two tigers on one mountain."
Being in different companies gives us different opportunities. I guess there are advantages and disadvantages either way, and it all depends on how you look at it. Right now, we are happy with what we have, and we still get the chance to work together, like for this feature, which we are very thankful for.
How do you think you have grown since you first started your career?
Hayley: My mindset has changed. We started out as bloggers, so even way before, we were subjected to a lot of criticisms online by keyboard warriors. At that time, we were much younger, so we were easily affected by anything anyone said. Now, we have learned to block out the superficial negativity, like the ones that say we're "so ugly", or that our "eyes are so small". Only when it comes to constructive criticism, like how we can improve our acting, will we consider them more seriously. Also, the two of us used to have catfights over childish things, but we rarely quarrel anymore these days.
Jayley: My mindset has changed too. I used to compare myself with other people all the time, and get upset about it. It just leads to disappointment. I realise now that everybody's life is different, and that similarly, others may not have what you have. So the most important thing is to just do your best, make the best out of what you have and be content.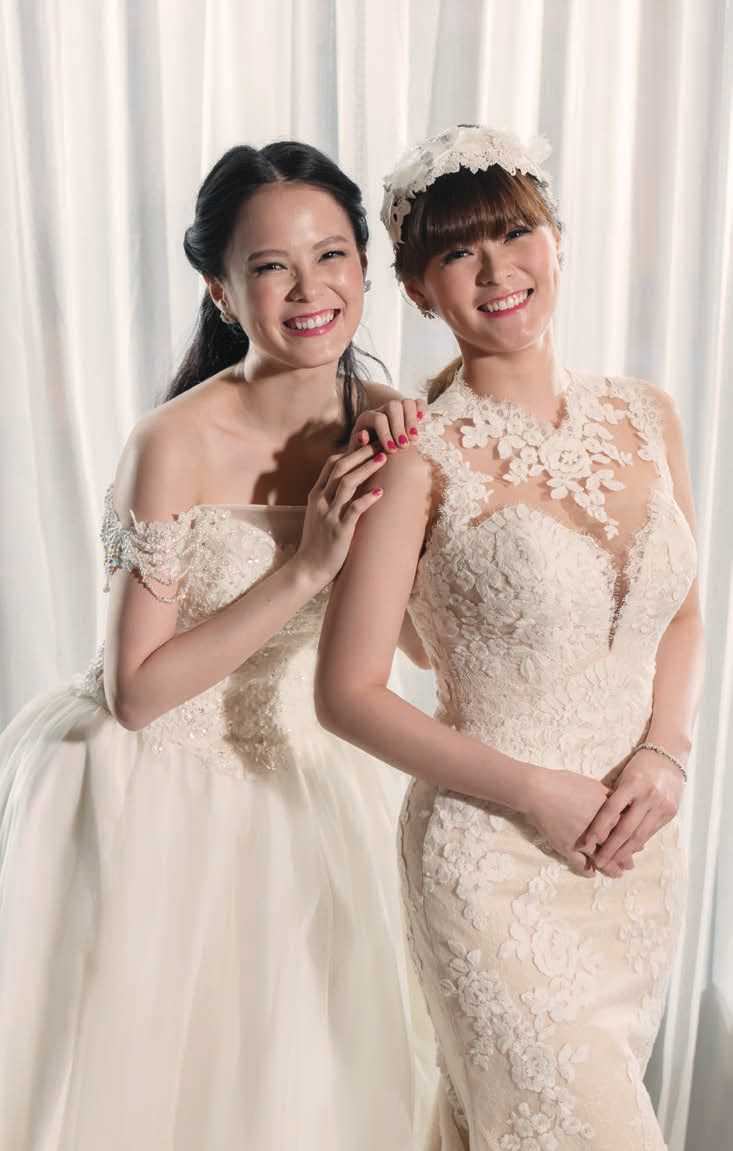 What do you think you would be doing right now if acting wasn't your career?
Hayley: My childhood dream was to be a kindergarten teacher, but right now I hardly even want to have kids! (Laughs) Well, I have always wanted to go around the world, so maybe a fashion blogger or an air stewardess? Something that allows me to travel a lot.
Continue Reading with Magzter GOLD
Log-in, if you are already a subscriber
Get unlimited access to thousands of curated premium stories and 5,000+ magazines
READ THE ENTIRE ISSUE
Issue 27