WIZARDS IN OZ
Yachts & Yachting|May 2020
After Ainslie's spectacular series debut, ROB KOTHE speaks to SailGP skippers on the lessons learned in Sydney, and finds out what's next from Russell Coutts
SailGP first blasted onto the sailing scene in February 2019 with six F50 foiling catamarans (an upgraded version of the AC50s sailed in the 2017 America's Cup) – the fastest one-design boats in the world. As fans will know, the fleet raced in iconic venues around the globe, under a nationality rule, in a series funded by Larry Ellison and run by Sir Russell Coutts. They certainly had our attention.
SERIES RECAP
In season one, two teams stacked with Bermuda veterans – Tom Slingsby and his Australian Team and Nathan Outteridge with Team Japan – dominated the circuit. Still, the new teams from China, Great Britain, France and the USA improved rapidly. Shared telemetry from all the boats, meant they could quickly learn to tack like Tom and gybe like Nathan, and dry laps soon became the norm.
After racing in Sydney, San Francisco, New York and Cowes, the two leading teams faced each other in a grand final in Marseille. In the 10-minute winner-takes-all $1 million match race, Team Japan led for much of the time, but late in proceedings they failed to cover; Team Australia SailGP found pressure on the opposite side of the course, narrowly beating the Japan team to the mark and sailing to victory.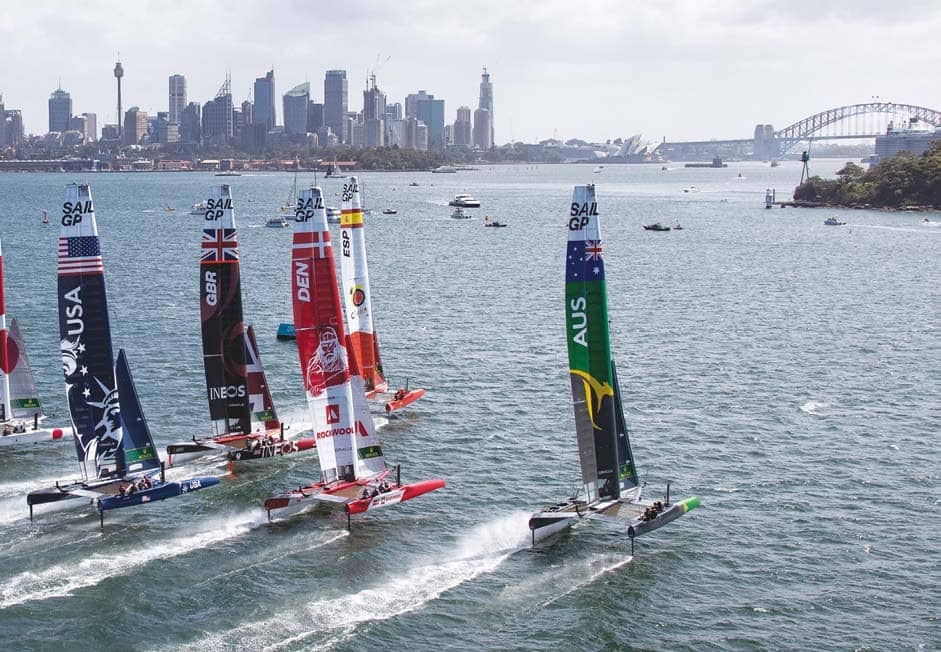 It had been an excellent first season for the fledging circuit. In late January, Coutts announced that entertainment and event management giant Endeavour had taken a stake in the year-old organisation, valuing it at S$200m. The new stakeholder would be putting its shoulder to the promotional and content distribution wheel.
Season two opened with seven teams preparing to race. China was out, but Spain and Denmark had joined the fray. And Sir Ben Ainslie's INEOS had taken over Team Great Britain, citing the need for more intense racing to sharpen the skills of his key sailors ahead of the Cup.
Ainslie took the helm of Great Britain, joined by his America's Cup comrades and SailGP season one Team Japan veterans Iain Jensen, on wing trim, and Luke Parkinson, as flight controller. Also on board were Matt Gotrel, Olympic gold medal-winning rower, and Neil Hunter – both of whom sailed together with the British SailGP Team last year and are also part of the British America's Cup challenge. Returning teammate Richard Mason completed the lineup, while team CEO Chris Draper is overseeing activities from dry land.
So how did the newcomers stack up?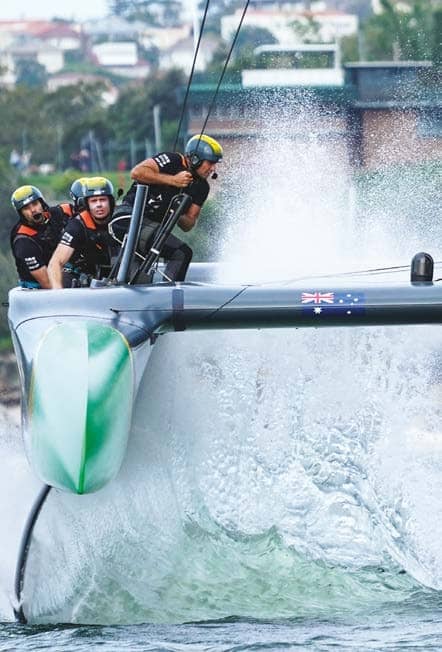 STRONG START FOR AINSLIE
Delivering a masterclass in close-quarters high-speed sailing, Ainslie dominated his SailGP debut with a near-flawless scoreline and victory in the final match race against Australia. Afterwards, Ainslie had trouble hiding his smiles. "We won the first four races. Then in the final fleet race in the pre-start, we got caught out under Steele Point. There was very little wind, and we could not get off there; we were late for the start. My mistake and quite a costly one.
"Going into the Match Race, we kept the boat going fast while we were in the pre-start box because the wind was very light and shifty. Then the Australians had their problems, so we sailed away."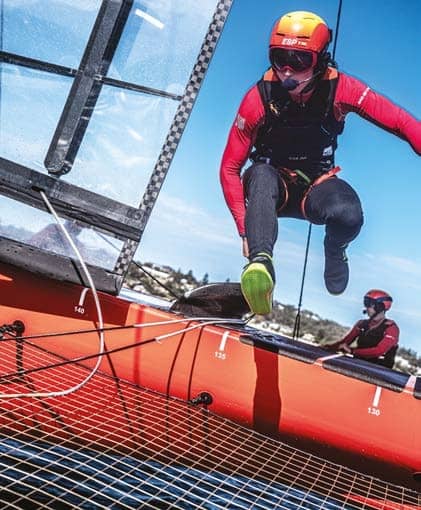 "I am just delighted for the team. This was our first SailGP event and to come out on top against all these amazing teams is a credit to our group – both our sailors and our shore crew."
You can read up to 3 premium stories before you subscribe to Magzter GOLD
Log in, if you are already a subscriber
Get unlimited access to thousands of curated premium stories and 5,000+ magazines
READ THE ENTIRE ISSUE
May 2020