RUNNING THE SHOW
What happens out of sight determines whether a race is a well-oiled machine or a shambles. RUPERT HOLMES looks at race management systems and equipment
A key difference between well-run events and those in which too many elements appear to be at risk of becoming a shambles is often in the systems behind the scenes and the equipment available to race officials. Anyone who has been responsible for running a regatta or series of races is familiar with the huge number of different tasks involved.
Experienced race officers all have their favourite kit, though some items are almost ubiquitous, despite the wide variety of styles of racing and types of boat. Essential items include a hand-bearing compass and waterproof hand-held VHF radios. If racing on the sea, a tidal atlas and hand-held GPS that can be used reliably with wet, gloved hands are also needed.
VHFs are used for communication with both competitors and other race officials, such as mark-laying boats. They are also an important safety item for liaising with coastguard and on-water rescue services. Given their importance, it's worth carrying at least one spare VHF, and double-checking both charge properly after getting ashore after racing.
A low-tech device used by many is a wind wand, consisting of a stick with a long streamer that can give a better feel of wind direction than simple observation or a conventional burgee. However, when anchored on a committee boat in tidal waters, it's important to remember you're not experiencing the same true wind as competitors. Nevertheless, even if you prefer more high-tech solutions, it's good to have one in case systems go down.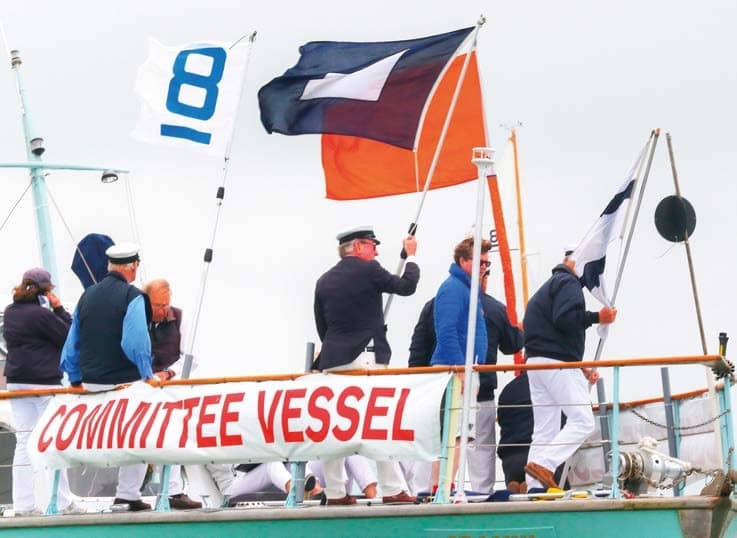 MARK LAYING
Quick and efficient mark laying is a vital element of a well-run regatta, but the skill involved in relaying a mark in exactly the right place at the first attempt after a windshift, without delaying proceedings, is often unrecognized. To do the job efficiently, a compass, GPS, VHF and a race timer are the bare essentials.
Mark boats, especially those at the windward mark, will also relay essential wind information to the race officer. Properly calibrated wind speed instruments are needed for this role. In tidal waters these need to be interfaced with a sensor that measures boat speed through the water in order to record the same true wind that competitors will experience – interfacing with GPS speed won't give an accurate reading of true wind.
Autonomous buoys are a great idea to minimise the time that's usually needed to relay marks. In an era in which it can be difficult to recruit suitably qualified and experienced volunteers for mark laying, it can also free up club members for other tasks, or reduce the number of duties a club member has to undertake each year.
The MarkSetBot is a robotic self-propelled racing mark developed by Kevin Morin. His aim was to enable a faster course set-up, with perfect placement of marks and effortless repositioning. The latter was particularly important, as his home
You can read upto 3 premium stories before you subscribe to Magzter GOLD
Log-in, if you are already a subscriber
Get unlimited access to thousands of curated premium stories and 5,000+ magazines
READ THE ENTIRE ISSUE
March 2020