MAGIC MOMENTS
Yachts & Yachting
|
May 2020
ANDI ROBERTSON travelled to Florida to get an exclusive behind-the-scenes tour with the USA's America's Cup Challenger
Last winter, as New York Yacht Club's American Magic America's Cup team put its 38ft(11.6m) half-sized test horse 'The Mule' through its paces, I watched in awe. The location was not important at all. Pensacola, Florida? Must be near Disneyland… When the invitation came from Helly Hansen (official apparel partner to the team) to fly there and go behind the scenes at the base, I very quickly learned that Pensacola is the westernmost town on the Florida 'panhandle', just 200 miles east of New Orleans, home to a US Naval base. The appeal for sailing is reasonably reliable winter breezes, reasonable climate and immediate access to deep, sheltered water. The American Magic winter base itself is a relatively unprepossessing compound assembled from containers around a temporary structure in the heart of the commercial port. Each 40ft container houses a different department: R&D, simulation, admin, technical, aero and catering. When the base travels, it is all repeatable and everyone feels equally at home. When I visited, there was just over six weeks to long-awaited first America's Cup World Series regatta, which had been due to take place late April in Sardinia. Every member of the team was eagerly anticipating the first-ever line-up of the four new AC75s in Cagliari. Not only would it answer 'are we fast or slow?', it would provide informed ideas on foils and rig set-up and operation, and influence choices for boat two, the boats that will race in the Cup itself. But with the cancellation of that regatta and now June's Portsmouth event too, the teams are left waiting or having to push on with their choices in isolation.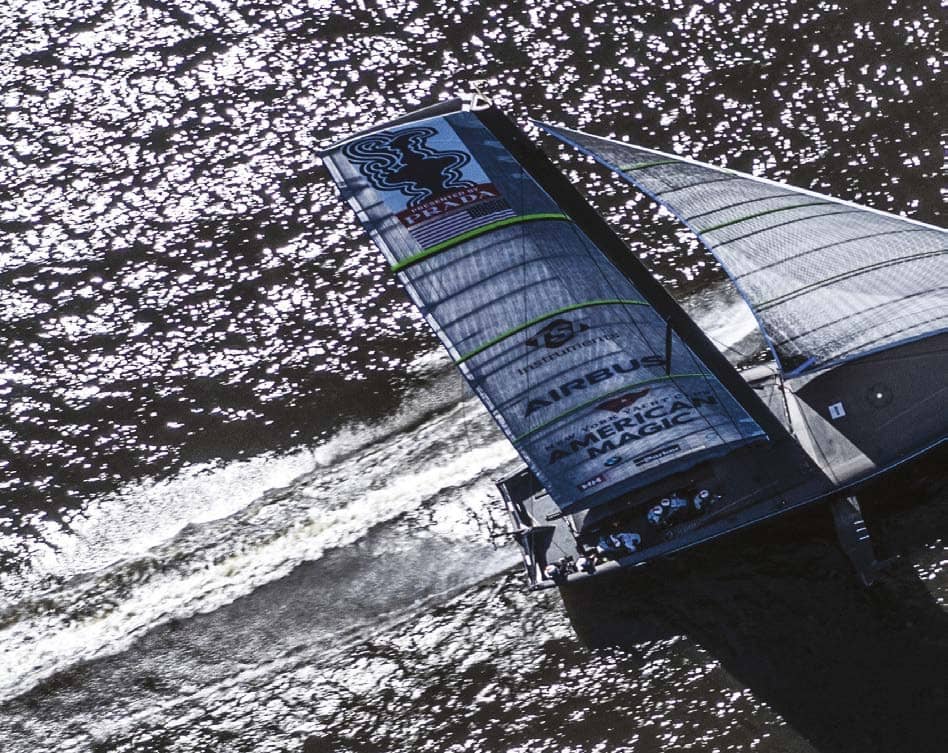 TEAM TALK
American Magic is a big, well-resourced team with a full-time payroll of 130 so far. Skipper and executive director Terry Hutchinson is a leader who knows that it takes the best of everything to win. The programme is backed by Doug DeVos, Roger Penske and Bella Mente Maxi 72 owner and skipper Hap Fauth, who is the CEO.
Hutchinson, 51, has stepped up his strength and fitness substantially to ensure he can perform as a grinder. He also plays a key role in the afterguard alongside Dean Barker, who steers, flight controller Andrew Campbell, and Paul Goodison, who trims the mainsail. While Barker, Campbell and Goodison sail the boat, the other eight on board are grinders, powering the D Spar mast and the two-skinned mainsail.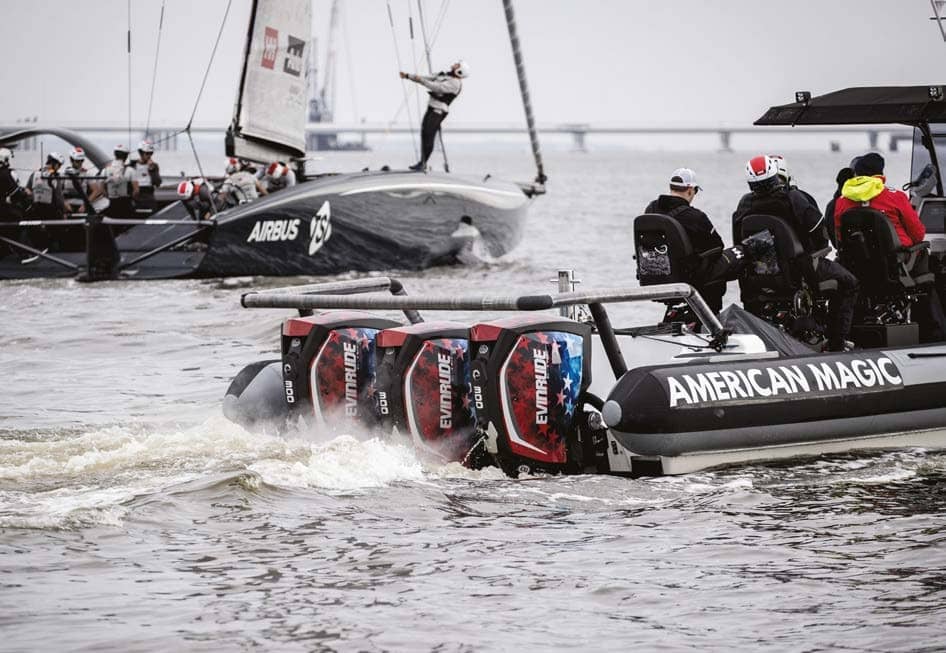 Barker and Hutchinson have been both teammates and adversaries. Hutchinson says Barker's Cup experience made him a logical choice: "As a sailor, he has been involved in every one of these challenges in foiling boats and he has a wealth of experience. That is what this exercise requires, it requires someone who knows how to win this regatta. People maybe say, 'He has not won the America's Cup', but I can't think of any more reason to have him on the team."
And it is very much an American America's Cup team. "Our mission here is not just to bring the America's Cup back to America, but to bring America back to the America's Cup. For our principals, it is an opportunity to re-establish the US maritime trade and US Sailing as a leader in the sport, and not as a follower. We will win or lose on our people."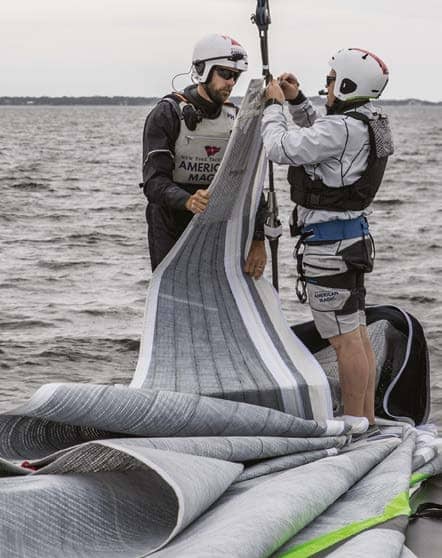 On Barker and the Defiant afterguard, he says: "Last week we were out sailing across the Bay, ripping along on port tack, and he says, 'Stand by to bear off '. The wind speed is at 26.5 knots and I look over and think, 'This is going to be interesting…' I am thinking about my exit strategy off the boat, and Dean says, 'Bearing away in 3,2,1…' The bow comes down and we go careening off across the Bay at 55 miles an hour and he is laughing.
You can read up to 3 premium stories before you subscribe to Magzter GOLD
Log in, if you are already a subscriber
Get unlimited access to thousands of curated premium stories, newspapers and 5,000+ magazines
READ THE ENTIRE ISSUE
May 2020