FUTURE PROOFING
Yachts & Yachting|March 2020
In the second part of our look at sustainable sailing, RUPERT HOLMES considers what sailors can do to minimise the impact of our sport
As competitive sailors we have an unusual and close relationship with the natural environment. We're far more likely than most people to have been exposed to the scale of many of the problems facing the planet, thanks to the number of high-profile campaigns within our sport. These include Turn the Tide on Plastic in the last Volvo Ocean Race, 11th Hour Racing, or Emily Penn's current eXXpedition circumnavigation.
While few of us are granted the opportunity to make a grandstand on the world stage, most of us have the power to collectively help drive important change in the various communities we inhabit – and in a few cases, circumstances conspire to give us a bigger platform.
Appalled by huge piles of discarded single-use plastic encountered in the water during the 2016 Rio Olympic cycle, sailor Hannah Mills was shocked into action."For almost two decades I have noticed plastic in the oceans," she says, "but it didn't resonate with me how bad the problem was getting until the Rio 2016 Olympic cycle. I witnessed first hand the devastating effects of plastic pollution on our oceans and planet. Every beach, marina and coastal area we visited… was affected and damaged beyond belief."
This led to her jointly establishing the Big Plastic Pledge, an initiative to eradicate single-use plastic across the whole sporting world. "So much of it was single-use plastic. It was something I couldn't ignore anymore, I had to act."
Of course, eschewing plastic water bottles alone won't save the planet, but it's one of many essential steps we need to take quickly and is easily achieved. Mills also points out that the ripple effect we can create as individuals can build a powerful momentum.
"With one person changing their habits, individually signalling to brands and policymakers our voice, the ripple effect can be huge. The actions you take matter and without you, and the next person, and the next, we are nothing. If a whole sporting community changes its habits and shouts loudly, then… we can create a tidal wave of change."
The Big Plastic Pledge asks those involved in sports of any type to make a minimum of three pledges from a menu of nine, including taking reusable water bottles, refusing single-use plastic packaging, and encouraging clubs and events to find alternatives to single-use plastic.
What else can individuals do as ordinary sailors? The Green Blue initiative, run by the RYA and British Marine, has a huge amount of useful advice. This encompasses topics from preventing water pollution to wildlife/ habitat protection and engine efficiency.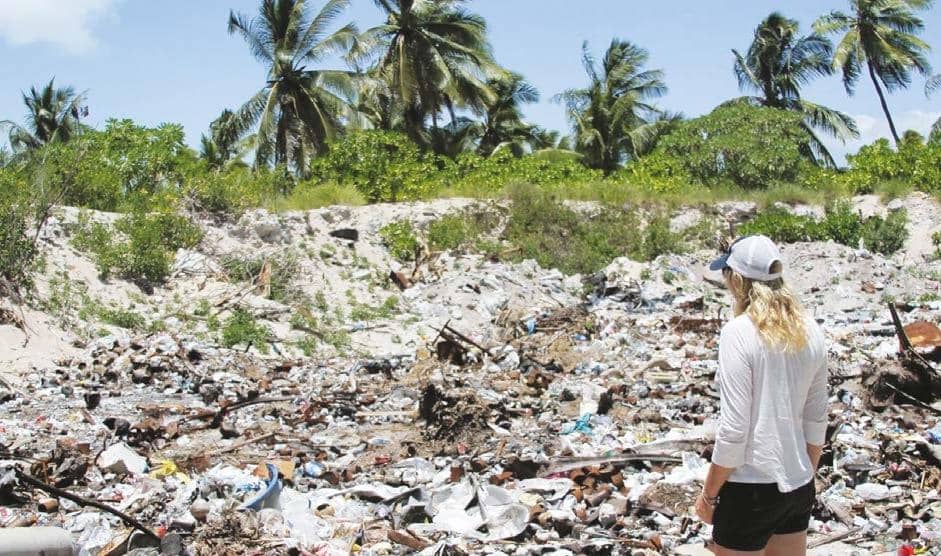 REUSE VS RECYCLING
Recycling may be better than putting plastics into landfill, but it's often more of a sticking plaster that a long-term solution – it's far better to reuse materials as many times as possible. There's a lot of plastic in sails, and race sails, in particular, get changed frequently. Don't automatically bin them when you're finished – or store them indefinitely in a loft, garage or container. Many dinghy and onedesign keelboat classes offer an excellent example of the benefits of passing sails on to less well-funded teams in their fleet. Equally, owners who run cruising yachts on a budget are often tempted to buy (comparatively) well-shaped race specification sails and reinforce them to extend their lifespan. In any case, even the most badly damaged sails still tend to have a lot of good material. This can be cut out for awnings, covers, bags and so on.
You can read upto 3 premium stories before you subscribe to Magzter GOLD
Log-in, if you are already a subscriber
Get unlimited access to thousands of curated premium stories and 5,000+ magazines
READ THE ENTIRE ISSUE
March 2020