ATLANTIC ESCAPADE
The Atlantic islands of the coast of north Africa and Portugal could be the ideal holiday destination for those with adventure in their blood, writes SUE PELLING
The North Atlantic groups of islands off the coast of Africa and Portugal, including the Azores, the Canary Islands and the Cape Verde archipelago, are, by their very nature of location, generally considered challenging in terms of charter holiday destinations. However, for those with a bit of experience who are perhaps looking for an introduction to trade wind sailing, or who want to learn to sail while holidaying, this is a perfect option.
The overarching advantage of most of these Atlantic groups of islands is that they offer year-round sun and are located just four or so hours south of the UK, which means it is possible to enjoy a fantastic holiday in a perfect climate any time of the year. The other huge benefit is that they are the same time zone as the UK, so you don't waste precious holiday time acclimatising from jet lag. Pick up a flight from the UK and within a few hours you'll be onboard your charter yacht ready to set sail in this astonishingly beautiful part of the world.
Because these islands act as a gateway for transatlantic crossing to places like the Caribbean, they have also become popular option for transatlantic race starts/stop-offs, with events like World Cruising Club's Atlantic Rally for Cruisers departing from Gran Canaria (Canary Islands) to St Lucia every year.
The location and climate are also among the reasons why the Atlantic islands are equally popular with sailing schools, with the Canary Islands, in particular, the chosen base for the likes of Endeavour Sailing and Sail the Canaries. Rubicon 3, which is based in Madeira, also offers sailing tuition holidays aboard one of its 60ft (18.3m) adventure yachts to the Azores.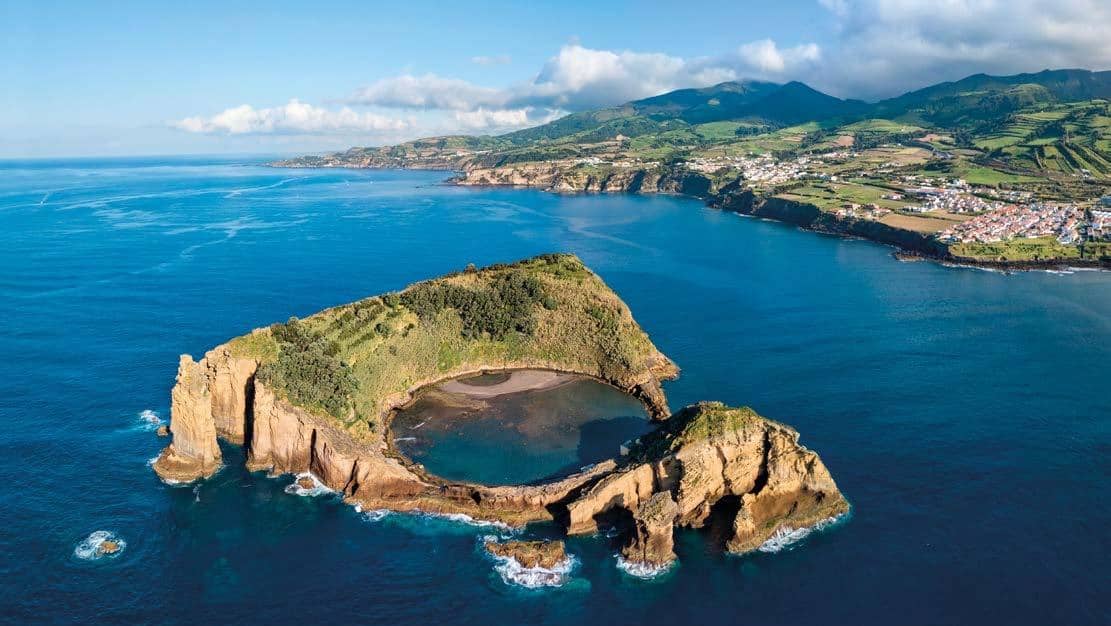 THE AZORES
The remote and off-the-beaten-track Azores volcanic archipelago, which lies 930 miles from Lisbon, Portugal, stretches 373 miles from Santa Maria to Corvo and is divided in three geographical groups: the Eastern Group (or Oriental), comprising Santa Maria and São Miguel; the Central Group – Terceira, Graciosa, São Jorge, Pico and Faial; and the Western Group (or Occidental) of Corvo and Flores.
Each of the nine islands is fairly unique, with volcanoes, caves, waterfalls, striking green valleys and UNESCO World Heritage sites to explore, such as the Historical Centre of Angra do Heroismo on the island of Terceira.
Because the area is a popular hang-out for whales, dolphins and turtles, in terms of wildlife it is one of the most interesting Atlantic island groups to visit.
In general, though, this beautiful, rugged and natural sailing area is more suited to experienced sailors because it gives plenty of scope for long-distance sailing in good winds that average Force 3-6.
Nautilus has three bases in the Azores, located at Horta, Ponta Delgada and Velas, and offers bareboat and skippered charters, while Sail Zen – a local firm based on São Miguel island – offers by the berth or cabin, and private trips that cover all three groups of islands.
André Branco at SailZen says they offer three different programmes too: "There are six-day sailing trips, 10-day sailing trips, and Azores Adventure sailing trips to choose from. All charters include two professional crew – captain and cook/stewardess.
"For those with less experience, opt for an itinerary taking in the Central and Eastern Groups, which tend to have shorter distances between islands and a larger selection of well sheltered anchorages and ports."
Given its location in the remote Atlantic the weather conditions in the winter can be extreme, which is why the Azores, unlike the other Atlantic Islands, are generally only open for charter business in the summer season.
You can read upto 3 premium stories before you subscribe to Magzter GOLD
Log-in, if you are already a subscriber
Get unlimited access to thousands of curated premium stories and 5,000+ magazines
READ THE ENTIRE ISSUE
March 2020