WATCH THE BIRDIE
RICK TOMLINSON LEADS A WILDLIFE ADVENTURE PHOTOGRAPHY EXPEDITION IN THE FALKLAND ISLANDS
Our alternative was to sail to the Jason Islands, regarded as one of the jewels of the Falklands, where we'd definitely see albatross, penguins and seals. But we'd already had some great encounters with those and the prospect of killer whales won our hearts, and now we were here and so were the orcas!
We were in the last few days of our 14-day trip with a group I was leading on a 'Photographic safari of West Falklands' aboard Skip Novak's expedition yacht Pelagic Australis. Our group had met up in Santiago, Chile. Some had come from the UK, others from the USA.
We flew to the Falklands via Punta Arenas in the Magellan Straits landing at the Falklands Mount Pleasant airport. On the ground a pair of 4x4s took us across East Falkland to Port San Carlos, passing San Carlos and Goose Green – names familiar to those who know anything of the Falklands War in 1982.
Pelagic Australis was stationed at Port San Carlos to save us at least a day by getting straight out to the wildlife sites situated mainly in West Falkland. Skipper Chris Kobusch and mate Sophie O'Neill met us on board, along with local Falklands guide Dale Evans.
Pelagic Australis is a 73ft, 48 tonne, aluminum expedition boat so the two sailing crew were always going to need some help, which I was certainly up for. High latitude sailing with wildlife photography mixed in is my idea of heaven.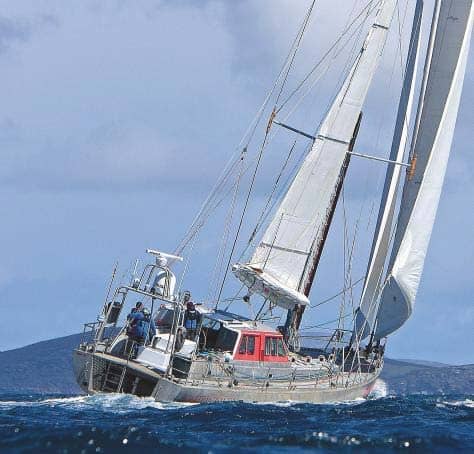 Breakfast and briefings completed, the following morning we set off into 30-knot headwinds for Pebble Island. Dolphins accompanied us the whole way, which I took as a positive omen. This was going to be good.
It wasn't to be a do-this, do-that type of photography course; I was there to help as much or as little as people wanted. The group was small enough to offer individual coaching, though we did do a group session on how to set up your camera. For those with DSLR cameras this would start with matching the viewfinder to your eye so you can see when the subject is in focus. My main advice for shooting wildlife is to keep the shutter speed as high as possible, fill the frame with your subject and, where possible, focus on the subject's eyes.
We were able to start as soon as we left the dock, photographing the dolphins playing on our wake. Here my technique is to keep the camera focused on one spot, as dolphins usually jump the wake in the same place. Then when they jump you're already looking through the viewfinder, already focused and ready to fully press the shutter. For sure, I get lots of splashes and tails, but among them are photographs of the dolphin clear of the water.
Once anchored at Pebble Island we were met on shore with a couple of 4x4s to take us to three sites that were too far to walk. This was to be the only time we had transport ashore. We started at a rockhopper penguin colony. These small penguins have so much character, with their long, yellow eyebrows and red eyes.
You can read upto 3 premium stories before you subscribe to Magzter GOLD
Log-in, if you are already a subscriber
Get unlimited access to thousands of curated premium stories and 5,000+ magazines
READ THE ENTIRE ISSUE
March 2020