THE SWAN PRINCE
Yachting World|July 2020
FASHION MAGNATE LEONARDO FERRAGAMO HAS CULTIVATED NAUTOR'S SWAN INTO THE WORLD'S MOST RESPECTED YACHT BRAND
If there is one yacht marque that every sailor knows, and can probably recognise even at a distance, it's Nautor's Swan. This famous Finnish yard has been owned for more that 20 years by an Italian, Leonardo Ferragamo, who has not only taken it through choppy waters, including a recession and now a global pandemic, but he has helped expand it into the most ambitious, innovative yacht brand in the world.
Swan is as popular now as it has ever been, with an order book to envy. An aggressive investment strategy over recent years has revamped the firm and led to a broad range that now includes cruising and racing yachts from 36-125ft.
But how does someone whose business is in fashion come to own a yacht building company? Ferragamo insists there are strong ties between the worlds of fashion and sailing. "It is about branding, it is about international marketing, about a product that needs to be done because of the substance, the contents, the reliability and the beauty that you can put in a product."
When he bought the controlling interest in Nautor's Swan in 1998, his overriding desire was to create a high-end brand. So how and why did he do it?
I connect with Ferragamo via video, as is the custom during isolation times. He sits at a varnished table in his Florentine home, with books and family photographs backlit on the bookshelf behind him. He has a healthy glow and looks younger than his 67 years.
Leonardo is one of six children born into the Salvatore Ferragamo fashion kingdom. He admits it was a privilege, yet says it never seemed that way. "At all times it felt like we were being pushed to take the hard route in life and always working for your own result," he says.
Leonardo's father Salvatore established a legacy when he became known as the shoemaker of the stars – Marilyn Monroe famously wore his 4in heels in the movie 'Some Like it Hot'. He opened his Hollywood Boot Shop in the 1920s and, after the Wall Street Crash, he founded the headquarters of Salvatore Ferragamo in Florence in 1938, where it remains today (including a museum housing Ferragamo patents). Salvatore died in his early 60s when Leonardo was just seven years old.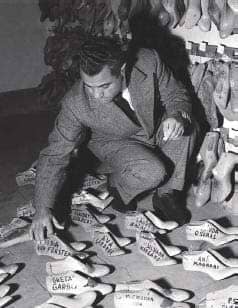 FAMILY FIRST
Leonardo is quick to credit the success of the present day Salvatore Ferragamo business to his mother: "My mother had been the driving force of the era after my father's passing away in 1960, having been left with six kids from 18 years old to two-and-a-half, and a company that was based only on my father, my father's personality, his creativity, his ability to do business."
His mother, Wanda Miletti, was over 20 years younger than Salvatore and despite having no practical experience of the business she took control of it, expanding it into the global luxury goods retailer we know today.
At this point in our discussion Ferragamo leans in towards me in considered, happy reflection: "She was left with this and she took it in a wonderful way, with modesty, but with a lot of strength, and she was able to be a fantastic mother and a great driver in the company."
Family is important to Ferragamo. His father was one of 14, he is one of six, and he has four children of his own. He paints a picture of family unity and business acumen from an early age.
You can read up to 3 premium stories before you subscribe to Magzter GOLD
Log in, if you are already a subscriber
Get unlimited access to thousands of curated premium stories and 5,000+ magazines
READ THE ENTIRE ISSUE
July 2020