SUMMER ON ICE
Yachting World
|
October 2020
ANDY SCHELL EXPLORED NEWFOUNDLAND'S RUGGED FJORD COAST ABOARD HIS SWAN 59 ICEBEAR
"Humpback, 300 metres. Hard to port, Tom!"
Icebear encountered her first whales in Cabot Strait, the deep passage separating southwestern Newfoundland and Cape Breton Island on the far northeastern corner of Nova Scotia. Earlier in the day we'd witnessed wild breaching by a couple of humpbacks in the distance, and ever since had kept a sharp lookout, hoping to spot more, and closer. This time I heard the whales before I saw them, as I heard a spout off to port over my left shoulder. I turned just in time to see a low dorsal slip beneath the surface.
Tom Harkin, retired US Senator and veteran 59° North crew (this was his fifth trip with us) heard it too, and put Icebear's rudder hard over. At 79, Tom is our oldest crewmember, but as a former Navy F4 and F8 fighter pilot and lifelong sailor, he's also one of our fittest, at any age.
Besides Tom, this particular crew was one of our most eclectic. At the other end of the generational spectrum on board we had Liz, in her early 20s and one of our youngest crewmembers. The crew also included Richa, an Indian citizen living in Seattle who was closer to my and my wife Mia's demographic, while Jack was newly retired and looking to gain some offshore experience. Other crew Mike, Bill and Jeremy rounded out the team.
As Tom conned Icebear towards the spout, two humpbacks approached from about 100 yards off. We killed the engine and Icebear drifted becalmed, the water glassy.
The whales came to us. Gently and slowly, first one, then the second. Both were visible beneath the surface, their iconic white flippers curving deep underwater and turned fluorescent green by the colour of the cold, nutrient-rich northern water. Both humpbacks circled the boat in lazy arcs, diving beneath the keel in slow motion, then surfacing only feet away from the stern. The crew watched from the cockpit in stunned silence. The whales were close enough we could feel the spray from their spouts as they exhaled. Mike, a hardy Minnesotan and an avid cold water swimmer, was the first to get in the water. I gave him my mask and he climbed down the stern ladder and slipped into the ocean to watch the whales play beneath him. He was only feet from two adult humpbacks, each about 40ft long, as they gracefully cavorted underneath Icebear's hull.
THE ROCK
The Rock is Newfoundland: Canada's tenth and newest province, a massive island at the edge of the Atlantic and the eastern-most point of North America. The minute you make landfall (if you can see it through the fog), the reason for its beloved nickname becomes instantly obvious. The place is literally one giant wind-and-sea sculpted slab of granite.
For years Mia and I had tried to break into Newfoundland's 'fjord coast' along its remote southern shore. Finally, in summer 2019 we had a risky opportunity to go for it on Icebear, our Swan 59, during a passage from Lunenburg to St John's. We had a schedule to keep and a gale was in the offing, but if we timed it right, we'd be able to explore the fjords for a few days, ride out the gale in a snug wilderness anchorage and round iceberg-strewn Cape Race in clear weather. If the timing was wrong, well, we'd blow up our whole schedule.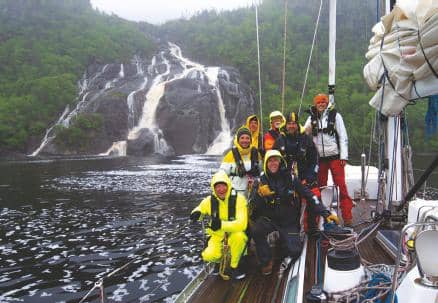 Inspired by the whales, I decided to head for the fjord coast. After three days we made landfall on the rugged, remote south coast of Newfoundland, navigating into a five-mile-long fjord at Hare Bay. A deep, scary-looking low pressure was forecast to pass directly over Newfoundland and would make the next 250-mile passage around to St. John's touch-and-go. If the low slowed down, we'd be stuck, and crew would risk missing their flights. But with sunshine in the immediate forecast, we took that risk.
The entrance to Hare Bay only becomes apparent as you close the coast. High cliffs line the shore for as far as you can see east and west, broken every few miles by deep fjords, reminiscent of Norway, just maybe a bit greener.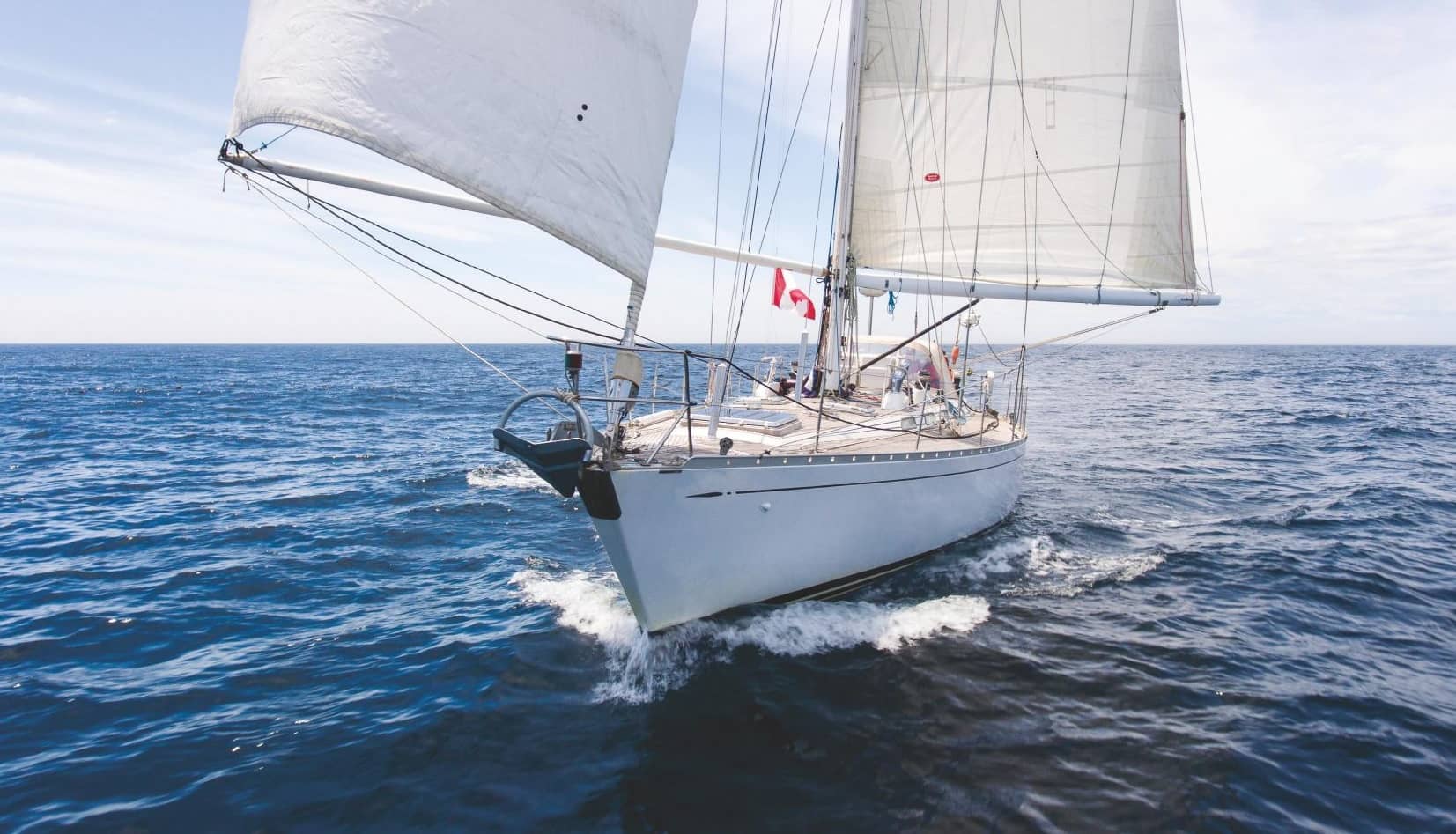 You can read up to 3 premium stories before you subscribe to Magzter GOLD
Log in, if you are already a subscriber
Get unlimited access to thousands of curated premium stories, newspapers and 5,000+ magazines
READ THE ENTIRE ISSUE
October 2020