INSIDE AND OUT
Yachting World|June 2020
TOR JOHNSON SAILS WITH HIS FATHER, SISTER AND FRIENDS ON A VOYAGE OF REDISCOVERY AROUND SPECTACULAR VANCOUVER ISLAND
At 94 years of age, my father, Donald, still hates sitting in harbour. He lives in La Conner, Washington, on a cliff overlooking the Swinomish Channel, where he can keep an eye on the fishermen, loggers, and eagles that ply the waters of the Pacific Northwest.
In a life of sailing around the world, my father has wrung more salt water out of his socks than most of us will ever see. The world is full of "harbour-sitters," as he calls them, trading horror stories of deadly gales over drinks while waiting for perfect weather conditions to leave the dock.
Although over the years he has been called adventurous and even reckless, depending on the observer, I've always known my father to be a cautious skipper. He has taken my mother, brother, sister, and me safely across both oceans to places as varied as Norway, Turkey, the Philippines and Vanuatu. In all those miles, I can't recall ever being in a dangerous sea. As kids we missed a lot of school but came back with skills in celestial navigation and the experience of standing night watch with the safety of everyone aboard in our young hands. Sailing has been an adventure as well as a way to share the skills of seamanship in our family.
Among the many places we visited together, one of my father's favourites was the First Nations Reserve of Gwaii Haanas on the Queen Charlotte Islands. Ancient totem poles still stand sentinel over majestic Haida village sites. When my father told me he wanted to make one more trip out there with his friend, Christine, I pulled out the charts. Vancouver Island's system of ferries, roads, and air service would allow me to rotate my crew among three generations of family and several old friends from voyages past.
We had sailed Keala, our Jeanneau 44i, from her birthplace in La Rochelle, France, across the Atlantic. While in the protected confines of Sidney, British Columbia, visiting my sister's family, I talked to a gregarious fellow sailor moored behind us at a yacht club. I told him of our intended voyage up the inside of Vancouver Island with my sister and her family to Port McNeill, where we'd meet my father and Christine for a cruise north to the next island chain, the Queen Charlottes. I'd make the return trip double-handed along the rugged west coast of Vancouver Island with a surfing friend from Hawaii.
"I'd never leave the Sunshine Coast. All there is up there are bears and bad weather," said our new friend.
"Lots of fog up there too."
My father may well be right about not listening to those dire dockside warnings about bears and bad weather, but our fellow sailor actually did have a point: why leave the safety and comfort of the inside route? There are cruising grounds enough in the Inside Passage to keep a cruiser busy for a lifetime.
He and most of the thousands of sailors in places like Seattle and Sidney BC don't leave protected waters because they don't have to. With a few notable exceptions, it's possible to sail through the intricate network of islands and fjords of the Inside Passage from Tacoma, just south of Seattle, to Alaska's panhandle without encountering much open sea.
And the weather really is better. Summer temperatures on the protected Sunshine Coast, to which our friend referred, range in the teens and twenties and water temperatures get up to over 20°C in long fjord-like inlets. Swimming is actually a thing.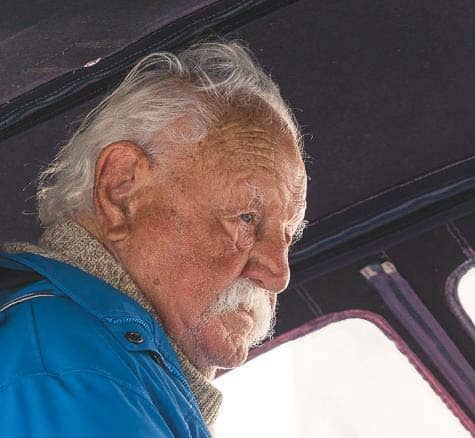 PARTICULAR CHALLENGES
You might never see an ocean swell, but that's not to say cruising the inside route is without its challenges. First among these are strong tidal currents. The more constricted passages turn into turbulent rapids with currents in double digits several times a day. Since it's impossible for yachts and other low-powered vessels to negotiate these rapids, it's essential to arrive at slack water. When possible we plan for slack ebb or flood to carry a favourable current along our course.
Another challenge is the astounding number of logs. Logging is a major industry in British Columbia, and loose logs, some virtually submerged, can disable a small boat. It requires a constant lookout.
Tugs towing thousands of logs in a huge boom may require the entire channel to manoeuvre, as we found when forced into an impromptu gybing drill first thing in the morning on our way out of port. Common practice is to keep a watch on VHF Ch16 in narrow channels and to wait your turn after the last oncoming vessel uses the end of the tide to get through. Large car ferries, travelling at high speeds, commonly cross the channels at oblique angles. They always have the right of way, a fact of which they seem well aware.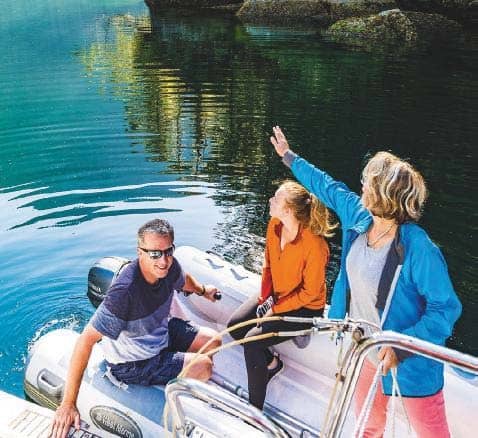 As our friend forecasted, fog became a challenge the moment we emerged north from the protection of Vancouver Island into Queen Charlotte Strait. It was often thick in the mornings, which meant keeping an eye on the AIS, radar, nearby fishermen, ferries, and logs all at the same time. Mercifully, most days saw the fog burn off by mid-afternoon.
For my sister, the highlight of the entire route inside Vancouver Island was sailing into Broughton Archipelago. For once we had a favourable wind and managed to sail 25 miles inland up the Tribune Channel, which became like a fjord between immense rock cliffs. Suddenly a gray whale blew to starboard, while a pod of several hundred fast, agile Pacific white-sided dolphins reached nearly across the entire channel, surfacing in quick succession. They raced past as a group, so in rhythm they looked like a breaking wave.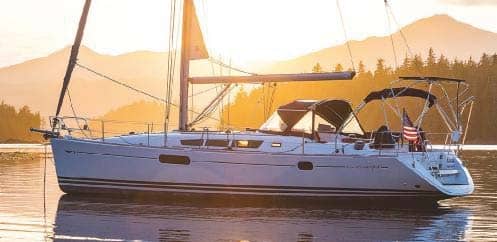 Furling our sails at the head of the channel, we found the friendly little floating dock at Kwatsi Bay Marina nestled in a steep bowl of mountains. A group of veteran cruisers were surrounded by food and drink, and getting well into the local Happy Hour tradition.
You can read up to 3 premium stories before you subscribe to Magzter GOLD
Log in, if you are already a subscriber
Get unlimited access to thousands of curated premium stories and 5,000+ magazines
READ THE ENTIRE ISSUE
June 2020