ICE RESCUE
Yachting World|April 2020
JARLATH CUNNANE RECOUNTS A FRAUGHT ATTEMPT TO NAVIGATE THE ICE-STREWN NORTH EAST PASSAGE TO SAVE A STRICKEN YACHT
Jarlath Cunnane's book 'Northabout' is a must for anyone dreaming of ice navigation or who is fascinated by the history of the extraordinary people who have voyaged to the high Arctic.
In 2018, Great Seamanship featured 'So Far, so Good', the autobiography of the Irish sailor, Paddy Barry. In it, Paddy led us quickly through a journey around the roof of the world. This outstanding voyage was skippered by Jarlath Cunnane, who owned Northabout, the aluminium yacht he built with a group of friends and crew. Jarlath's book tells the story in much greater detail.
They start with the North West Passage then, with true Irish inspiration, decide that returning from the Bering Strait via the Pacific and the Caribbean would be too ordinary. Instead, after a trip down the Pacific Canadian shore, these redoubtable adventurers steer north once more to press on through the North East Passage and home via Norway.
For this extract I chose a rescue job the Irishmen undertook in one of the world's bleakest spots. It shows courage, resourcefulness, camaraderie and, above all, great seamanship.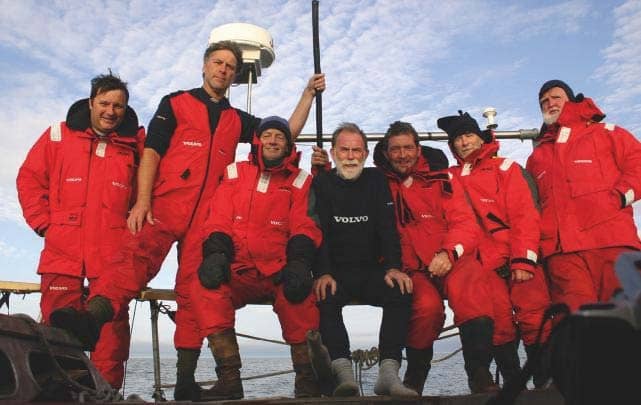 Northabout was not the only yacht attempting the North East Passage in 2004. The Dutchman Henk de Velde had started from the Bering Strait in 2003 in Campina and got as far as Tiksi. Because of reports of heavy ice ahead he decided to overwinter in Siberia's Tiksi harbour and was completing his last-minute preparations when we sailed in.
Henk described being frozen in for ten months, 300m from shore. As the ice solidified and started to squeeze the hull, he cut a pressure-relieving channel around Campina with a chainsaw. Later, as ice re-formed from the bottom up, Campina was pushed upwards out of its icy prison. Henk had spent a cold, lonely winter living aboard in freezing conditions. Like us, he was anxious to be on his way and he put to sea a couple of hours ahead of Northabout on 20 August 2004.
It is interesting to note that Gilbert Caroff designed both Northabout and Campina. While there is a family resemblance, both vessels are quite different. The larger Campina is 17m long, dis places 26 tons, has a centreboard and twin rudders, Northabout is smaller, at 15m long, displaces 16 tons and draws 1.4m with centreboard raised. A shallow keel protects the single rudder and propeller. Northabout's most distinctive feature is its raised ice-breaker-style bow. Polar travel in small craft involves much sailing in shallow water; the lifting centreboard keeps the draught to the minimum. (Mr Caroff was adamant that twin rudders are vulnerable and should never be used in ice, as indeed was later proved correct)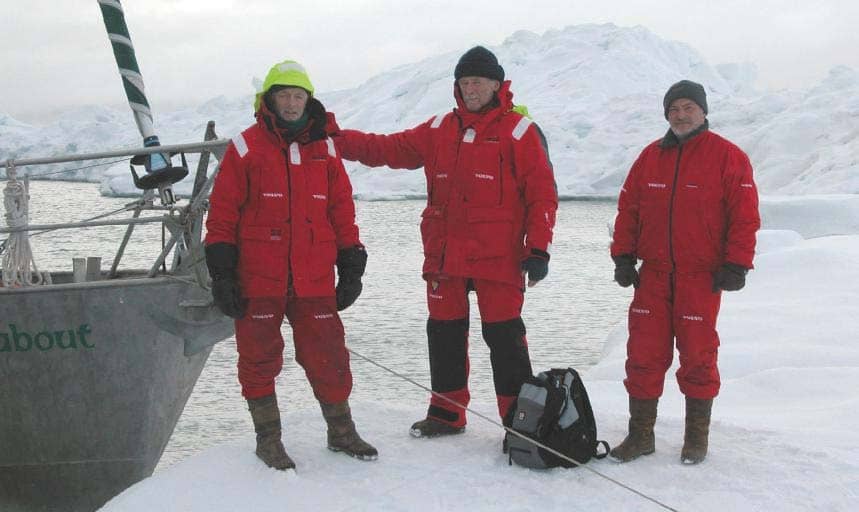 Northabout was fully crewed by seven hardy Irishmen and Slava our ice pilot, in contrast to Campina, which was sailed just by Henk and his pilot, Boris. Both ice pilots were provided by the Murmansk Shipping Company, a mandatory requirement for sailing in Russian waters. Boris, a sprightly 72 -year-old retired ice pilot, was clearly not happy with his short-handed vessel. Henk was determined to do this voyage singlehanded, as in his previous voyages. But we considered that one has to be prepared to keep pushing on at every opportunity and so a big crew would be a necessity.
As we made our way up the Taymyr peninsula, we made radio contact with the patrolling ice-breaker Vaigach, 100 miles south. We learned from them that Campina had reported a problem with her steering mechanism. Vaigach engineers assisted with the repairs.
You can read upto 3 premium stories before you subscribe to Magzter GOLD
Log-in, if you are already a subscriber
Get unlimited access to thousands of curated premium stories and 5,000+ magazines
READ THE ENTIRE ISSUE
April 2020