ELIXIR OF YOUTH
Yachting World|June 2020
MAX CAMPBELL DREAMS OF A WORLD CIRCUMNAVIGATION WITH FRIENDS, BUT FIRST THEY MUST RESTORE A 50-YEAR-OLD SWAN...
We set out to cross Biscay in January. I had a stinking cold, and my crew, Harry and Chloë, were new to bluewater sailing.
Over the past year we'd worked harder than ever to prepare Elixir for this journey. Our departure was two months late, but we were doing it. On board there was an air of excitement, mixed with nervousness and fear. I felt alive again.
My own introduction to bluewater sailing consisted of 10,000 miles, single-handed in a 22ft sloop. I return home at 23, after two Atlantic crossings and 14 months without standing headroom or a toilet. Arriving back in my home town of Falmouth is anticlimactic. The first days are emotional. Yet, I find that my life in Falmouth doesn't bring the same excitement as I'd found aboard Flying Cloud.
I return to work and become swept up in the humdrum of employment. It takes months for me to find my feet in society again. As routine starts to take over my life, I begin to dream up plans for another adventure.
That single-handed experience has changed my life in such a positive way. It's enlightening to spend weeks in your own company. Taking a step back from society and surrounding myself in nature altered my outlook on life. I want to do it again, but this time, to share it.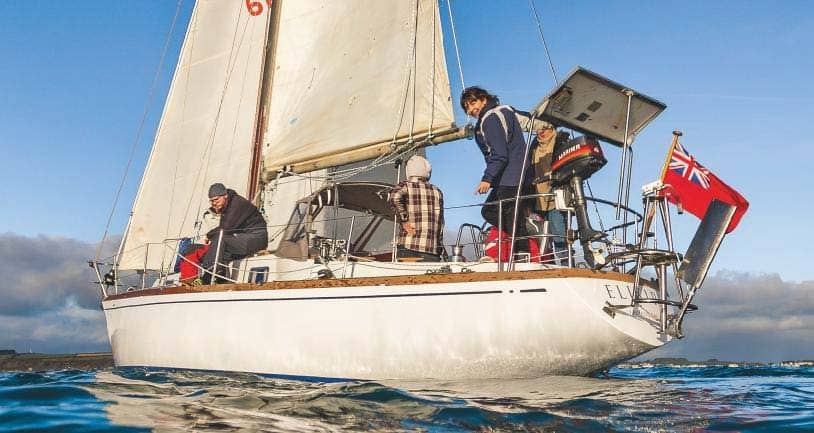 A NEW BOAT
I don't have to look far for the right boat. Left in my stepdad's (Dave Cockwell's) boatyard, is a 37ft S&S Swan. Sadly, her owner passed away and over a period of five years she's been gathering moss and leaves. Dave gives me a half share – he'll provide materials, knowledge and mentorship. My friends and I will do the labour. Once finished, we can sail her wherever we wish.
My crew consists of Harry Scott, 25, and Chloë Peglau, 26. Harry is my best friend and sailed with me to Portugal on Flying Cloud. We spent three months sharing her tiny cabin as we cruised south through Europe. Chloë and I have been close for years. She's a novice to sailing, but she's positive, hilarious and has a craving for knowledge. When we're together, the three of us share a lively, ambitious, and wide-eyed energy. In my naivety, I proclaim that we'll have Elixir floating by the end of summer.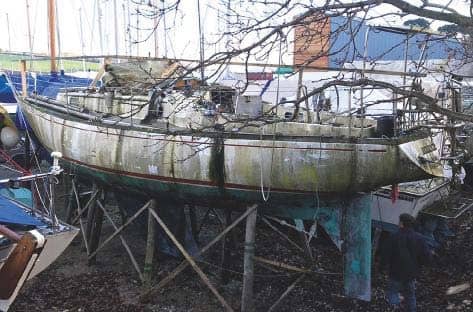 Together, we stand under Elixir's bow. Her topsides are green and lichen grows from her toerails. Fifty years of sunshine has left deep cracks in her gelcoat. The cabin is a mess of rotten mattresses, and a thick, brown filth has collected in the bilge. She's perfect!
We begin to build a shed, which is more a flimsy timber frame that cocoons Elixir under a cover of polythene. It's basic, but it keeps us dry, and we start on the tedious first step: to remove the deck fittings.
Elixir was built in 1970. Swans built in that era have fastenings encapsulated in glassfibre. Exposing each nut requires both careful guesswork and a hole-saw. Each genoa track has 28 bolts, requiring awkward vertical drilling and a mess inside the cabin.
We spend weeks sanding – so long that it becomes comical. I've buried myself in the pursuit of that elusive feeling I had found when sailing Flying Cloud. It's worlds away, from the shaky tent at the back of the boatyard. My desire to find it again is what motivates me, through 14-hour days and endless physical effort.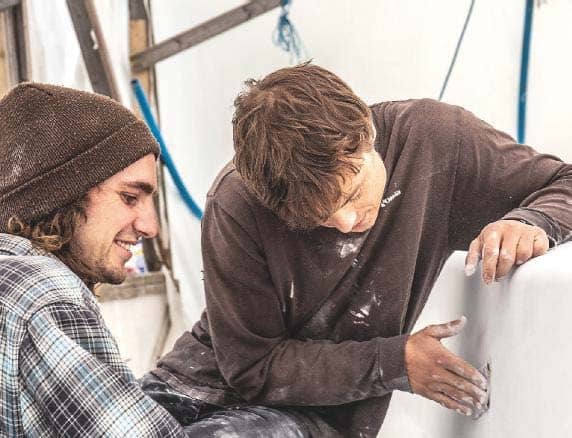 Dave Gunn, a grizzly yacht painter with a flair on the spray gun, applies the final topcoats. We build some staging for him and then leave him alone to work his magic. We can't believe the transformation when we return a few days later. Elixir's deck and topsides shine with a fresh coat of gloss.
Progress is fast thanks to all the extra hands that come to help. At times I find myself managing a group of up to ten people. Close friendships emerge from the big, dusty tent. People come to look, and then return many times, drawn by the excitement of a collective passion project.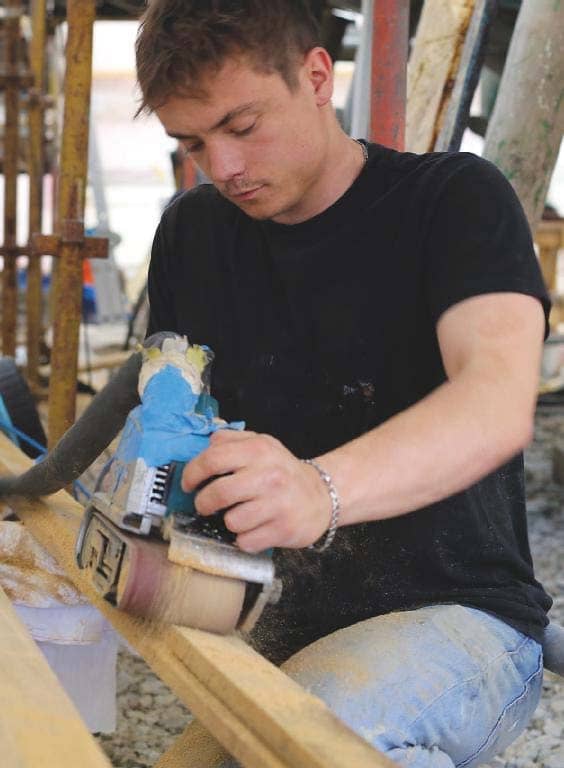 You can read up to 3 premium stories before you subscribe to Magzter GOLD
Log in, if you are already a subscriber
Get unlimited access to thousands of curated premium stories and 5,000+ magazines
READ THE ENTIRE ISSUE
June 2020