DARING TO DREAM
Yachting World
|
November 2020
A RECORD FLEET OF 33 SKIPPERS WILL LINE UP IN THIS YEAR'S VENDEE GLOBE. PIP HARE EXPLAINS HOW IT FEELS TO BE ONE OF THEM...
The Vendée Globe is the longest continuous racecourse in sport. Like some of the world's great marathons, it offers something very rare: the opportunity for competitors from a wide range of backgrounds to race one another.
The Vendée Globe has a proud history of welcoming both the icons of the offshore sailing world as well as adventurers and rookies. The most experienced professionals, with multi-million Euro campaigns and leading-edge designs, compete alongside more Corinthian entries with their big dreams and small budgets, older boats and hasty branding.
Vendée Globe hopefuls may be dreamers, but they must also be skilled and self-sufficient sailors. Stringent entry requirements demand that anyone qualifying for a place will have thoroughly proven themselves and their boats' abilities (at least one major solo ocean race, and a 2,000mile solo passage). Every competitor has earned their place through many hard miles and years of dedication.
In the first race in 1989 Jean-Luc Van Den Heede, now one of France's most experienced solo racers, signed up aged 44 having only shortly before quit his day job as a maths teacher. With a budget of around €300,000 (in today's money) he went on to finish 3rd. Over its 30-year history the costs have grown exponentially – a new set of foils alone would swallow most of what Van Den Heede spent. Yet every edition continues to attract sailors on humble budgets, for whom a podium place is an impossibility. Simply getting around is as far as most competitors allow themselves to dare to dream.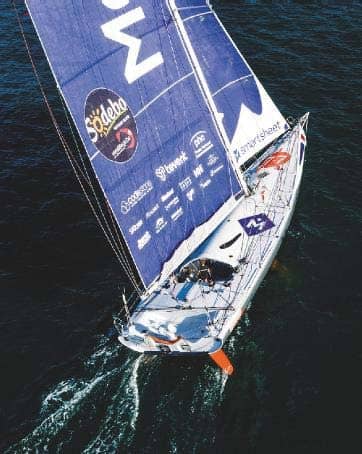 Among the most Corinthian entries was British sailor Steve White, who re-mortgaged his family home in his determination to take part in 2008. So touch-and-go was the campaign, that a sponsor pulled out as White delivered his boat to Les Sables d'Olonne. "It was a certainty at that point that we'd have lost the house and lost the boat if I hadn't managed to pull something off. I was sailing towards something I didn't think I could start."
A silent backer came through for Steve, and he completed the race, finishing 9th. He says he has never once regretted it. "You must never overlook the enormity of just getting around. As these events get more and more competitive with each successive edition, we tend to lose sight of that. It becomes expected that you get round faster than the last time, and you lose some of the sense of wonder.
"I was unhappy with my position for a long time after the race. I thought I could have done better. But now I look back and I'm really pleased. I was lucky to get around at all. I thoroughly, thoroughly enjoyed it. And it changed me in every single way as a human being."
No matter where they finish, every Vendée Globe sailor is a competitor. Pip Hare explains why she is entering a race that she believes she cannot win: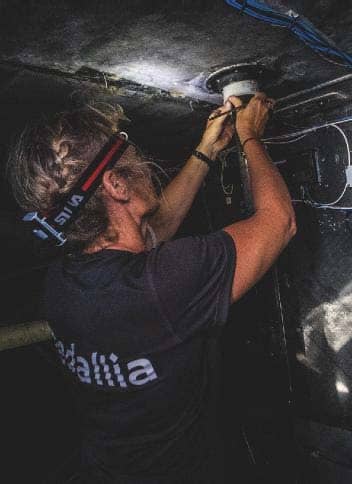 LIFETIME AMBITION
On November 8, I will line up against 32 other IMOCA 60 skippers at the start of the Vendée Globe.
With the second oldest boat in the fleet there is no chance that I can win this race. The idea is not even entertainable. So why race? The Vendée Globe is quite simply the toughest sailing event the world has to offer and my whole life I have aspired to be a good enough sailor to compete. This is my version of the Olympics.
You can read up to 3 premium stories before you subscribe to Magzter GOLD
Log in, if you are already a subscriber
Get unlimited access to thousands of curated premium stories, newspapers and 5,000+ magazines
READ THE ENTIRE ISSUE
November 2020