BOLD FIRST IMPRESSIONS
BENETEAU HAS TAKEN ITS FAMED FIRST MARQUE INTO THE COMPETITIVE SECTOR OF LUXURY PERFORMANCE
There is big talk and bold talk, but often it is no talk that speaks loudest when it comes to a new launch. As I walked down the quay towards Beneteau's latest as it sat stern-to the dock I was greeted by just that: silent smiles from the crew.
There was every reason why the world's biggest boatbuilding company might want to deliver a fanfare to accompany one of its latest new models. It has been 13 years since it launched its last 50ft racer/cruiser. The First 53 is the new flagship of the range and this latest model celebrates the First marque, which is now over 40 years old and has delivered some important landmark designs for the sport.
So, there was every reason to make a big noise. But they didn't.
No brochures, no fast talk, no speeches and no well rehearsed tours. Just a welcoming gesture, a nod and a USB stick holding the hard facts on the boat's full CV.
The reason was clear: this particular new model speaks for itself, especially if you approach her from behind, where first impressions will play a large part in understanding what she is all about.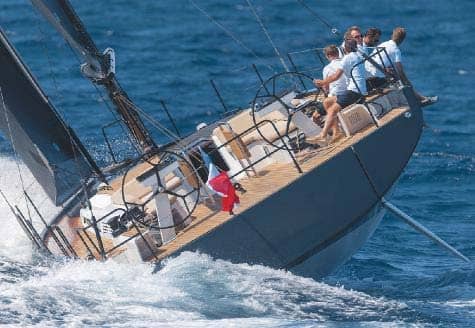 SERIOUS BEAM
From the outset, there is no mistaking how beamy it is. For its length, its 5m beam makes it like an aircraft carrier and, with the folding transom/bathing platform lowered to reveal the dinghy garage that can house a fully inflated 2.4m RIB, along with the ample stowage either side, there was no mistaking one of the key features of this boat: space. It is a feature that runs throughout this design.
Even so, it's about much more than just volume. Viewed from the aft quarters its near vertical topsides run from the chainplates all the way back to a stern that turns quickly through to flat, beamy sections yet without a hard chine. With such a wide run aft, twin rudders are inevitable while also allowing the open space below decks for that dinghy garage.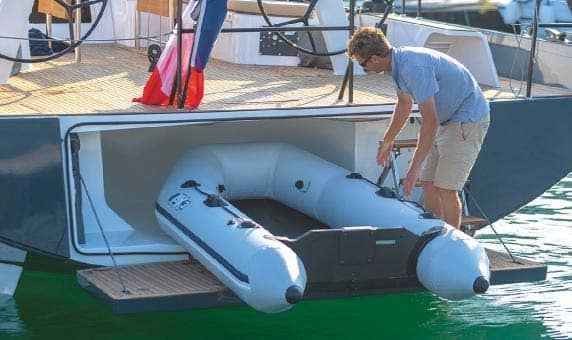 But what really grabs you is a sleek, minimalist, teak laid deck with barely a rope in sight. Such clean looks took me right back to one of my favourite boats, the Wally 77 Genie of the Lamp, which I still maintain was one of the most important boats of the modern era. When launched in 1995 the mini maxi's ground breaking concept and clean style triggered a new generation of design that lasts to this day.
The First 53 shows similar traits with a flush, uncluttered deck where all the control lines are led back to discrete housings and a pair of winches mounted in front of each of the twin wheels. The mainsheet is anchored with a single block in the centre of the cockpit sole which itself is as flat and flush and the size of two full sized billiard tables.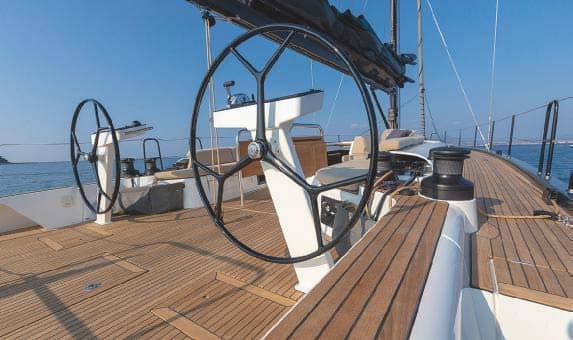 The link between this and the infamous Wally style is no coincidence. Lorenzo Argento drew the interior and deck of the 53. Having spent most of his career at the Italian design office Luca Brenta, which was responsible for some of the Wally designs, it's not surprising the combination of innovative thinking and elegant styling show through aboard the 53.
But carrying the First marque means this is a performance boat too. The 53's hull and rig was designed by Roberto Biscontini whose background lies mainly in high performance design, having worked for the Italian and New Zealand America's Cup teams.
But the brief went beyond creating a good looking, quick boat. Beneteau has put a huge amount of effort into figuring out what today's customers will want tomorrow. And it is this that characterises the new 53.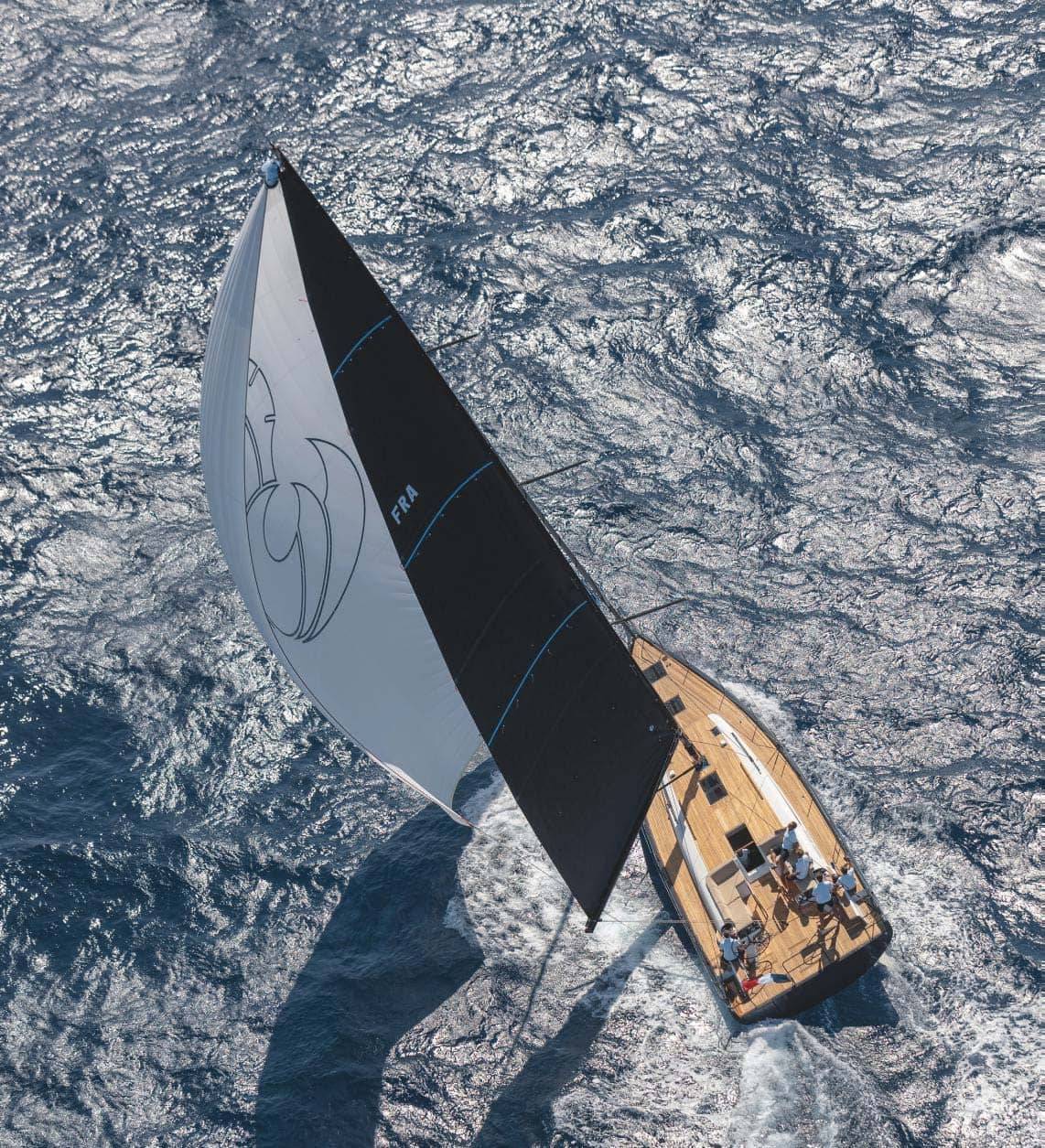 DESIGNING FOR THE FUTURE
In essence, this is a boat for the owner where competition was once the main focus but where cruising has now started to gain favour.
You can read upto 3 premium stories before you subscribe to Magzter GOLD
Log-in, if you are already a subscriber
Get unlimited access to thousands of curated premium stories and 5,000+ magazines
READ THE ENTIRE ISSUE
April 2020