ABSOLUTE ELEGANCE
Yachting World|June 2020
THE TOFINOU 9.7'S BLEND OF MODERN DESIGN AND TIMELESS LOOKS CREATES INTOXICATING RESULTS
There are some too-rare boats that turn every head, and everything about them attracts your attention. The new Tofinou 9.7 is, without question, one of these.
You can assume a certain level of classic beauty in the genes of a Tofinou, but there is a defiantly current look to this model too. Although Tofinou has maintained its reputation for more than three decades, many competitor brands have risen to the challenge in recent times (see our pick on page 68). Is this the model that reasserts the status of the Ile de Ré yard? To answer that, we would, of course, need a much, much closer look.
Unveiled at the 2019 La Rochelle Show, this boat stood out among the more conventional hulls with their big volumes and clinical white polyester. Low on the water, painted vermilion red, with an anthracite grey or silver cockpit, a teak covered deck and the merest blister of a varnished mahogany coachroof, the latest Tofinou certainly turned the most heads on the pontoons. But from where did such a modern yet timeless looking design materialise?
Two owners of Tofinou 8s wanted rigorously onedesign boats to compete on equal terms in as many friendly match-races as their lives as young retirees would let them. Thus was born the project of the Tofinou 9.7, the seventh and latest addition to the family. For a modest size yard, which produces no more than 20 boats a year, to have so many models may come as a surprise.
It's important to know that new models do not replace their elders, they merely enlarge the family while bringing their own personality in a tradition of 'hand-made' that is becoming increasingly rare. It's a philosophy that happily takes the place of strategy at the Latitude 46 shipyard and which has its roots in the unusual back story of this boatbuilder.

THE RESURRECTION OF TO FINOU
The very first Tofinou was a wooden dayboat designed in 1928 by Edmond Merle for Mr Edouard Menuteau. Originally from the Ile de Ré off France's west coast, and faithful to his island home, the sponsor made his fortune in West Africa. He named his boat Tofinou, meaning 'Men of the water' in honour of this tribe from Lake Nokoué in Benin. In 1986, Bertrand Danglade recovered the hull from a mudflat on the island. She was magnificent but in very bad shape. With his friend Philippe Joubert, they decided to make a polyester replica. From this mould were to come 230 Tofinou 7s, a success which launched the Latitude 46 yard.
Created in 1987 at St Martin de Ré (at latitude 46°N), the workshops are now located on the other side of the bridge linking the island to the mainland and the city of La Rochelle. The broad specifications of a Tofinou have not changed in a century and have crossed time superbly: a simple, stable, swift boat, easy to handle on your own, and which can take the ground twice a day.
This is a highly tidal area with springs exceeding 6.5m. Fishing activity has somewhat fallen by the wayside, but has been replaced by a racing calendar, which brings together many passionate owners on the Atlantic and Mediterranean coasts as well as in Switzerland.
Right from the start the Tofinou 9.7 was designed to create the sweet alchemy that makes sailors put rationality to one side when buying a boat.
Naval architecture was entrusted to Michele Molino, who took over from his late mentor Michel Joubert and his partner Bernard Nivelt, the fathers of the Tofinou 8, 9.5, 10, 12 and 16.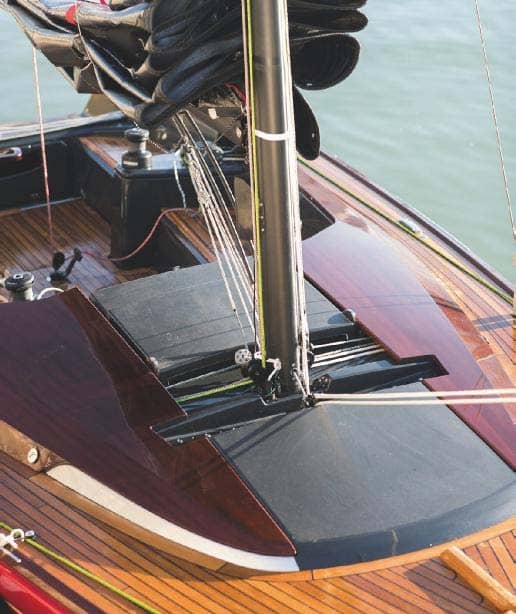 You can read up to 3 premium stories before you subscribe to Magzter GOLD
Log in, if you are already a subscriber
Get unlimited access to thousands of curated premium stories and 5,000+ magazines
READ THE ENTIRE ISSUE
June 2020