The Deadliest Place On Earth To Anchor?
Yachting Monthly
|
February 2020
Fust months after a volcanic eruption, Liz Cleere and partner Famie Furlong cruise to Indonesia's Krakatoa archipelago
Lightning struck the sea next to the boat as we made slow going in a 4m confused swell on the 190-mile passage from _ Enggano. By dawn the weather 4 system had eased and Krakatoa 4) lay in front of us.
We took stock: were our plans still viable? Would it be possible to sail through the narrow Sunda Strait where the newly ravaged Anak Krakatoa is situated? We had three ° choices: abandon western Sumatra and go through the Malacca Strait to Krakatoa; cruise the Mentawai islands then back north to Thailand and abandon our plans to reach Krakatoa; or push on with the passage and see what happened. Our plan was to sail to Borneo from Thailand round the western coast of Sumatra, taking in the remote Mentawai islands and the Krakatoa archipelago on the way. In 2018 Anak Krakatoa began chucking clouds of dust and magma into the air. But it was not considered dangerous, and a couple of friends had sent back images of the smoking volcano from their boats where they anchored. Then, as we prepared to leave Thailand in December, news of a devastating explosion at Anak Krakatoa rocked Southeast Asia. The tsunami which followed killed more than 400 people, injuring a further 7,000 and displacing 47,000 from their homes on Sumatra and Java. Like many people, we donated to the relief funds.
AN AWESOME SPECTACLE
With an n Iridium Go! onboard w we would be able to send daily positions to friends and family, get accurate weather updates from PredictWind and keep abreast of developments in the Sunda Strait.
In January 2019 we crossed to Pulau Weh, the small island north of Aceh and port of entry to Indonesia. We aimed to be in the archipelago by April. Our hope was that by then the volcano would have calmed down and it would be safe to pass through. If this wasn't the case we would wing it, either by getting through as fast as possible or carrying on along the southern coast of Java. Neither of these scenarios looked inviting, but we calculated they were unlikely because we would be keeping up to date with the news all the way, and if it looked impossible, we would turn back before we got too far.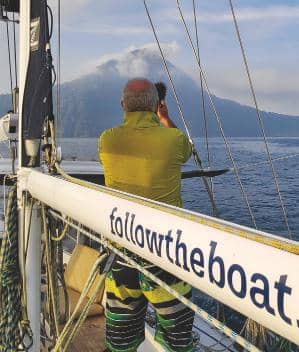 You can read up to 3 premium stories before you subscribe to Magzter GOLD
Log in, if you are already a subscriber
Get unlimited access to thousands of curated premium stories, newspapers and 5,000+ magazines
READ THE ENTIRE ISSUE
February 2020