TECHNICAL KEEPING UP TO DATE
Yachting Monthly|July 2020
Allowing your electronic charts and other software to become out of date is dangerous, but updating can be something of a mine-field. Toby Heppell looks at the options...
All the time we rely more and more upon our electronic charts and various other electronics onboard our boats, but they are only as accurate as their source data. Not only is it good practice to ensure that the source data is current and accurate, ensuring our technology is kept updated can unlock any number of upgrades not included in the software installed at time of purchase.
Rocks might not move, but areas are re-surveyed all the time – and sandbanks and mudbanks certainly do move, not to mention new buoyage and wrecks, which appear all around our coasts – and we need to take advantage of any updates.
Updating paper charts is a simple matter of consulting the updates given in a relevant Notice to Mariners and transferring these via a trusty purple pen to the chart.
That's all very well, but few people go to sea these days without electronic charts on board. There's, even more, need to update electronic charts than paper charts, especially as chart plotters display your position to a few metres on the chart and people sneak ever closer to obstructions, believing their charts and position to be accurate to the nearest centimetre. If anything, the accuracy of electronic charting is both its key draw and drawback.
Digital charts are available in a variety of formats and with varying levels of complexity and price. Each company offers a range of update products. You can just buy a new chart each time, but this can work out to be extremely expensive, so it's worth putting in some time to research the options open to you.
CHART PLOTTERS
There are three main providers of charts – Garmin (Garmin BlueChart) Jeppesen (C-Map) and Navionics (now falling under the Garmin brand). In addition Raymarine have recently launched their Lighthouse range of charts, which are free with some of their products but they are currently available only for North and South America and Australia. Most of these companies offer their charts on memory cards for plotters and each sell their own iPad and Android tablet apps, which are much cheaper.
NAVIONICS
Navionics was the first company to offer daily chart updates. First, identify the type of Navionics charts and the type of memory card you are using: these are likely to be either SD cards, micro-SD cards or CompactFlash (CF) cards – though the later are now being phased out. You then order an update card online, which you plug into a card reader and onto which you can download an update from the Navionics server. Your existing card verifies that you are upgrading an older chart and can then be used as a backup. The fee charged for the update allows you to transfer your chart to a new area, or change media, for a new plotter.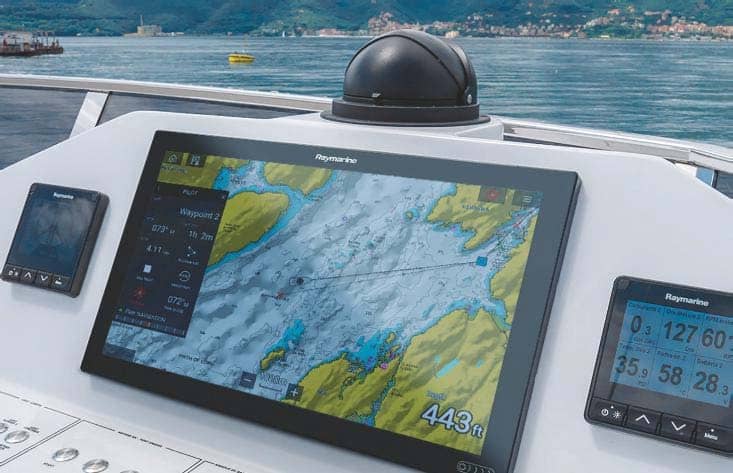 FRESHEST DATA
Navionics offer 12 months' free updates with every Navionics+, or Platinum+ chart chip. This allows daily updates similar to those in the official Notices to Mariners, as well as Navionics' SonarCharts (which use sonar logs from boats which submit their logs) and Community Edits (crowd-sourced data). After this 12-month period has passed, your update options are as follows:
Navionics+ – New chart £149.99£229.99. Navionics+ gives you standard charting plus SonarCharts and Community edits. Updating is as Gold charts.

You can read up to 3 premium stories before you subscribe to Magzter GOLD

Log in, if you are already a subscriber

Get unlimited access to thousands of curated premium stories and 5,000+ magazines
READ THE ENTIRE ISSUE
July 2020