TECHNICAL IS YOUR ANCHOR CHAIN UP TO THE JOB?
Yachting Monthly
|
October 2020
It's all well and good having a solid anchor, but having ground tackle that is going to keep you secure is equally important, says Vyv Cox
The equipment used to anchor our boats is constantly developing as new materials and designs appear, equipment is adapted from other technologies or existing items are improved. Old ideas are constantly questioned by rigorous testing and field experience.
Secure anchoring isn't just about the anchor itself, however. The whole rode that connects the anchor to the boat, made up of a number of different parts, is arguably at least as important, if not more so, than the specifics of the anchor. If you get your ground tackle set up correctly, with an understanding of its abilities and limitations, you can be confident that the much-maligned 'weakest link', is not going to let you down in challenging conditions.
First, some clarification, what is meant by a rode? A rode (more archaically called 'cable') is whatever comprises the connection between the anchor shank and the fixed point at the other end on the boat. It is customary to refer to an all-chain rode or a mixed rode, meaning chain plus rope, but realistically the term also includes any component used to join any part of it together.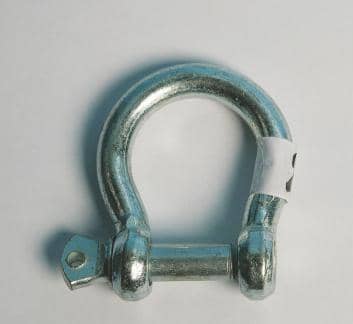 SHACKLE OR SWIVEL?
Many people will argue that there is no need for a swivel at all. In many cases where there is no problem with the chain twisting, this is true and my own adage is to fit one if you find you need it but not otherwise. My choice is to fit one because it makes turning the anchor after recovery so much easier, when inevitably it comes up the 'wrong' way around, and this may even be essential for some self-launching and recovering anchor systems. Some chains twist naturally, perhaps due to uneven wear on adjacent links and some shapes of anchor rotate quite violently as they are being recovered. If you find that your chain is regularly twisted on recovery, or becomes twisted in the locker, it may be that a swivel will help. There are other solutions to anchors emerging the 'wrong' way, to be discussed shortly.
If opting to use only a shackle it's wise to select one a size bigger than the chain. The pin of a 10mm shackle will fit through an 8mm chain link and most modern anchors are slotted to allow the eye of a shackle to pass through it. The same applies to a 12/10mm combination.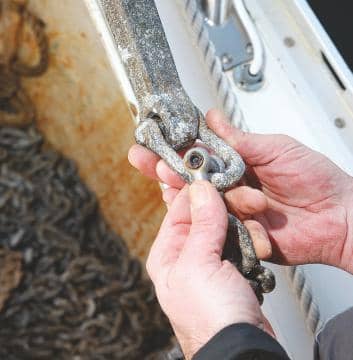 Shackles come in two basic shapes, a 'D' and a bow. A 'D' would appear to offer better straight-line strength but the bow would seem more able to cope with changes in pull direction. The reality is that when I carried out destructive testing on both types there was no significant difference between either shape. Chandlery-bought stainless steel shackles were generally stronger than their galvanised equivalents as shown in Table 1.
If we look at galvanised alloy steel shackles for the lifting and hoisting industries, however, we can see that those in the Crosby G209 A range, in Table 2 for example, are considerably stronger than any of the 'marine' offerings tested.
You can read up to 3 premium stories before you subscribe to Magzter GOLD
Log in, if you are already a subscriber
Get unlimited access to thousands of curated premium stories, newspapers and 5,000+ magazines
READ THE ENTIRE ISSUE
October 2020