Shared Ownership How To Make Your Dream Boat A Reality
Yachting Monthly|November 2019
A yacht is a doorway to your own world, or a never-ending cost-benefit analysis. Will Bruton takes a look at the beauty of shared ownership and the new alternatives
There is something visceral in the pleasure of owning your own yacht. Like buying your first house, this vessel is yours to do with as you please and no-one else's. It's a privilege to be in a position to make that purchase, even more so if the boat you buy is your dream boat. But that responsibility can also be a burden that, if shared, may be halved, freeing you up to enjoy boat ownership without the pressure.
While sharing a boat with a trusted friend is the traditional option, a slew of new alternatives have sprung up, offering different models to allow people a slice of time on the water, for a sliver of the cost. In the age of the 'sharing economy' of Airbnb, Uber and Spotify, changing how we own boats and go sailing might open up possibilities of the boats we can own.
THE TRADITIONAL SYNDICATE
DAVE BIRCH was looking for a way to get his family on the water after relocating to the south coast from London. Having grown up sailing dinghies in South Africa, he was looking for a sensibly priced route into ownership having passed his Day Skipper and chartered in the Mediterranean. After a lot of online research, he found Galatea, a 1989 Moody 42, on yacht share brokerage site Yacht Fractions. Run as a syndicate for over 20 years, she is shared between three and based in Lymington.
'I had criteria in mind before I started looking. A combination of the right boat and the right ownership arrangement. I needed a yacht comfortable enough to sail with my wife and three-year-old, that wasn't about to rapidly depreciate in value and was capable of doing the kind of trips I envisage us doing once we have got a bit more experience.
'That the syndicate had been running for so long was a big part of the appeal. The existing members talked a lot of sense, spent money where it was needed but weren't excessive, and wanted another member with a similar mindset. They were happy to spend time introducing me to the boat and helping me learn. Costs of ownership on the south coast are high and the syndicate cuts them to a third. Everyone in the group is also very courteous, we leave the boat clean and tidy and make sure there's always beer in the fridge for the next person!'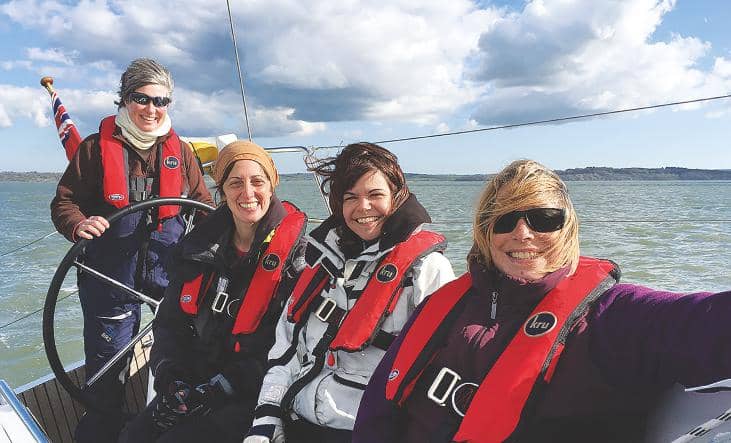 Dave Watts, owner of Yacht Fractions, explains that whilst yacht shares have been around for a long time, it's something many still don't know much about. 'We sell shares from a few thousand pounds up to around £300,000, on a broad range of boats. The average split is probably 1/4 or 1/5 and £8,000 to £13,000. Versus owning a boat outright, it represents remarkably good value as soon as you halve the cost.'
Sharing your boat with others does mean giving up some control. 'Generally speaking, syndicates are careful about new members, but it's well worth doing some ground work to make sure you get on well with the others involved as well. The other thing that you must consider is the way the allocation of the share will be distributed. Will you get the same weeks each year, book a slot online, go through a rotation system or just sort it out annually at the group's AGM?'
For less formal syndicates, many choose to buy yachts with one or two trusted friends. Tristan Kemp owns a sporty Archambault 31, also in Lymington, along with Andrew Higgs. This is the second boat they have owned together, which they race and cruise.
'Even if we could afford single ownership, we wouldn't. We prefer to be co-skippers, so that all our decisions, even out on the water, are joint. We consult on everything, even on whether we'll set the spinnaker on a windy day, before we get ourselves into a situation.
You can read upto 3 premium stories before you subscribe to Magzter GOLD
Log-in, if you are already a subscriber
Get unlimited access to thousands of curated premium stories and 5,000+ magazines
READ THE ENTIRE ISSUE
November 2019