Predicting navigational hazards
Yachting Monthly|July 2020
Jonty Pearce gives a thorough breakdown of how to avoid other ships at sea, from tankers to trawlers
In days of yore coastal sailing largely revolved around establishing your position, meaning paper charts, hand-held compass bearings, transits, and navigation marks were your best friends. Out of sight of land, if fortune really smiled on you, you might be able to access the modern technological wonders of the Decca Navigation System or LORAN-C, or just hope for a clear day for your sextant. Everybody waved at each other, and the seas were largely deserted.
How times have changed! Today's cruising sailor has GPS to pinpoint his position down to the last millimetre, but when out on our crowded seas, has to have eyes in the back of his head for pot buoys, wind farms, oil rigs, fishing vessels, ferries, commercial shipping traffic, military vessels, leisure craft, foiling yachts and hovercraft. Not only that, but skippers need a detailed knowledge of Traffic Separation Schemes, exclusion zones and military ranges, COLREGS and nautical electronics. But fear not – with a basic understanding of today's maritime challenges amateur sailors can still safely venture out and successfully sidestep all the different varieties of nautical coastal hazards.
LEISURE CRAFT
With a basic knowledge of the rules of the road and a large dollop of common sense fellow sailing yachts and motorboats can easily be avoided. Concentration levels might have to be at their maximum in the Solent during Cowes Week in comparison to cruising the Outer Hebrides out of season, but in a way it is easier to stay alert when there is plenty going on; more mishaps probably happen when crews are hunkered down behind the sprayhood in vile conditions on 'empty' seas. The key is to keep a good lookout at all times and make sensible use of any electronic aids on board.
A different approach may be needed when encountering a fleet of racing yachts or dinghies; personally, I do not find their testosterone-fuelled aggression relaxing and although at times I might be classed the 'stand on' boat according to maritime rules, I'm happy to keep out of the way for a more enjoyable life.
With displacement-speed boats everything happens at a sensible rate. The advent of foiling racers means that almost silent yachts and dinghies can appear in your personal space in the blink of an eye; their maneuverability might be limited and force them to hold their course to prevent catastrophe. Fast planing craft can also become a threat in a short space of time, so be alert to speed; at 30kts a speeding boat will cover 1 mile in just 2 minutes.
A special consideration has to be made for canoeists, jetskis and paddleboarders. Whilst usually seen close to shore, adventurous kayakers can be found crossing wide stretches of water; they are small, hard to see, and can cause an unexpected surprise. Jetskis are frequently noisy and more noticeable, but, like paddleboarders, can venture into open water. All these small craft are less noticeable when resting. Remember swimmers, and keep well clear of divers (see below).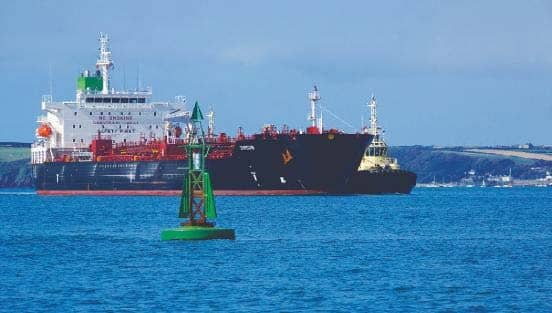 Finally, keep your own speed down to sensible levels according to the situation. Don't pile on the revs in an anchorage; the occupants of the overloaded rubber dinghy with no freeboard will not bless you, and relaxed alfresco diners in their cockpits will curse you when your wake rocks over their wine glasses. Be nice.
SMALL WORKING CRAFT
Many professional water users go about their business in vessels of 30m length or less; tugs, pilot boats, a range of different sizes of fishing boats from large trawlers to pot boats, military range craft, diving boats, day trip boats, and small ferries. While generally keeping a good lookout, we have all seen fishing vessels returning to port under autopilot with all the crew sorting the catch and tackle on the aft deck. In many instances the double cone day signal for a vessel engaged in fishing is fixed on in an inappropriate permanent display. Watch out for trawl lines reaching out astern of fishing boats – depending on the depth they can trail hundreds of metres behind. Look for fishing boats close together; they may be engaged in pair trawling. If you get between them, your radio will probably deafen you with some choice language!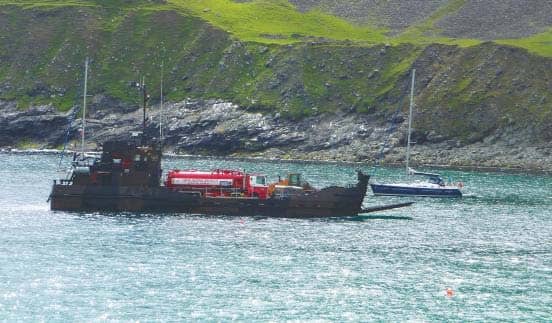 Other vessels provide a clue to events about to take place. A pilot boat leaving harbour means a large ship is coming in. A cluster of tugs loitering together may mean a tanker is approaching. A potting boat bobbing about should heighten your lookout for pot buoys.
LARGE COMMERCIAL SHIPPING
My general adage, when faced with large ships, is to run away bravely. Foolish is the short-lived sailor who pedantically adheres to the COLREGS and expects a 300m LNG carrier with a deadweight of 100,000 tonnes to nimbly alter course to avoid his 30ft sailing yacht because his 1950 edition of the rules of the road suggests that he has 'stand on vessel'. Be realistic and reasonable, and have consideration for the drivers of these leviathans. Remember above all things, that if you cannot see their bridge, they won't be able to see you; even if there is an alert seaman on active lookout duty rather than glued to a radar screen in front of him who misses your tiny blip, a small yacht bobbing at the edge of visibility may easily not be seen. These ships take miles to turn or slow down – respect is warranted. Beware their speed; most container ships are designed to travel at 24kts. A ship that becomes visible on the horizon 12 miles away will be passing you in half an hour. Not a good time to choose to go to the heads! At this speed they throw up a considerable wake – keep a good distance and don't be too proud to alter course to cross their wash at a kinder angle.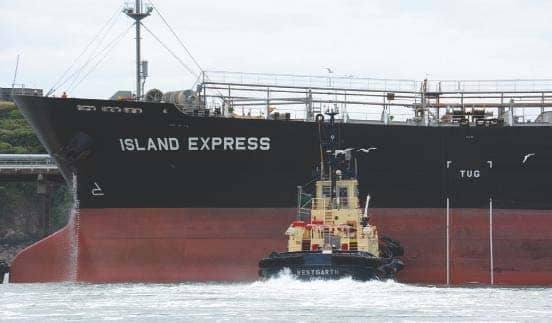 The risk of collision can be assessed by electronic aids such as radar and Automatic Identification System (AIS), but don't forget the old trick of using a hand-bearing compass or lining up a part of your own boat to see if the bearing of the other vessel changes; any constant bearing should alert you to a potential close-quarters situation.
Areas of busy shipping use Traffic Separation Schemes to maintain control and segregation of shipping lanes; these can be complex and confusing for leisure sailors. The rules state that your heading should be at right angles to the marked lane; note that leeway or tidal currents might mean that your course over the ground might not show up as perpendicular to the system. Do the best you can, but remember they are monitored. Over 400 commercial vessels pass through the Dover Strait TSS every day; it is under full radar surveillance with penalties for infringements. In 2012 a fishing vessel who travelled 17 miles in the wrong direction incurred a fine of £7,500 plus costs of £2,254. You might not see him, but Big Brother is watching you. Crossing these schemes is frequently not a relaxing pastime; with a never-ending line of speeding shipping, sailing yachts can feel like a rabbit in the headlights when picking their moment to creep across. It's even worse at night or in poor visibility; this is the time for the skipper to be alert, well-rested, and on deck.
You can read up to 3 premium stories before you subscribe to Magzter GOLD
Log in, if you are already a subscriber
Get unlimited access to thousands of curated premium stories and 5,000+ magazines
READ THE ENTIRE ISSUE
July 2020