Night sailing top tips
Yachting Monthly
|
June 2020
Toby Heppell is sailing editor of Yachting Monthly. He has been sailing his whole life and writing about it for many years
STAY ON DECK
As always with pilotage, the right place to be is on deck, not least to avoid uncharted objects such as other craft, mooring buoys and fishing pot markers. Most pilotage errors occur at night rather than in the day so a thorough pilotage plan is essential. Even with a navigation station filled with electronic aids it is still possible to become disorientated while trying to reconcile the view on deck with that on the chart. You need a pilotage plan.
The most important principle is this: if you know the position of the yacht and you are armed with a chart (electronic or paper) and a compass, you know the range and bearing to the next mark. This means that when you reach a known position, such as a navigation buoy, you know where to head to find the next one. Simple, except that a surprising number of navigators waste time scanning the lights ahead with no plan to find the one they want.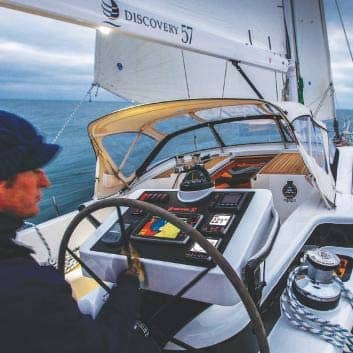 FISHING POTS
Unpredictable and unlit, these are the biggest danger at night. Avoiding them is largely a matter of common sense. Sometimes they are laid in deep water, but mostly they lurk in less than 50m. Avoid shallows if you can, especially near fishing harbours, and inside passages around headlands, even if you are confident of your position thanks to radar and plotter. Even if you know where you are, there's still the same risk of the engine stopping with a crunch, or finding yourself moored by the rudder or prop in a strong tide.
LIGHT POLLUTION
Light pollution is a well-known source of navigation stress, particularly when looking to enter an unfamiliar harbour after dark. If it has been a while since you have done this, it is well worth returning to your own harbour after dark and noting the different complexion the various landmarks take on when not visible to the naked eye. A large, unlit buoy may be sited just in front of a particularly well-lit hotel rendering it difficult to spot.
Another feature of light pollution (but of sailing at night more generally too) is the reduction in our ability to judge distances. This is particularly acute when coming into harbour. A navigation buoy's light may well get lost in the background of a sea of lights when, during the day it would be clear and obvious the nav buoy was some way offshore.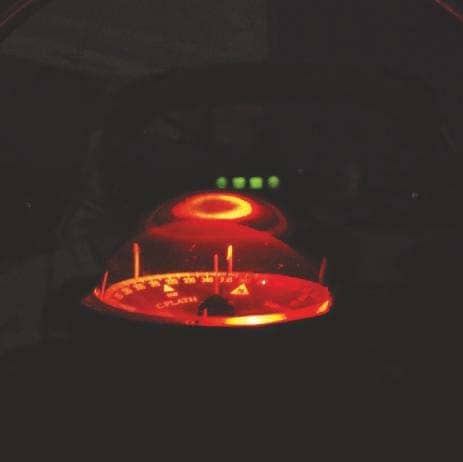 NIGHT VISION
The sensitivity of our eyes increases the longer they are in the dark and it can take many minutes for maximum sensitivity to be acquired, and the improvement is dramatic. Unfortunately, it can be lost in a few seconds of exposure to bright lights.
Eyes have cones that are used for colour vision in daylight, and more sensitive rods that come into their own at night. The rods are not sensitive to red light and this means that if you switch to red illumination your eyes can continue to adapt while you move around the boat.
You can read up to 3 premium stories before you subscribe to Magzter GOLD
Log in, if you are already a subscriber
Get unlimited access to thousands of curated premium stories, newspapers and 5,000+ magazines
READ THE ENTIRE ISSUE
June 2020