MERVYN WHEATLEY ONE LAST ADVENTURE
Yachting Monthly
|
August 2020
Toby Heppell speaks to Mervyn Wheatley as he looks ahead to his sixth OSTAR, now re-scheduled to take place in 2021, and ponders the changes in sailing through his decades-long career
As with much sport during the pandemic, the Original Single-Handed TransAtlantic Race (OSTAR), due to set off from Plymouth in May, has been postponed until 2021. The event was expected to be a major celebration, marking 60 years since the first race, and although it will now take place a year later, the plan is still to celebrate the achievement.
One man for whom the event was set to be his swan song, racing for a sixth and final time, is Mervyn Wheatley. In a remarkable offshore sailing career that has made him a hero among Corinthian ocean sailors, he has competed both singlehanded and with crews, as well as cruising extensively across oceans and in coastal waters. We caught up with him during lockdown as he reflected on how sailing has changed in the last five decades, what it takes to sail solo, and why the next OSTAR is going to be his last.
While Wheatley 'sailed dinghies a bit as a youth', it was during his 33-year career in the Royal Marines that really got him into sailing, racing in dinghies owned by the service for a few years and also sailing some of their keelboats. With sailing becoming an increasingly significant part of his life, Wheatley was offered the chance to sail his first ocean passage by a close friend. 'My friend Michael was doing the 1972 OSTAR but he'd bought another boat to be picked up over there – a cutting edge trimaran – so he asked me to go out and sail back his Contessa 32,' explained Wheatley.
'It was a pretty interesting introduction to ocean sailing, as everything was still being done on astronavigation back then, which I had not really done before.
'Back then people used to spend their winter learning astronavigation on six-month courses so we tried to cram a six-month course into half an hour and set off. The first six sights took us rather a long time to work out but that did not matter too much as we had a lot of ocean ahead of us. By the time we got in, we were rather better at it,' he added.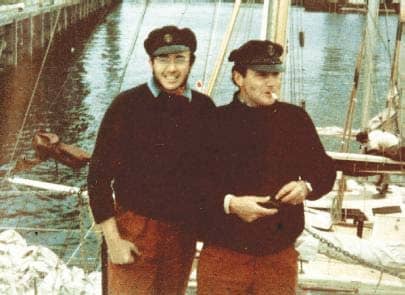 What followed was years of continued offshore racing for Wheatley, who now firmly had the bug. 'I did a few doublehanded Round Britain Races in the 1970s and then the first Azores and Back (AZAB) in 1975 – which was singlehanded then. I was also able to skipper one of the naval boats, which was one of the bigger boats owned then, at 70ft, so that gave me some very useful big, big boat experience.'
The culmination of this period came in the form of an invitation to skipper the Clipper 60, Thermopylae in the first edition of the Clipper Round the World Race in 1996. 'That was just after I had retired so it really fitted in very nicely,' Wheatley explained. 'It's an interesting thing to have done, and I thought it was absolutely fantastic. I really could not believe that there was someone willing to pay me to do it. It was very much a dream job.
'You have a crew of highly motivated people as they have all spent a fair bit of money to do it so they are gagging to get on and get involved. That makes life easy for the skipper.
'There were very few crew members with any significant experience, and even for those with experience, it didn't matter as they hadn't been on that size of boat before nor such a long race. So it all evened out really and it was just a question of working out those who were keen to get up, go forward and take on the sail changes and those who tended to hang back in the cockpit. And that provided you with an obvious and interesting contrast in personalities.'
You can read up to 3 premium stories before you subscribe to Magzter GOLD
Log in, if you are already a subscriber
Get unlimited access to thousands of curated premium stories, newspapers and 5,000+ magazines
READ THE ENTIRE ISSUE
August 2020