'I was jammed. Without my phone I'd be dead'
Yachting Monthly
|
August 2020
Martin Blount was fortunate to have survived getting stuck head-first inside his cockpit locker while working alone on his boat
I'm not an amateur. I've never had to call the RNLI in years and years and years of boating and working on boats – other than this time, and for it to be something so ridiculous is totally embarrassing.
As it happens I was working on my own boat on a Lymington River mooring, fitting a new heater inside the aft lazarette locker, port side. It is quite a contained space and I dropped a bolt, which naturally dropped all the way down and hit the hull. I leant in to retrieve it but my arm wasn't quite long enough. As I edged in a bit further I suddenly went in headfirst.
The locker is about the same size as me and I got jammed. My head struck the hull and my face was pressed against the bottom of the boat, it was horrendous.
It took me a few minutes to realise the seriousness of the situation. Clearly I tried to get out but with the shape of the hull, all slidey surfaces, there was nothing to push against.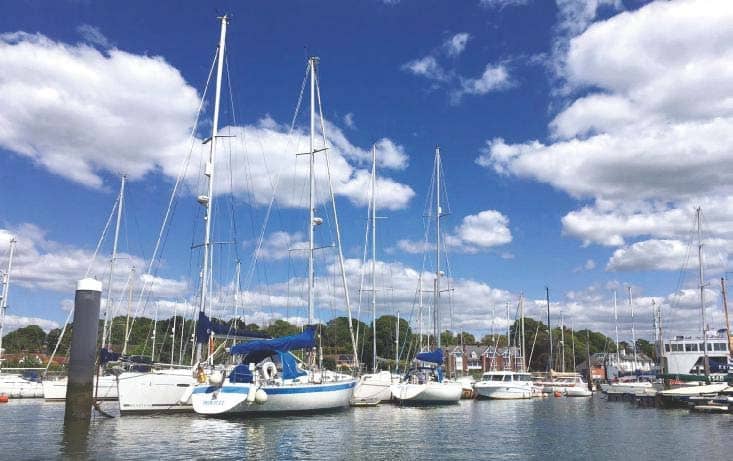 I was in a lot of pain because I'd bashed the top of my head and my shoulder was trapped against some of the woodwork that supports the rudder. I was pretty much jammed.
I used to spend a fair amount of time working at heights. One of the main things I was taught was that if you fall and end up upside down, it's far more serious than if you're just dangling from a harness because all your vital organs start compressing your lungs, making it difficult to breathe – you cannot get enough oxygen around your body.
So I knew I wasn't going to survive for long in my predicament. Thankfully my phone was in my pocket, but it wasn't easy to get it out. I was terrified I'd end up dropping it and it slipping away out of arm's reach.
You can read up to 3 premium stories before you subscribe to Magzter GOLD
Log in, if you are already a subscriber
Get unlimited access to thousands of curated premium stories, newspapers and 5,000+ magazines
READ THE ENTIRE ISSUE
August 2020