'Dead ahead were the bows of an unlit freighter'
Yachting Monthly
|
October 2020
Paul Dale has a harrowing near-miss with an unlit freighter at night while on a 110-mile voyage from Trinidad to the Grenadines
Amid the humid late afternoon, the four of us – owners Marjorie and I, and crew Mary and James – checked ourselves and our Dufour 41 Alexa out at the Customs and Immigration Office at Chaguaramas, Trinidad in the Caribbean.
This is always a slightly scary experience as this was– infamously – one of the least friendly immigration offices in the Caribbean. It stank of rum and weed, which we did not find very comforting, and the officials were aggressive: 'Hey, if the paperwork ain't right I seize your boat!'
But we got the paperwork done and chugged out of Coral Cove Marina, weaving through the crowded anchorage toward Scotland Bay where we dropped anchor, though this would have made the immigration people deeply upset – you are supposed to check out and leave – but most cruisers arriving or leaving do a stopover at gorgeous Scotland Bay. We listened to the howler monkeys in the surrounding jungle at sunset, had supper and turned in early. We needed the sleep as the following day we planned to sail to the Grenadines, 110 miles north, bypassing Grenada. During breakfast I asked Mary how she would define a 'good Tobago skipper'. She immediately replied, 'Someone who makes me feel safe.' I considered that, as we hauled up the anchor and motored the mile round the corner to the Boca de Monos, a narrow passage between Trinidad and one of the islands separating it from Venezuela, where the Orinoco empties into the Atlantic. It's a spooky place, with vultures circling overhead. We had done this trip many times, and the constantly ebbing brackish water puts up an alarming sea at the mouth – the Boca – reminiscent of Chichester Bar on a bad day, but worse even if warmer. And, as ever, the boat heeled sharply to the constant 22-24 knots north-east breeze. Whatever the forecast said – and we always waited for a good one for this passage – it delivered the exact conditions it promised.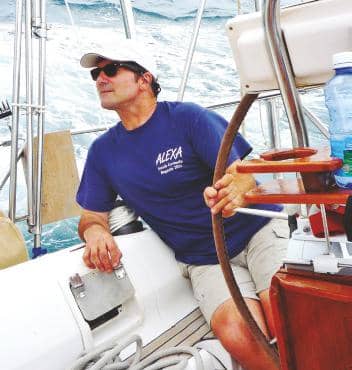 You can read up to 3 premium stories before you subscribe to Magzter GOLD
Log in, if you are already a subscriber
Get unlimited access to thousands of curated premium stories, newspapers and 5,000+ magazines
READ THE ENTIRE ISSUE
October 2020